Just found out about Highlighter some minutes ago via a comment left on Kikolani's recent blog post about comment moderation. The comment which reads (see below), prompted my attention, and since I am a very curious about all things WordPress, I had to check it out for myself.
I've recently come across a new kind of comment system, Highlighter, http://highlighter.com/

Its very new, but transforms your commenting system into a social media, and newsletter building tool. I've installed it on my blog yesterday and seeing how it transform the engagement on my blog.
Now if you noticed on the comment, it says that it transforms your commenting system into a social media and newsletter building tool (list). Now you know why I jumped over there and see what it is all about.
There, I watched a video demonstration (below) that took less than 2 minutes to convince me to take HighLighter immediately for a test drive. As with all WordPress plugins tools, I normally test it first on other websites before putting it live here. Within less than 10 minutes, I had this baby up and running on another website (WordPress Theme Framework), just to see how it works..
After installing HighLighter WordPress plugin, I left a test comment and this is how it looks.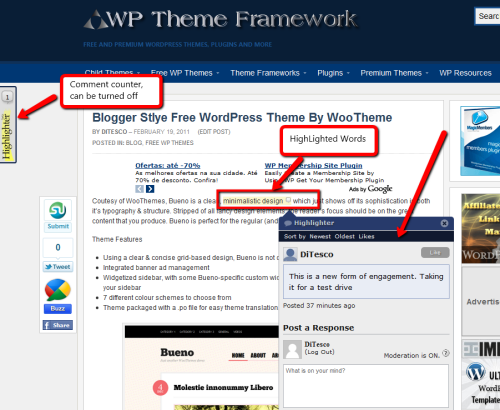 Anyway, and 30 minutes later I am writing this post :). Since I am very new to this tool, I will highlight some of the key features that the developers themselves have to say. I think it is self explanatory.
Increased engagement.
Highlighter allows you and your readers to highlight any word, sentence, paragraph, or image and then comment or share on that highlight. Put simply, highlight and then share or comment! This means that you'll capture more social sharing and more conversation, which in turn enriches your site's experience!
View all of the highlights in one centralized location
We understand that most web users are accustomed to commenting at the end of a post or page they are reading. To merge the experience, we've created the Highlight Box. The Highlight Box brings all of the conversation together in a familiar format!
Engage with your readers over a word, sentence, paragraph or image!
The goal of the plugin is to help you increase your site's user experience, and we guarantee that you will get a TON more feedback and sharing activity once you install Highlighter. What are you waiting for?
And a little more. Whether this tool actually deliver and increase your user engagement is left to be seen, but I think that it has potential. Maybe it can even increase your websites traffic and within the process your online business, just like the recent changes in FaceBook, where you can put to better use the new Facebook Fan Page Photos, section. Obviously, I can think of other benefits by using this tool (e.g. increasing your optin subscribers list), but I will leave that for later. Right now, I just wanted you to know about HighLighter as I simply liked the plugin. This is not a paid post or an affiliate link as HighLighter is free. YES, you heard that right…free.
So, have you heard about this WordPress Plugin yet? Either way, let me now what you think about it. Do you think that it can actually increase your user engagement?