Earlier this year, I provided you a list of the best SEO plugins for 2011. That, was "take one". Nearly six months later, I figured, it is worth looking at some other plugins that have been rising in popularity, in addition to what was already mentioned on "take one". Provided by the awesome WordPress community of developers, these plugins are developed with the objective of helping us manage our online ventures much easier, so please take a moment to rate them and/or visit their websites to show our appreciation for a job well done.
Some of the WordPress plugins listed below may not necessarily be new, but all have been proven worth checking out, considering that they have all surpassed the 5K plus milestone of downloads (exception to conditional widgets) or have been recently updated, in addition to those that I have not included in my "take one" list. As usual, these WordPress and SEO plugins are free to use and all available at the WordPress plugin repository. I hope you find something that can be useful to you.
The Best WordPress Plugins for 2011, Take Two
Conditional Widgets: One of my new favorites. This plugin adds a form to each widget on the Widgets panel which allows users to choose which pages and/or categories the widget is displayed. You can now have the ability to control how your widgets can be viewed on certain pages or categories of your website. As an example, lets say that I have a widget which shows an ad that I only would like it to appear in the homepage. I don't want that ad to show on any other pages on my sidebar. This plugin makes that happen, among other things.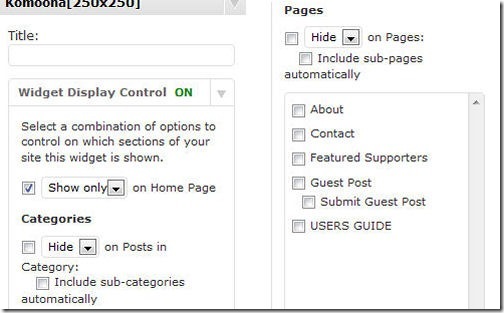 1-click Retweet/Share/Like: Adds Facebook Like, Facebook Share, Twitter, the latest Google +1, LinkedIn Share, Facebook Recommendations and more. In addition, this plugin has an automatic publishing feature that will post your content to 30+ Social Networks, allowing you to expand your blog reach and save time by letting the plugin publish your blog posts – automatically (optional). This feature is available once you connect your networks via LinksAlpha.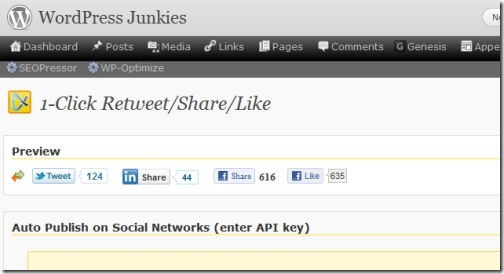 CommentLuv 2.9: CommentLuv is definitely not a new kid on the block, but version 2.9 is. Andy, the proud owner of CommentLuv, has introduced so many new features, that I dare not saying it is an upgrade. I really won't bore you with why you should have this plugin installed, but instead would direct you over to Kristi's ultimate guide to using CommentLuv 2.9. It's all there :).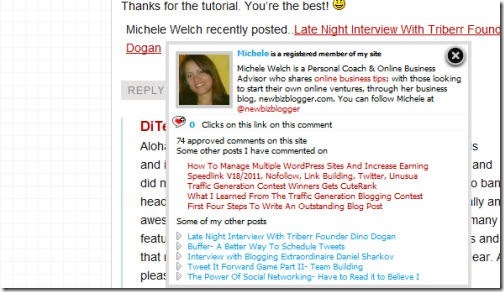 Note: The link above is for CommentLuv 2.8 as 2.9 is not yet available at the WordPress repository at the time of this writing. It will be there soon for sure.
Manage WP Worker: I am including this plugin here because, if you are thinking of using the top notch ManageWp free service provided by Prelovac Media, Manage Wp Worker is the key for the service to work. ManageWP, the service, contrary to what many people may have perceived, is not a plugin, but rather a service that allows you to manage multiple WordPress sites in one dashboard. Here's the ManageWP review that I have written recently. Really, if you have multiple WordPress sites to manage, this can be a breath of fresh air :).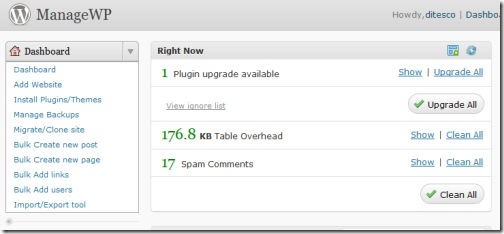 CloudFlare (CF): This might not be 100% relevant to this post, but I will share it with you anyway :). Same as Manage WP Worker, this plugin only works if you decide to use CF's free CDN service. You heard that right, free CDN. I have been using CF service for over a month now and I have to admit that I am very satisfied. CF improves your websites performance by as much as 50% (speed) and increases your security. This could be used in tandem with ManageWP. If you are interested to find out why I am using this service, please read Boost Your Home Based Business With CloudFlare.
The Best SEO Plugins for 2011, Take Two
SEO Auto Links And Related Posts: SLRP (for short), is an excellent alternative to other similar SEO plugins as it combines both interlinking of your content and displays your related post at the same time. There is the option to turn one or the other feature off, in case you are already using a deep linking plugin. What I like best about this SEO plugin is that there are options normally found only on premium plugins. Examples are automatically creating keywords as affiliate links, displaying thumbnails on related posts, etc. The auto links feature will automatically convert post title, meta keywords, and post tags found inside the blog posts into an internal link, if you want.
SEO SearchTerms Tagging 2: Multiply blog traffic by strengthening on page SEO, increasing the number of indexed pages, auto convert search terms into post tags, and more. Some features include:
Increase your site's SERP by strengthening on page SEO of your blog.
Increase the number of pages indexed by adding a special link to search results.
Make sure all posts have been indexed by promoting the one that does not get traffic yet (use with care, do not overdo it).
Get detailed information about what are the best keywords for your web site and blog post by tracking your most popular search terms.
A very powerful plugin that even I limit its use depending on what website I am using it. Here for example, I only use it to track search terms to later optimize my content for specific keywords that are driving traffic to my blog. On another website, I also use the feature of showing "incoming searches" to display on my sidebar. Users can then see similar searches they have made and most likely click on it. Read the developers information carefully.
RSS Footer: This plugin allows you to add a line of content to the beginning or the end of all the articles in your feed. Use this to create links with anchor text to point anywhere you want and it will appear on your feed. Submit your feed to quality RSS aggregators and voilá, instant backlinks. Although this might not be a lot, a backlink is a backlink, plus you get to obtain some additional traffic from sites such as FeedAge RSS directory ;-). See example of my feed below.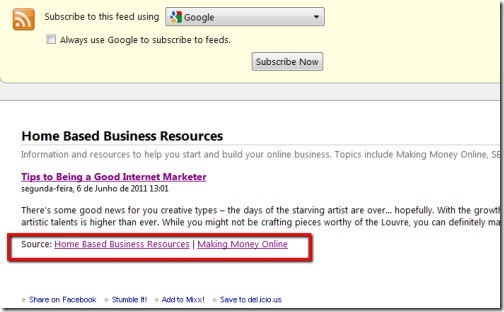 SEO Rank Reporter: This is a nifty simple plugin where based on keywords you choose, will track your Google rankings every 3 days and report the data in an easy-to-read graph. You will also be able to visualize your traffic flow in response to ranking changes and receive emails notifying you of major rank changes. All within your WordPress dashboard.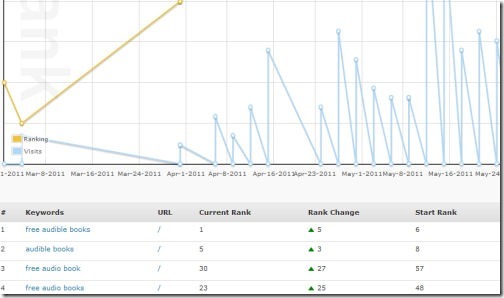 Better WordPress Google XML Sitemaps: An alternative to Google XML sitemaps? Perhaps. This is the first WordPress sitemap plugin that has support for both sitemapindex and Multi-site websites! Not that you might need it but, you no longer have to worry about the 50,000 URL limit or the time it takes for a sitemap to be generated. This plugin is fast, consumes much fewer resources than its peers.
That's it! Just to let you know, all SEO Plugins listed on the "take one", are still valid and totally recommended. There are plugins over there which you might not know of, so I suggest you take a look at it, in case you are missing something out.
As with anything "recent", some of these plugins may have some bugs and may not work well with your WordPress site. I suggest that you backup your files first before attempting to install any of them. Actually, backing up your files is really something you should be doing on a regular basis, be it, installing any new plugins, performing any upgrades on WordPress, or just a preventive measure in case something less desirable happens. Play it safe.
A final word. Michele of NewBizBlogger and I are working on an eBook that will soon be available for download on WordPress Junkies. This free eBook will feature a lot of recommended WordPress plugins that will help you improve your blogging productivity, SEO, online business, among other things. Stay tuned :).
Anyway, have you heard or used any of these WordPress plugins before? How was you experience? Do you know of any other WordPress plugins that you think should have been included in this list?