I know that many of you will probably say that it is not possible to have a WordPress plugin that can do these things all together. I did too, until I stumbled upon this recent Twitter plugin, of which, provided with the right attitude, mindset, applying good Twitter ethics and heaps of imagination, can do wonders for you.
Twitter WordPress Plugin Marketing Tool
The plugin I am talking about is Tweet2Download (now available from the WordPress repository). The developers description of this tool is pretty much self explanatory, so here it is:
If you have a blog that provides downloads, this plugin is the perfect twitter marketing tool for you. Tweet2Download allows you to require a tweet and a follow in exchange for a download on your blog.

The plugin is well suited for blogs that offer ezines, software, code, design creatives, tutorials, audio files, videos, torrent files or any kind of download for that matter.
As you can see, it explains by itself. So, can you see where I am going with this now? Let's exemplify:
If you are offering already something for free, say for your potential RSS or email list subscribers, just use it. Otherwise you can create a say a "cheat sheet" of something really good to entice your readers. How To, WP Hack, Marketing Techniques, whatever..
In this cheat sheet, include links to "different" places within your website (to attract traffic), and /or to some real juicy, proven, reliable products (affiliate links), where you can make money.
Provide the Tweet2Download button somewhere within your website or post. An interested user clicks on it, and will be provided with a tweet box where your message will have to be retweeted and at the same time follow you. Once that's done, download begins.
Easy, and can be very effective. There is always a possible "domino effect" on this one so if you are interested, head over to the WordPress plugin repository and install this plugin. Before doing anything, please read these instructions carefully. You need to set up a Twitter app and obtain your API and consumer keys. It won't work without this.
How To Use Tweet2Download?
Upload a file to wordpress (wp-admin -> Media -> Add New), make sure to tick "These files will be downloaded using Tweet2Download"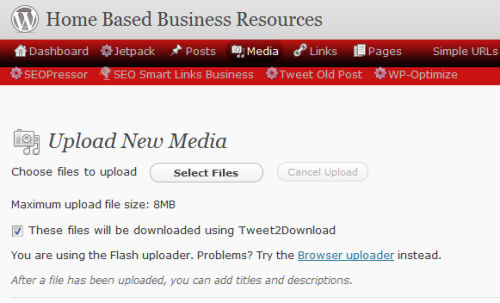 When editing a post, click the "Add Tweet2Download Button" icon (next to the "Upload/Insert" media icons)

Select the file you previously uploaded, and click "Insert Tweet2Download button into Post"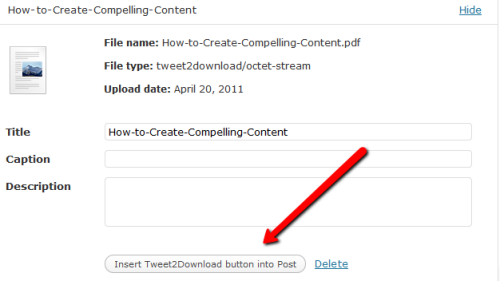 Change the shortcode to contain the tweet and follow you want, Publish! When a user clicks, presto!So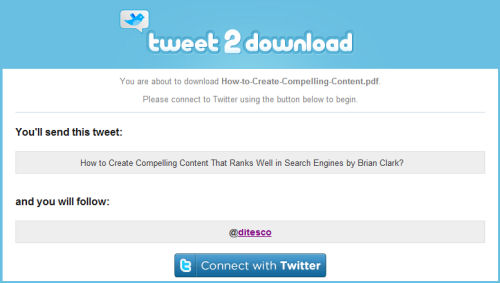 Does Tweet2Download work?
Well, I just got Tweet2Download right now and installed it a few minutes ago, so I am counting on you to help me try it out. To give you an idea, I am providing you an ebook from Brian Clark of CopyBlogger.
Be advised, that this is just for testing purposes. Although this is the case, you might still be interested, considering that it is in fact free, and worth the read. Brian mentions: "This free report is yours with no obligation, registration, or email address required". – So I guess I am safe 🙂

The ebook: How to Create Compelling Content That Ranks Well in Search Engines by Brian Clark (alternative download link)
Included in this report:
Why SEO Copywriting Still Matters
How Search Engines Work
Why You Have to Spoon Feed Search Engines
The 5 Essential Elements of Keyword Research
How to Create Cornerstone Content That Google Loves
Five Link Building Strategies That Work
Five Areas to Focus On for Effective SEO Copywriting
Why Writing for People Works for Search Engines
How to Make SEO Copywriting Simple
Want to see this Twitter marketing tool in action and get Brian Clark's free eBook? Hit the button below and let me know what you think about it? Your feedback is always appreciated. Remember, Tweet2Download is free and I am not getting paid for this. Just another way of helping you boost your online business.
UPDATE (from yesterday): Sell Your Content For A Tweet?
Following @Razvan comment below, version 1.3.0 has just been released and the plugin is now even better and solves the issue (if it was in the first place) of "not having" any products to give users to download (some users expressed this concern on the comment section). With new version, you can ask you users to pay with a tweet for your content too. In a nutshell, Tweet2Download "hides" a part of your content and will reveal the rest of it after a user has Tweeted and followed you. Cool, don't you think? You can find examples of shortcodes here.
This makes the Tweet2Download plugin a very effective viral Twitter marketing tool, ideal for musicians, writers, marketeers, designers, programmers or anyone else that has free content on their blog. Thanks Razvan.