Late last year, I posted a case study about related post plugins and how such plugins may impact on your sites performance. As you well know, site speed not only is extremely important for improved users experience, it also matters for SEO.
At that time, I have chosen some free related post plugins that were great and ended up settling for nRelate, although LinkWithin was also a pretty good contender. The all popular YARPP sadly had to go, as it was using too much resources on my server and slowing down my site. I really needed to get my site loading a bit faster.
Anyway, fast forward some months and once again, I have changed my mind on what "related post plugin" to use. After testing Outbrain, Taboola, and Zemanta, I finally decided to stick with Zemanta for time being. Want to know why? Read on, but first …
What are related posts plugins and why use them?
To avoid being repetitive, I will provide an excerpt of the article mentioned above.
Related posts plugins are tools that WordPress site owners can use to display, either in text or thumbnails, posts that are "similar" to the one users are currently reading. Most of the time, you will see at the end of each post something like, "you may also like", "post related to …", etc.

One thing that some people tend to forget is that often times, visitors do not generally land on our homepage, but rather on specific posts. This is especially true when they arrive via organic search, links clicked via social networks, etc.

One of the reasons related posts are recommended is because it increases users engagement on our site and entices them to stay a while longer, by offering more "options" for them to read about the subject they showed interest in.
Not all related posts plugins are created equal. That much I know. However, some are very similar to each other and while some are more accurate in returning results, some are so so.. This is particularly true when you have many articles posted on your site. One of the problems I had was that I had to limit the amount of "related posts" to show my audience. Another was that in many cases, the results being returned, while relevant, were not exactly what I wanted.
This led me to start using Zemanta, because aside form being free, it returns good results, allows me to "edit" related posts, gives you on the fly stats, mobile optimized and finally, depending on the niche you are in, may even be able to be approached by them to make some money, by showing "promoted posts". That's cool!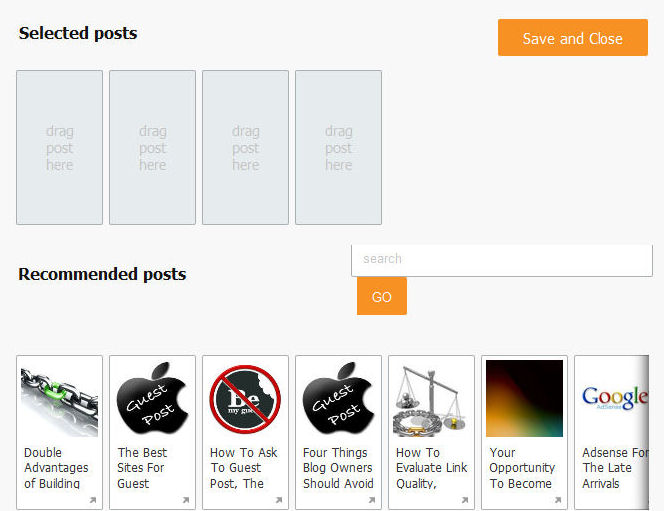 Watch the video below as I walk through how Zemanta works.
That's it!. If you were looking for a good related post plugin that works quite well, give Zemanta a try.
Quite frankly, the only thing missing from Zemanta right now is to give me the ability to "choose" pages and why not, upload images and linking to any URL I want 🙂 That would be a blast. Maybe they are working on it…
And before I forget, no disclosure required here. This is not a sponsored posts. I simply wanted to share this alternative, in case it fits your needs.
What about you? What related post plugin are you using (if any). Do you know of other alternatives that offer the same features?