The internet has been growing like crazy the last couple of years primarily due to, among other things, the ease of setting up websites and/or blogs. Setting up websites or blogs has been a preferred choice by many businesses (large or small) to promote products and services, and many people have also discovered that if done well, setting up websites and/or blogs can be profitable.
In the course of having to set up a website or blog, one of the first things one should be doing is to choose, preferably, a keyword rich domain name or a custom domain name. This has been proven to be a key factor, to build a long term online presence, establishing a brand and for SEO. Finding that ideal domain name however, can be tedious, daunting and to a certain extent, very frustrating. So how do we go about doing a domain search that will make our lives easier?
Enter PC Names – An Instant Domain Search Engine
The word "instant" is highly unusual to be seen for a domain name search engine. We are mostly familiar seeing this term on search engines or social networks. PC Names however, is a service that does just that, checks for domain names instantly. Based on your query, the interface will instantly check whether the .com, .net, .org, .info, .biz, .us, .mobi and .name, TLDs are available. The results appear only within a couple of seconds delay, much for your convenience, and are clearly marked available (in green) or ooppss, unavailable (red) and for sale (in blue). If the name you are looking for is available, hovering on one of the extensions, you are immediately given the opportunity to buy that domain name via the registrars they use which is Godaddy, Yahoo and Network Solutions. Obviously you can also register for that name on your preferred registrar.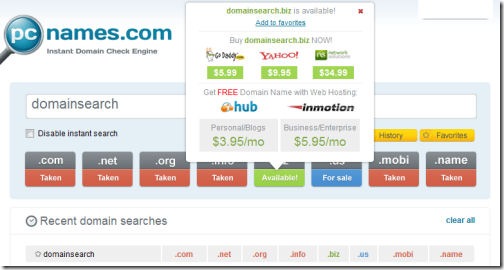 So, What Else?
Apart from having a very clean user interface, and an ulterior purpose, which is to help you search for available domain names, PC names provides the user with many other features that can be useful, or at the very least informative. Let's take a look.
FAQS: Do you know what a cyber squatter is? What is IANA? Do you know how to buy an expired domain? Well, the section about FAQs is nothing else but a comprehensive list of questions and answers which will get you started to everything related to domains. If you ever wanted to know something about the subject, this is a very good start.
TIPS: A section where you can find in a very simple and short "instant" tips useful information related to a variety of subjects in the domain arena. Really very helpful.
Reviews: Review of over 20 registrar companies to help you pick the right one.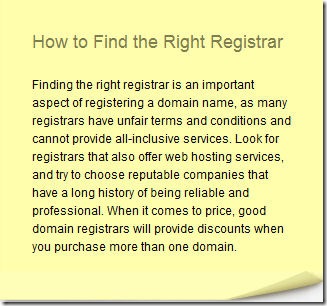 And a little more…

Bulk Domain Search: Bulk domain search is an interesting feature that enables you to do bulk domain search or bulk domain lookup by pasting an unlimited number of domains to be checked for availability. A time saver.
Domain Name Generator: Need some ideas? Can't quite find the right name you are looking for? Domain name generator helps you generate domain names using lists of words.
By now you might be asking if there is a catch? None really, this service is totally free and all of the above are accessible via the free version. There is a PRO version that enhances even more its functionality, but that's up for you to decide. The next time you do a domain search, give this a shot and hopefully you'll find that perfect name you are looking for.