Speedlink V27/2011, StumbleUpon, SEO, Blogging, Social Web
Hi everyone! With the exception of some tragic events reported in Europe, most of what I've seen in the main technology news websites have been "circled" around on FaceBook, Google+ and Twitter. One article that called my attention in particular was from Mashable, which shows how creativity knows no limits. There are users that have been tweaking their Google+ profiles with some real cool "photo" hacks, like the one below. If you know how to do this, please do write a "tutorial" about it, and let me know 🙂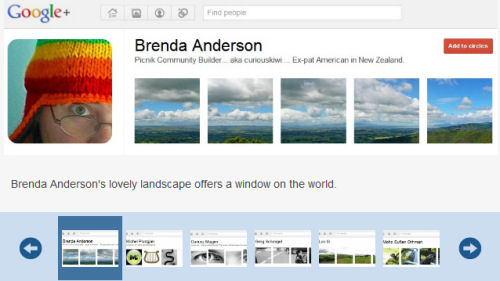 In addition, you should really watch the video of "Where Good Ideas Come From".. it is awesome.
As usual, and in no particular order:
Blogging/Business
The Three C's Needed for Your Blogging Success
SEO/Marketing
SEO and Why You Keep Getting Outranked
SEO Developments You Need to Know About
Social Web
Sync Google Plus to Twitter, Facebook & Identi.ca with Agent G
WordPress Junkies Networking Community – Podcast
Does selling the same product on three different domains look spammy?
Where Good Ideas Come From
That's it! Enjoy and have a great week ahead.