Marketing and eCommerce in itself already can be a complicated set of chores when it comes to trying to accumulate or convert more customers, figuring out how to recover abandoned carts, using advertising to convert leads, reactivate customers, and as you may already see where this is going, the list can go on.
Gone are the days when you had to use individual tools to control most part of the work that I mentioned earlier. Really, would it not be nice if there were an all-in-one tool that can help us gain better control over our online stores and make all the necessary chores happen? The answer is obvious.
All-in-one marketing suite?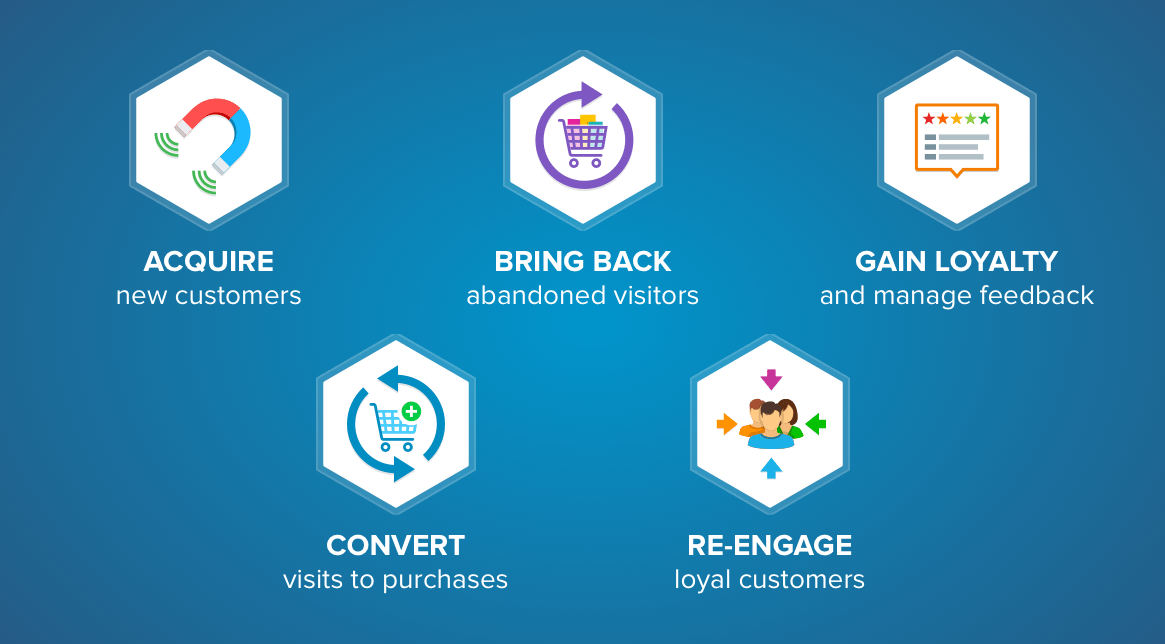 REES46 eCommerce marketing suite is a full and smart marketing suite that brings together everything from triggered emails to product recommendations, from customer segmentation to real-time analytics, Web Push marketing, and triggers, etc. REES46 provides eCommerce marketers with a powerful marketing suite based on Progressive Personalization technology. Set it up once, and you are good to go. And yes, you don't need to be a tech-savvy to make use of its tools.
Before moving forward, let`s see a bit more of what REES46 is about in this quick video below:
As you can see, using REES46 could really give you that competitive advantage you may be needing to push your eCommerce site to the next level.
In short, the main objectives that REES46 can help you easily attain include but are not limited to:
ACQUIRE: Gain more visitors by using their advertising platform that targets specific audiences based on several factors including behavioral parameters.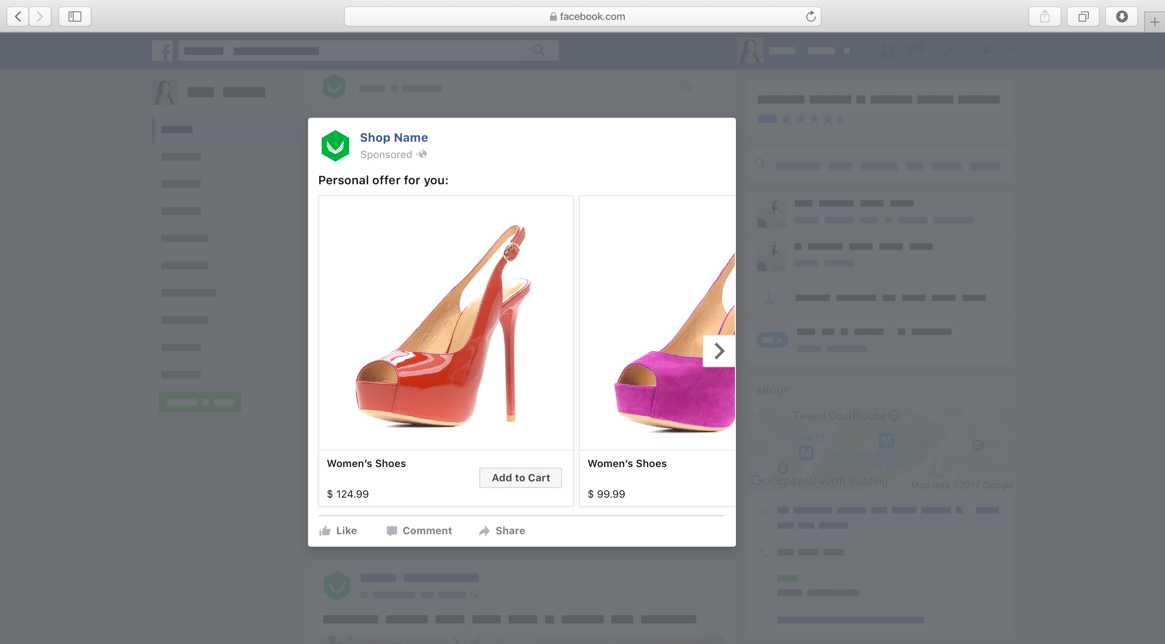 CONVERT: Convert your visitors into buying customers by helping them search for the product they are looking for easier by recommending products based on their actions from the moment they land on your site. Also, providing your customers with an improved search experience based on their interest may also prove to be of great help to increase your conversion.
BRING THEM BACK: Recover customers who have abandoned their carts by using non-aggressive forms of email retargeting, web push notification, etc.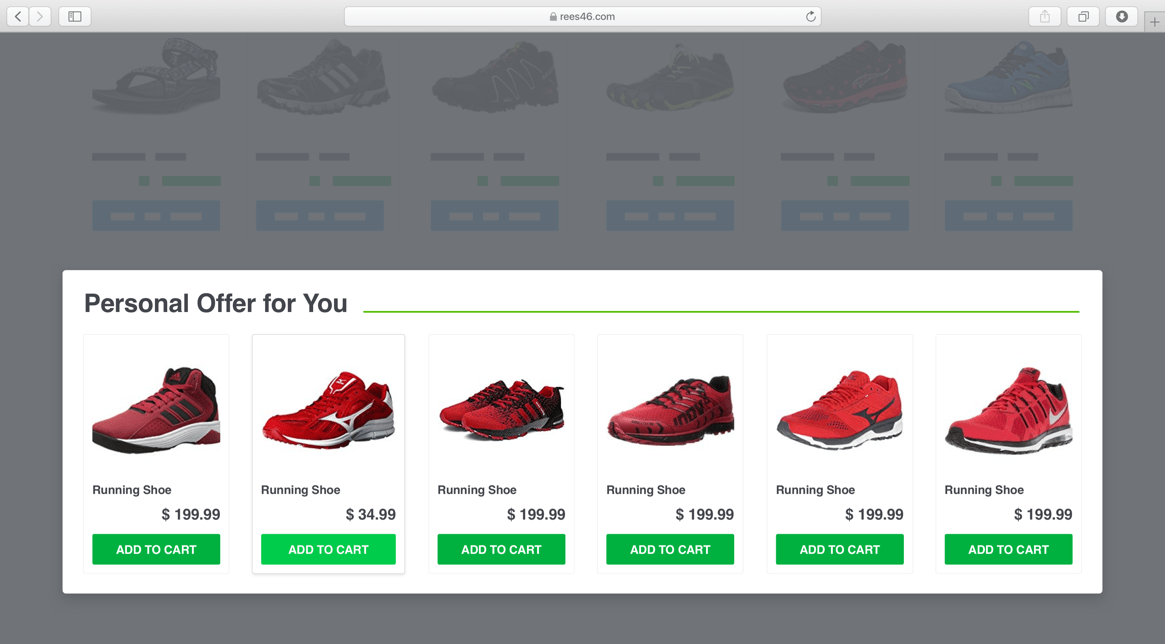 Triggered emails and web push notifications with pre-built workflows include tools for:
Abandoned cart follow-up reminder
Looked through but haven't bought
Haven't found what you were looking for?
Abandoned category
Back in stock
Price drop
and more…
REACTIVATE/RE-ENGAGE: Bring back those customers or visitors that have long forgotten you by inducing repeat purchases through carefully prepared personalized emails and push notifications with individual selections of recommended products.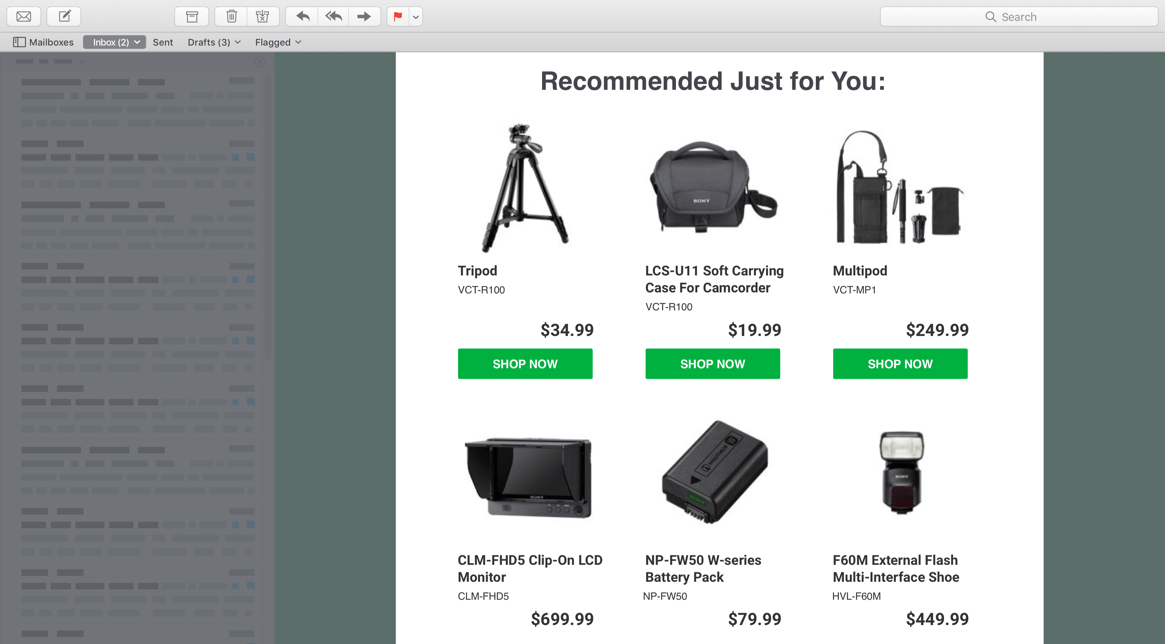 FULL CONTROL & REALTIME ANALYTICS: REES46 smart dashboard helps you see the overall picture and always be able to analyze KPI's in real time. Make solid decisions and stop guessing!
click on image for a larger view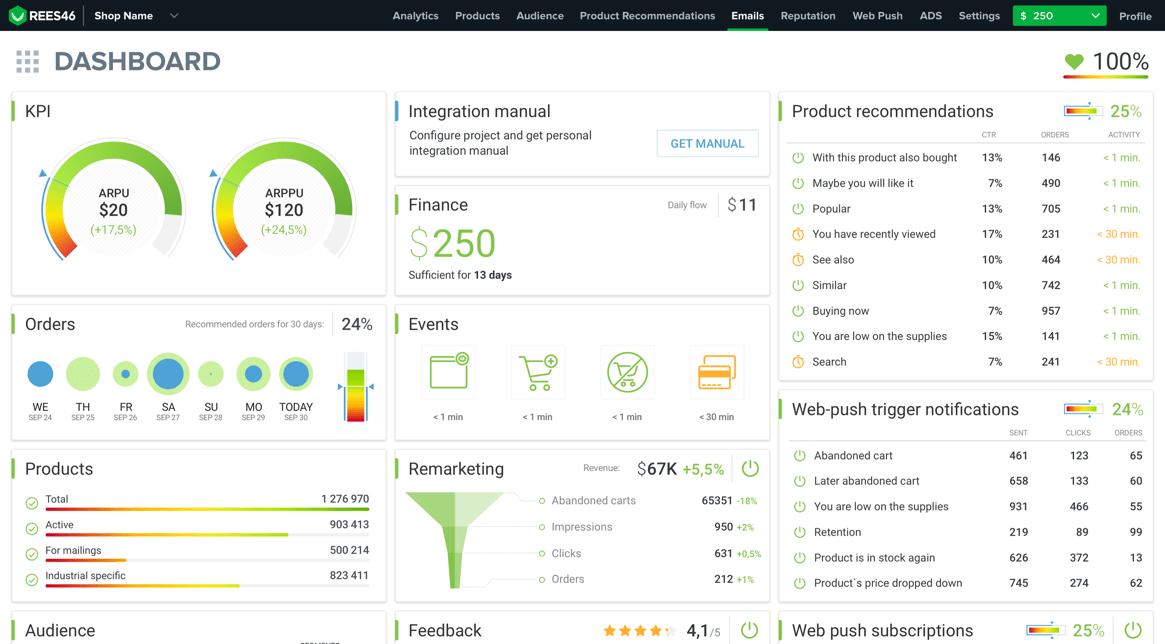 FULL INTEGRATION: REES46 has pre-built integration modules for PrestaShop, OpenCart, Magento, Shopify, CS-Cart, etc..
And many more, including specific "niche solutions", such as, apparel and accessories, home appliances, construction, etc.
How About Pricing and Setting Up An Account
The one thing that I like most about products that "believe in themselves" is when they allow you to test drive the platform for free. The try before you but policy is simply great. REES46 provides you with a free 30 day trial period to test drive the platform. If you like it, you will further be amazed by the pricing flexibility they have. The "pay only what you use" policy is another advantage should you decide to go ahead and use the platform for good.
Now, let me walk you through the account setup. Easy as 1-2-3.
Step 1
Goto REES46's homepage and click on "Start Your Free 30 Day Trial" (or just follow this link)
Fill up all the information required, and click on continue.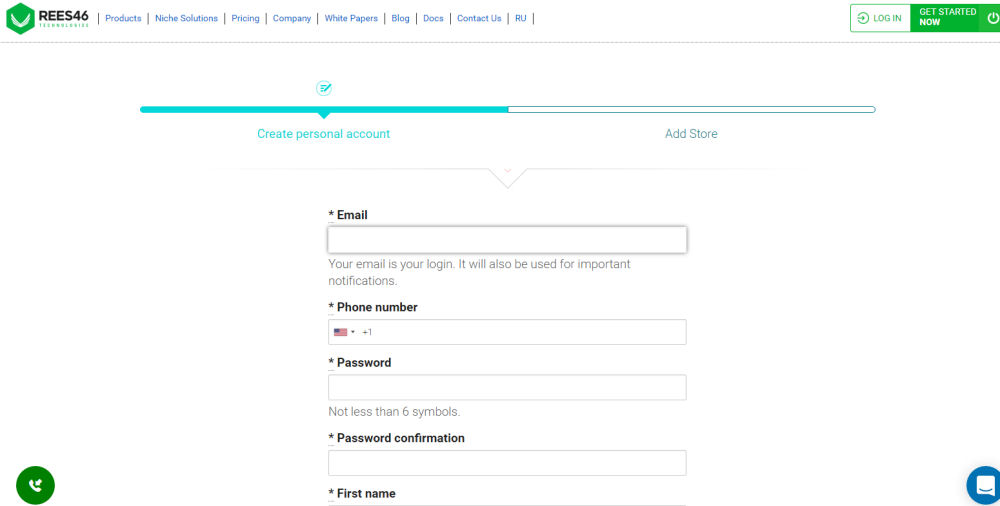 You will be taken to the "add store" page. Again, fill the information required and click on save.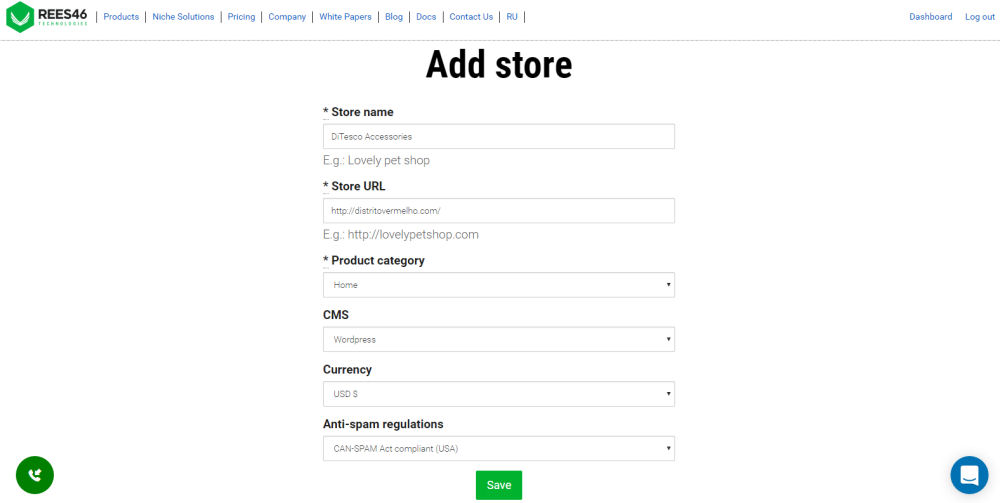 And you are presented with the "initial configuration" page. Here you will provide information about the eCommerce CMS you are using as well as choosing the features you plan to use.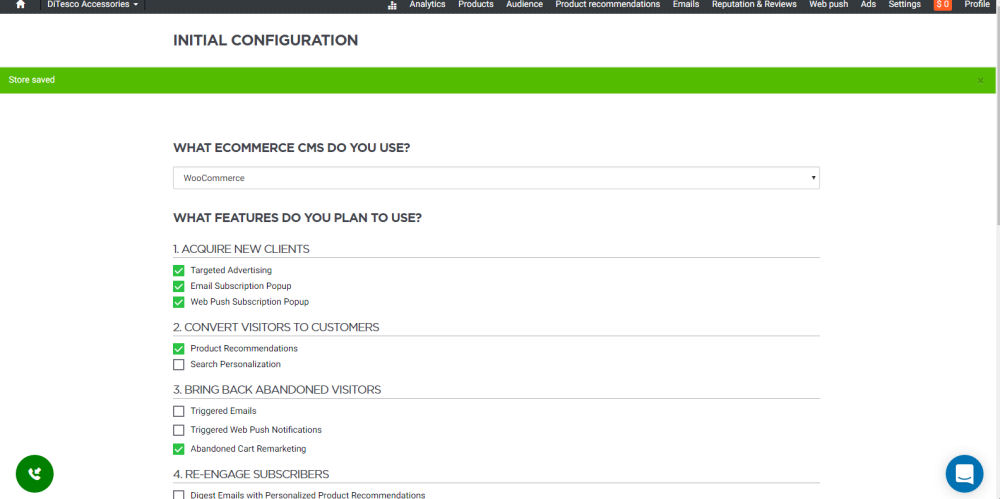 Click on continue and you will be provided with the "Configuration Overview". From here you will see a link that will take to the integration process. It contains all the instructions you will need to integrate REES46 to your eCommerce site.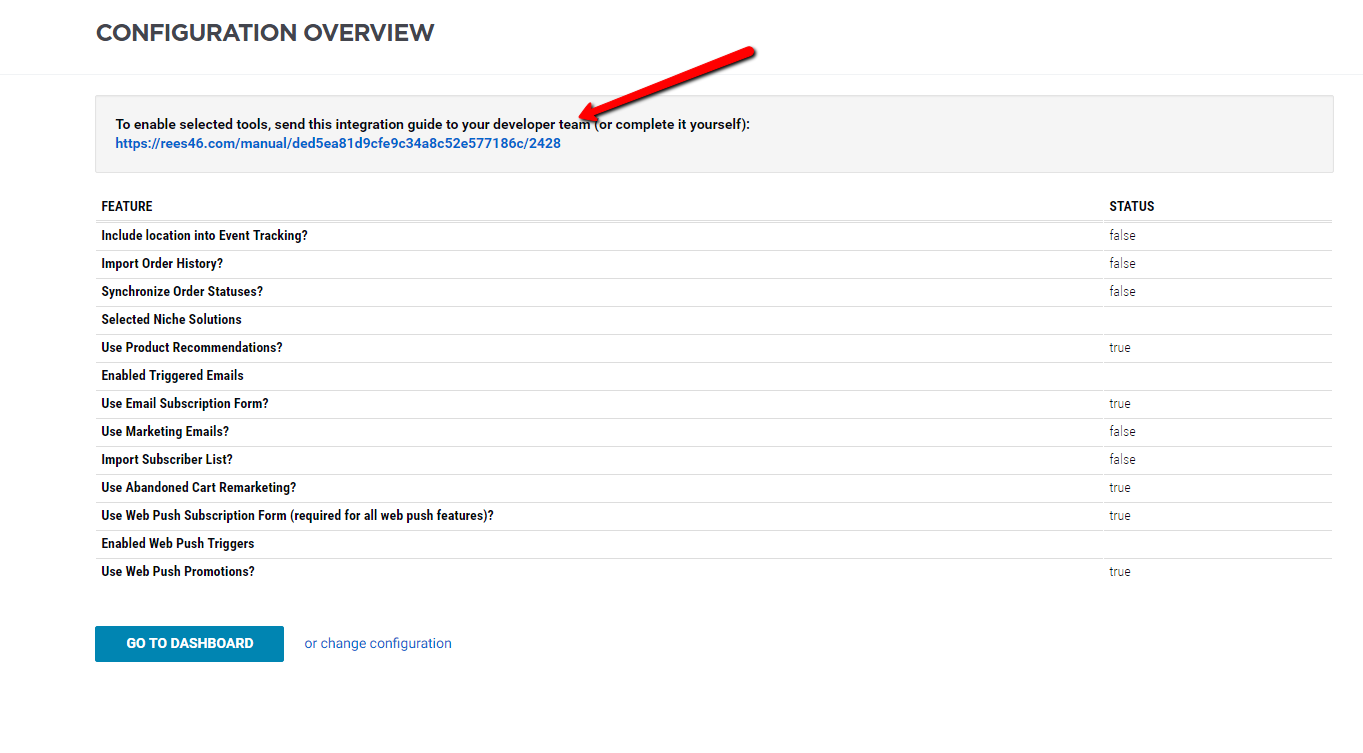 And once you have setup your account, you can now access everything form your dashboard.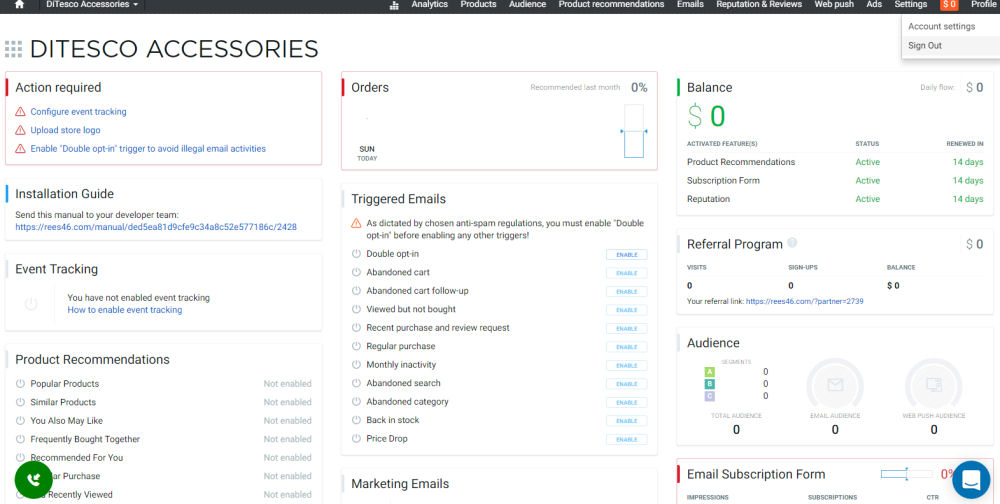 There you have it.
As you can see, REES46 is indeed a very powerful tool to have in your marketing arsenal. As usual, you have the option to try the suite for a full 30 days and if you don't like it, no worries. If you want more information about REES46, please visit their site or if you prefer, you can even ask for a demo.