Content marketing has become a must have for businesses. Content marketing gives all businesses an equal opporuntiy to succeed and more and more businesses are taking adavantage of this. With the immense rise of content marketing, marketers now face a lot of competition for viewers' attention. Marketers thus need all the help they can get to excel in their field. Although tools and apps are more common, Chrome extensions are relatively under used. Here are 5 Chrome extensions that can boost your content marketing:
DrumUp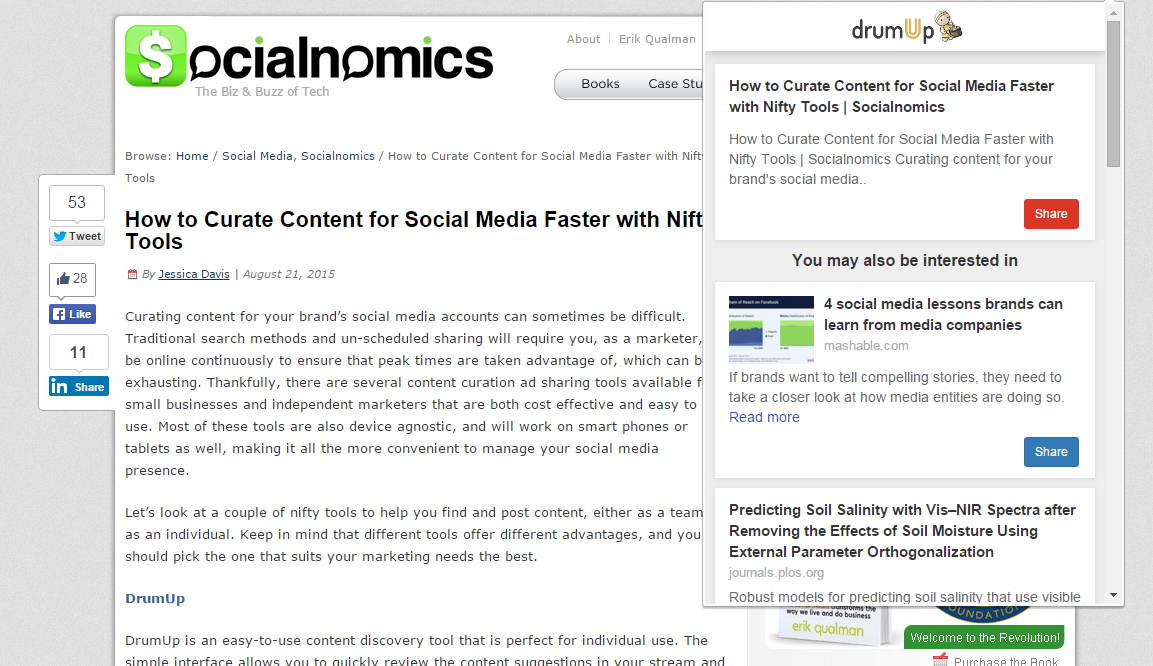 DrumUp is a web and Android app that is perfect for content marketers. The Chrome extension allows you to find quality content and is also great for research. When you're reading a good article, clicking on the DrumUp extension opens up a drop down menu that shows up to 10 articles, related to the one you're currently viewing. You can then open the articles in a new tab or directly schedule them on your social media accounts by using their web app. For marketers, this extension makes both content discovery and curation effortless. Their web app is great for scheduling content across all your social media accounts – you can even repost content multiple times. It also has the option of 1-click scheduling, so you can share a post in a matter of seconds. The app also delivers relevant content from your niche on a daily basis.
Nimbus Screenshot and Screencast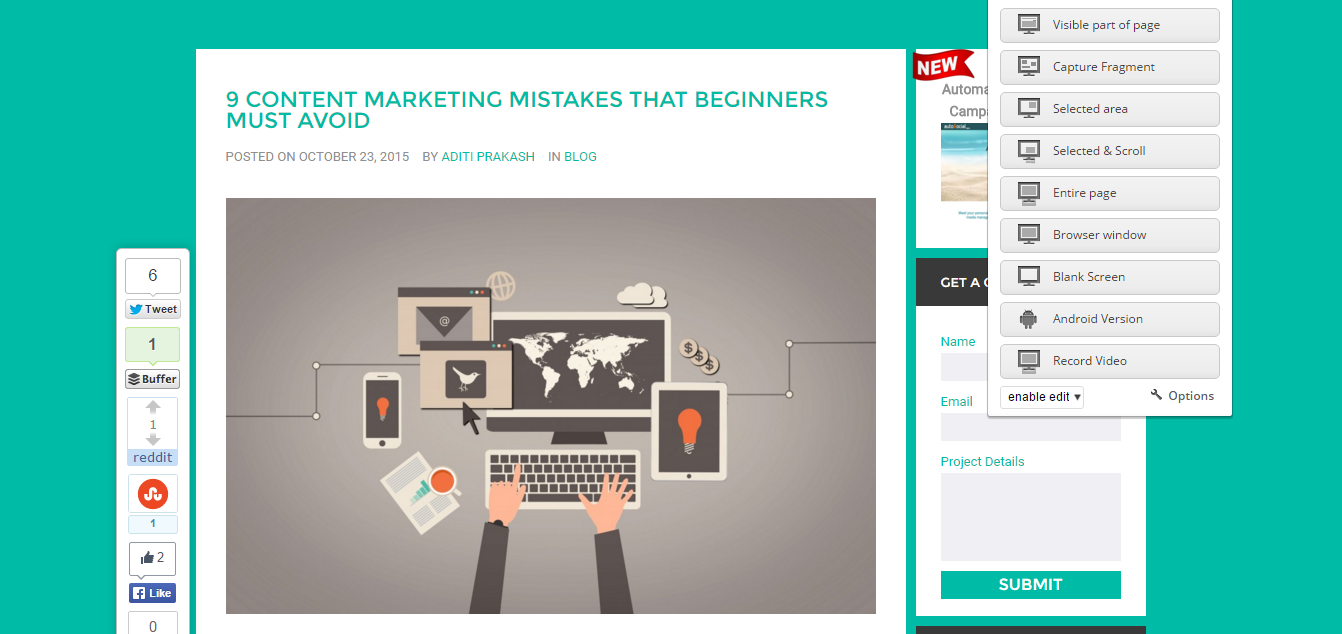 Content marketers use visuals on a daily basis – from screenshots of apps and tools to webpages. These visuals are used to highlight points, explain concepts and showcase tools. Nimbus is the perfect Chrome extension for getting the visuals you need. The extension allows you to take screesnshots of any webpage or even part of a webpage. You can then edit the screesnshots using their user-friendly editor and add text, stcikers , arrows, patterns etc. Once edited, you can save the screenshots in many formats and share as you please. You can also record videos of your screen to show tutorials, review apps etc.
Snip.ly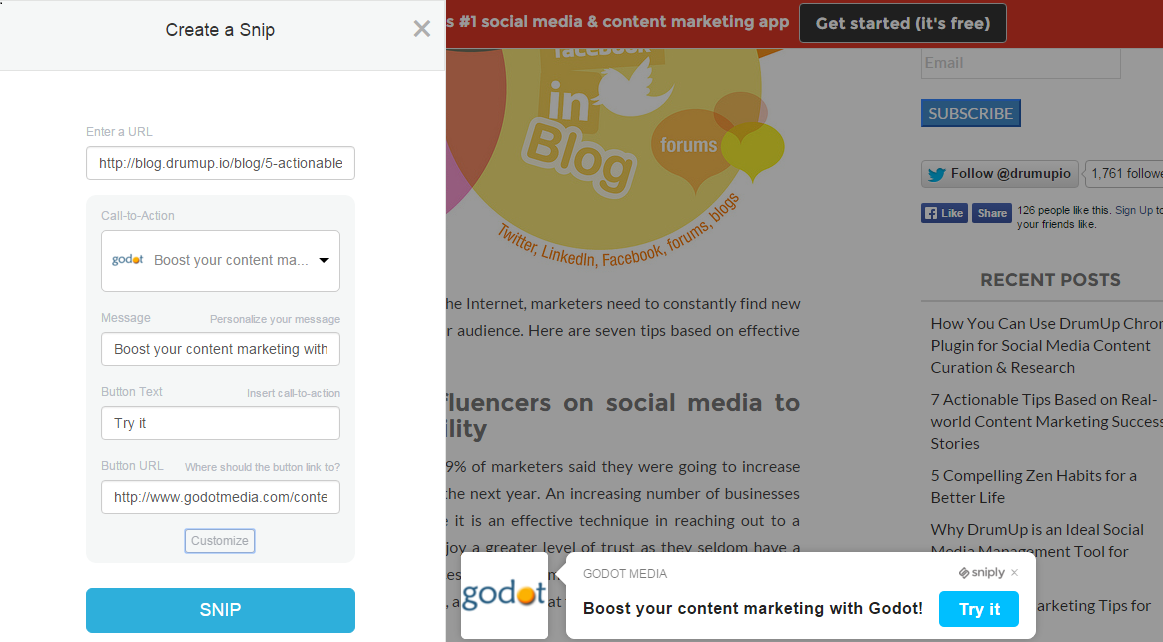 Snip.ly is a tool that allows you to add a call-to-action banner to every post that you share. Be it your own blog post or curated content, Snip.ly lets you add a personalized banner with a link back to your site. For content marketers, this is a great way to get readers to visit their own site while still sharing other's content. When you want to share interetsing content form the web, clicking on the Snip.ly button opens a pop-up menu that allows you to customize the call-to-action, button text and the link for the button. In the free version, you can also customize the shape of the banner. One of Snipl.y's main features is that it shortens the URL, so you can share it on social media easily. The shortened URL also lets you keep track of the analytics.
OneTab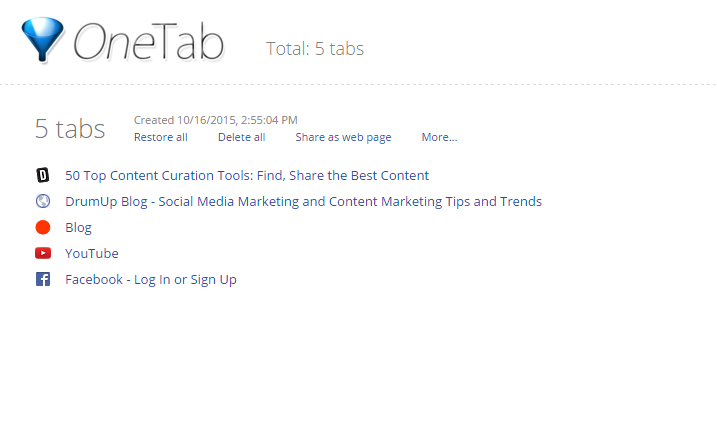 As content marketers, you usually have a ton of tabs open as you multitask throughout the day. As the day gets busier, you tend to close tabs that might have been valuable but you just don't have time to read them. OneTab provides a solution for this. The Chrome extension saves all the links of open tabs in a single list before you close them. You can then open all the links or each link individually at your convenience. OneTab also lets you share the list of links with your colleagues/bosses for better team integration. Another benefit is that you can save a lot of RAM memory by not having many tabs open simultaneously – this makes sure that your system tuns more smoothly.
Flip It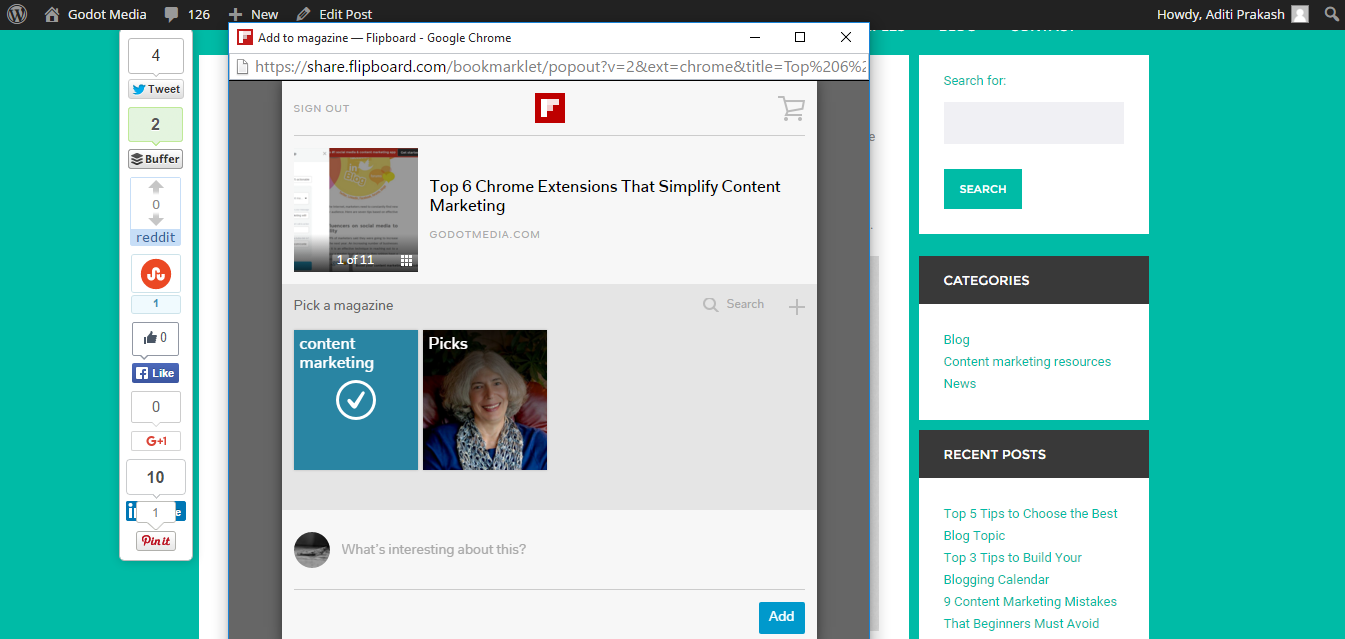 FlipIt is the Chrome extension for the app, Flipboard. The app and the extension aim to help you save content from anywhere on the web for later viewing and sharing. Once intsalled, clicking on the extension will allow you to save different kinds of content into digital magazines. You can revisit the content you saved and share it across your social media accounts. The app is also great for content discovery as it suggests fresh content based on your interests.
And there you have it! 5 chrome extensions that make your daily tasks more organized and effortless. Make sure to check out these and see which ones are best for you. Use them wisely and you will breeze through your tasks.

Author: Jessica has a keen interest in social media and content marketing, and writes extensively about it. She represents Godot Media, a leading content marketing firm.