It's modern wisdom that good marketing and good content go hand-in-hand, but it's equally true that today's busy audiences don't have the time or attention to devote to reading long blog articles. While we can practice some tricks of the trade—like using small paragraphs, bulleted lists and bolded text—this isn't the best method of catching the reader's eye. Instead, convert your content to multimedia to deliver the same message in visually appealing, digestible chunks, and to encourage your readers to interact. Here's how you can make the change without losing your key points.
Infographics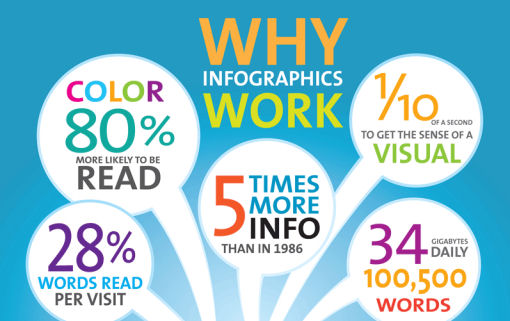 The term "infographics" calls to mind a beautiful display of design prowess paired with exciting, relevant facts. But we don't have to be star graphic designers to create engaging infographics. In fact, you can simply place a pull quote or interesting statistic over an image and use this to convey small snippets of information. These can be shared via social media or interspersed throughout a blog post, allowing readers to catch the gist of it even while skimming.

Video

Studies have shown that video is slotted to be the next big thing in marketing. Whether you're using it on your company site or creating it as a social media campaign, you can recycle information from your best blog posts or articles and turn them into informational videos. When creating a video, try not to do it with the end goal of "going viral." Most of the time, your audience will be aware of your intentions. Instead, be genuine, funny or clever, or simply informative. No matter what, find a voice and tone that works for your industry and stick with it.

Slide Shows

Many marketers have found success by using slide shows to break their content into smaller sections. This can provide a great opportunity to give each important piece of your content its own bit of screen time. Break up the slides with pictures, infographics, or embedded video for an even greater impact on your readers. These presentations can be used on web pages, email newsletters, or in blog posts to obtain increased traffic and a more in-depth understanding of your content.
Of course, you don't have to create new content for each of these unique mediums. You can translate one blog post or article into a series of infographics, a video, and a slide show performance, allowing each piece of multimedia to address a different type of reader. If you want, you can also convert your post into ebooks and within the process increase leads. You'll broaden your impact, make your content more accessible to readers, and obtain something meaningful to share across a variety of platforms. So next time you're working on a great blog post, think of how it can be translated into multimedia to help you expand the reach of your marketing efforts.
Need some ideas for getting your creative blogging juices flowing? Click here.
image credit: wickmarketing.com