Hi everyone, hope you all had a great and productive week! Did you ever mass-deleted a bunch of impersonal emails from your inbox? HAve you experienced a sudden decrease of traffic or engagements of your brand? Well, Brand fatigue is a real threat to your marketing strategy and if you are not carfeful, your brand can easily become just another noide in the background. In the video below, Rand of Moz.com, discusses why brands become "background noise" and how you can avoid it.
Why No One Pays Attention to Your Marketing
What You Can Learn From The Worst-Performing Headlines On Buzzfeed [Infographic]
The fine folks at Buzzstream and Fractl recently analyzed over 5,000 articles from BuzzFeed with a focus on the lowest-performing headlines to discover what didn't work. The infographic below is quite interesting to look at, as it reveals which words and phrases to avoid disaster. Some interesting facts reveal that:
An average of 8 out 10 will read your headline, but only about 2 will read the rest of your content.
A great headline has the potential to increase traffic by as much as 500%
and more at the infographic below
click image for larger view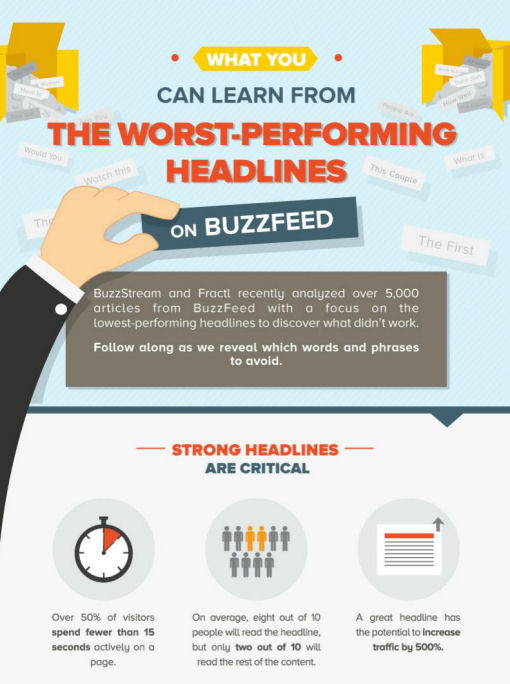 The Future of SEO: 2015 Ranking Factors Expert Survey Deep Dive
Every two years, Moz surveys the brightest minds in SEO and search marketing with a comprehensive set of questions meant to gauge the current workings of Google's search algorithm. This year's panel of experts possesses a truly unique set of knowledge and perspectives. In addition to asking the participants about what does and doesn't work in Google's ranking algorithm today, one of the most illuminating group of questions asks the panel to predict the future of search – how the features of Google's algorithm are expected to change over the next 12 months.
Click on image for a larger view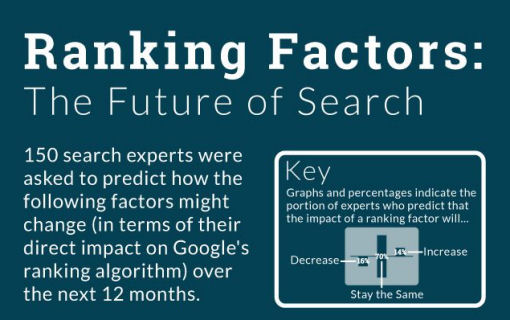 Read the full survey here.
And as usual, in no particular order:
Content Creation & Marketing/SEO and Search
7 Evergreen Link Building Strategies
Social Media/Small Business Bites
More from around the web …
That's it! Enjoy, have a great weekend!