Inbound marketing is a huge benefit to any company, as it makes the assumption that people want to find a business like yours rather than persuading people that your company's idea has merit. If you're providing a service like a restaurant does, then that's a given: people need to eat. So, how can inbound marketing bring people into your restaurant? By getting your site found on Google and other large search engines so that when people are hungry and look for a place, yours is at the top of the list. That's what good search engine optimization can do for you, and it'll help bring people to you rather than you hunting for people.
Finding something online should be easy. After all, we live in an age where web search is so ingrained into our culture that one of the major smartphone platforms is created by the search giant Google. Even the name "Google" has become an action word describing the act of searching the internet. But searching the internet is anything but simple. Do a simple web search on Google for a major topic and see how many results come up.
How you can use inbound marketing for your startup restaurant
First and foremost, this is 2015. If you don't have a website, you need one. Getting found is about putting your information where people can find it, and thanks to smartphones and mobile devices, the internet is where that is. If people can use Google and other search engines to find your restaurant, then that's better for you.
It should be no surprise that making a good site that Google and other search engines place at the top isn't easy. The competition is stiff. So, as part of the search engine optimization process, you should be adding your business to local profiles such as Google+ Local and other similar sites. People turn to web services like those at least as much as to Google because they've figured out that, for some things, a simple Google search isn't enough. If you have your profiles there as well, you can achieve better results than just optimizing.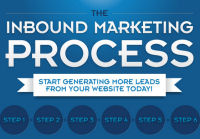 But, if you do have a website, how can it work for you to bring people in? First, you should have a menu for your restaurant, preferably a downloadable one. If you have a large, complex, or just an interesting menu (perhaps you have a theme restaurant), allowing people to download it means that they can always have that information at their fingertips (meaning that if they search their PDFs on their phone, they'll see your menu and think of you). Not only that, but if you put the PDF behind a landing page, you can capture their information and send them emails about deals, specials, and events you're running, meaning that you can keep people who are interested enough in downloading your menu up to date with what you're doing. This is where email design by Designhill comes in. By having your emails and newsletters well designed by firms like Designhill, you are adding value to the process of inbound marketing.
However, there are pitfalls. Before Google refined their search engine, it was sufficient to "keyword stuff" your page so that the word appeared multiple times in unreadable sections on your page, making it seem to Google that the page had more to do with the topic than it did. That method doesn't work anymore—in fact, Google and other engines will penalize you for that behavior.
Why traditional marketing hasn't been as effective for startups
You shouldn't use traditional marketing at first because it's an expensive way to go with no guarantee of the results. You might have the money and a great idea for a snarky, funny campaign to put on billboards in your area, but you'll break the bank giving people a laugh without being able to see the return on investment. Comment cards can help fix this problem but most people don't use them. With inbound marketing, you can follow the downloads of your menus, gather information, and see how many people have seen, clicked, and downloaded your materials, meaning you can measure the impact of your advertising campaign at a glance and tweak it on the fly.
Not only that, but traditional marketing takes a lot longer to implement and runs for a longer time. If you make a billboard or newspaper ad and order it to run for weeks, it might not succeed. Then you're stuck with it running for weeks or even months with no return on the investment you put into it. Having people come to you is a much smarter idea.