Hi everyone, hope you all had a great and productive week! This week, one of the most noteworthy news was that of YouMoz, the user generated content portion of Moz. Some contributors received a Google Manual action for a link violation citing YouMoz as one of the sites that was violating quality guidelines. It is very interesting that such a high quality site like YouMoz will be considered as "spammy". If that is the case, then there are simply no other site whose links can be considered safe?
Here´s an example of a notification from Google as posted by Rand.
If you noticed above, aside from YouMoz, another link had caught my attention and that is from brandyourself.com, a reputation builder site. Wow! Anyway, what do you guys think about all this?
How Do I Successfully Run SEO Tests On My Website?
By now, most of us have gotten around to doing testing of some sort on our websites, but testing specifically for SEO can be extremely difficult and requires extra vigilance. In Rand´s recent whiteboard Friday, he explains three major things we need to think about when performing SEO tests. He also offers up several ideas for experiments we all can run!
2nd Quarter 2014 edition of the Shareaholic Social Media Traffic Report
Shareaholic´s data demonstrates that Facebook's is still the dominating force as the leading driver of social referrals to sites across the web. Pinterest is now the queen of social referrals followed closely by Twitter. These results may not come as a surprise to you, but if you look at the other networks, then you may get surprised. Can you guess the other ones?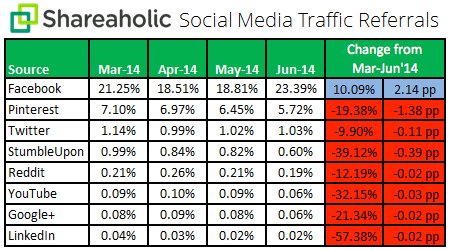 And as usual, in no particular order:
Content Creation & Marketing/SEO and Search
A Manual and Effective Link Audit in 6 Steps
Top 50 Quality Blogs For Guest Blogging
Social/Small Business Bites
How To Get More Traffic From Pinterest
8 Tweets That Generate Engagement [INFOGRAPHIC]
More from around the web …
Weekly Marketing Skinny • July 26, 2014
That's it! Enjoy and have a great weekend!