A Contact Us page is the concluding page of a website that entices its visitors to contact the organization and make an inquiry. The Contact Us page is as important as the summary of an article or the ending of a mystery story. Can you ignore it? No, you cannot!
So what must you do to make your Contact Us page 'alive and kicking'? Let's find out about some effective ways in this post here.
Why Focus on Contact Us Page?
Seriously, there aren't many webmasters who pay a great deal to designing a Contact Us page. It is often overlooked. As a result, it may happen that few visitors leave your site without contacting you and the results are not so encouraging for your business.
There is indeed a pressing need to design your Contact Us page in an effective and engaging manner, so that people can contact you without any hesitation. There are occasions when people not only find it difficult to contact you for some reason or the other, but even encounter problems while filling the Contact Form you place on the Contact Us page. This should not happen as it takes your precious visitors away, and sometimes, which is even worse, you cannot lure them back or know where they came from and what they looked for. Hire a good website designer who can design your web pages creatively and in an effective manner.
Some of the direct benefits of having a good Contact Us page are:
It benefits your business by letting people make contact with you.
It helps in processing queries regarding your business products or services.
It helps in addressing customer grievances and therefore is useful in maintaining customer satisfaction.
It helps in knowing customers' valuable feedbacks, which are important in improving your business goals.
Elements of a Contact Us Page
Every site has a Contact Us page which is used for a two-way communication process. However, many sites do not pay much attention to these pages as designers think that they are not as effective as they should be for an online business. But as they are indeed useful you must know some basic elements of a Contact Us page, as explained below.
Email Address
An email address is the most essential element of a Contact Us page. Without this, users cannot write to you. Some online businesses do not like to reveal their email addresses due to the fear of spamming. To tackle this problem, you can use a Contact Form instead of giving an email address directly. The Contact Form is filled by the visitors on your site. Later, you can reply to their queries, via email or phone.
Address
The physical address of a business is important for any merchandise store and otherwise too. If your business is established at multiple locations, give the related information to your visitors on a separate page. It's a good option if you can display your store image along with the address. Give information about the store timings like opening/closing hours, map directions or any landmark to easily locate the store.
Phone
It will greatly disappoint your visitors if they do not see any phone number on a site's Contact Us page. Frankly, it doesn't convey a sense of belonging or trust. Why should someone contact you when your company itself is cautious about sharing its telephone number with its visitors?
Therefore, always display your telephone number(s) and appear as a real company.
Social Media
Displaying social media buttons on Contact Us pages is like an instant sharing tool. It can be a real boon to your visitors if they want to connect to your site via social media. For example, with Twitter support your visitors or regular customers can know about your organizational events or latest updates faster than others.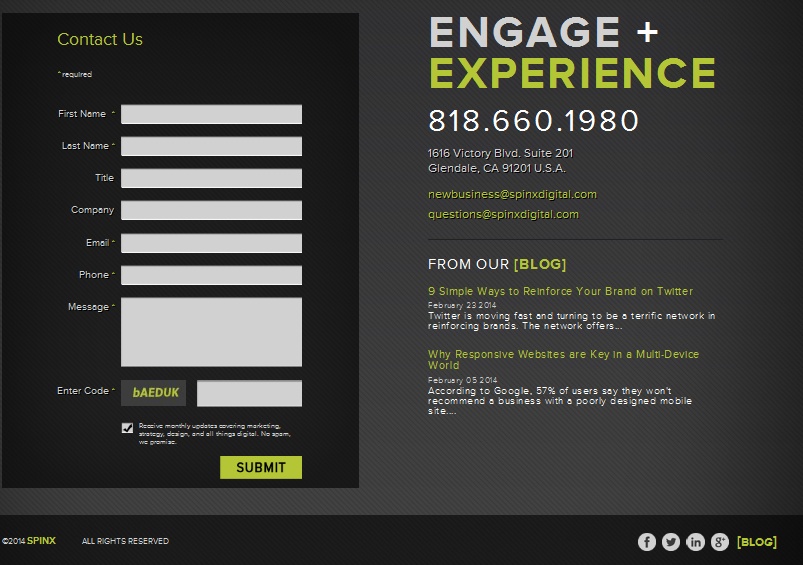 Other Useful Information
It's a good idea to display the opening and closing hours of a showroom. It can be useful information for those who want to visit your store. Some of the other things that you should take care of on Contact Us pages are:
Use HTML text for your contact information.
Make your phone number clickable. This is a good, handy option for mobile users.
Display interactive maps for quickly locating the physical address.
How to Design Contact Forms?
There is generally a form on Contact Us pages for the visitors to fill up. It is called Contact Form. The simpler it is, the more user-friendly it would be. Below are some tips to improve effectiveness of Contact Forms.
Keep few input fields. Filling up unnecessary input fields may frustrate your visitors.
Highlight required fields with an asterisk.
Use Send Message as a button text at the bottom of the form.
Display "Message sent successfully" or a confirmation message after the message has been sent.
Tips for an Impressive Contact Us Page
A well-designed Contact Us page is a great means of inspiring better business. Therefore, focus on designing it as attractive as possible, and make it user-friendly. Your Contact Us page is a valuable source for your site for your visitors to contact you immediately, especially the ones who want to associate with you immediately or hire your services.
You should tailor your Contact Us page to include all necessary specifications. Along with that, continue with a consistent design across all your web pages including your Contact Us page. Your visitors should not feel out of touch when they reach the Contact Us page. Encourage your users to contact you by maintaining a friendly and personalized style of communication shared on the page.
Below is a handy checklist for your Contact Us page.
Use your complete physical address. Give important landmarks and the PO Box. Give your full Skype address.
Display icons for your social media links.
Design your Contact Form carefully and include all essentials.
Add interactive maps with directions.
Use your store or office building photo for easy location.
Summing Up
It is good to keep in mind that those who visit your site and want to contact you would like to visit your Contact Us page. Get it designed in a simple format with user-friendly features. And, do not forget to keep it on your navigation or on the footer. Include all necessary information and make it very easy for your visitors to contact you. The easiness by which your visitors can contact you by an email or over a phone call indicates how successfully you have been in designing your Contact Us page.