One of the comments I see quite often from some bloggers (or online entrepreneurs) is that they do not have time to manage multiple sites, as it is already difficult to manage one, let alone several sites.
If you are trying to make money online via affiliate marketing or similar, you should know that sometimes, it is recommended to explore and create several niche sites, to maximize your revenue potential. Depending on the niche you have chosen, this will entail in having to create a completely whole new website you have to manage, and consequently more time required. Managing several WordPress sites can be a tedious tasks indeed, but there is a way around it.
First, What does managing a WordPress Powered Site Entail?
Creating Posts/Pages
Updating WordPress
Install themes (updating them)
Install/Remove Plugins (updating)
Managing Comments (approve, trash, spam, etc.)
Several other repetitive tasks, like backing up files..
And a lot of other tiny things that take up time that I am sure I am missing here. For example, there is the matter of logging in and out of your dashboard, managing users, backing up your files, optimizing databases, etc. For one site, this is already a lot and the more sites you have, the more time you need to devote in managing them. Do the math and you will see that these little things all together take up time. Time is money and using it effectively means more productivity and more time for finding business opportunities. Additional business opportunities for example can go beyond your own sites. You can also manage "websites" for potential clients as well (for those of you offering WordPress Services), as you can have access to their sites without having to login to their accounts, among other things (just a hint).
Now think about this for a moment. What if you can perform these management tasks all at the same time and in bulk? Would that convince you in hunting for more opportunities, or make your life easier in case you do already have multiple WordPress sites? You already know my answer to that, right? I would like to know yours though :).
Manage Multiple WordPress Sites Easily With CMS Commander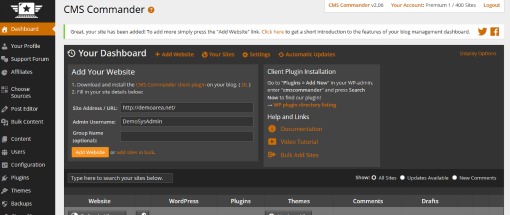 All your sites under one dashboard! That alone tells you something. CMS Commander essentially helps you manage multiple WordPress sites in one place, keeping them updated and tightly secured. One login, one password, one "picture" of what is going on in the backend of all your WordPress sites.
All available features are too much to put here, and so, I will just highlight a few. Go here to see the long list of features they have to offer. Remember though, that you can perform any task within your websites dashboard as if you where there without leaving CMS Commander´s interface. Cool!
One click upgrades of WordPress, plugin and themes across all your sites
One click to access administration dashboard for any site
Bulk publish posts to multiple sites at once
Bulk upload themes and plugins to multiple sites at once
Automatic backups of your sites
Clone one site to another
Much, much more…
To make this all work, you have to first install a free plugin, called CMS Commander (WordPress Repository) in each of your website and obviously open an account on CMS Commander. Don't worry, everything is really easy to install. Once activated, just go to your dashboard, add your site and you are good to go.
See video below for a quick demo and instructions on how to get started.
Here is a small tour of what you can expect from CMS Commander
And unlike other WP Multisite Managers that I know of, the CMS Commander has "monetization features" included in its package of cool features. Some of these features include…
Advertising and Content Suite – CMS Commander includes a full-blown autoblogging solution for your WordPress weblogs, helping you with monetizing your blogs through affiliate offers and providing SEO-optimized content.
Website Cloning – Built a successful WordPress website? Why not clone it in its entirety and use as a base for your next projects. Copying a website in CMS Commander takes less than a minute!
Over 20 Content Sources – They support more than twenty diverse sources providing you with related images, videos, articles, affiliate products and more from big names like Yahoo, Google, Youtube and Amazon and more. All sources use an official and legal API. Great for "Content Curation".
Affiliate Ads and Links – Improve monetization of your sites with affiliate ads and links provided by 9 big content providers, all of which will earn you commissions.
So what do you think? Like it? Well if you are interested you should know that you can signup for free and take CMS Commander for a full test drive. No catch, if you like it continue on, if you don´t all good.