Hi everyone, hope you all had a great and productive week! We´ve all learned that having a social media presence is a must, if we want to extend our outreach and increase our exposure, specially if one of our goals is not to really solely on one source of traffic. Facebook is one if those sites that we can´t live without, or so marketers and other influential people say. Well, to counter that a bit, Copyblogger (I´m guessing you know who these people are right?), have decided to nothing more than delete their Facebook account last week.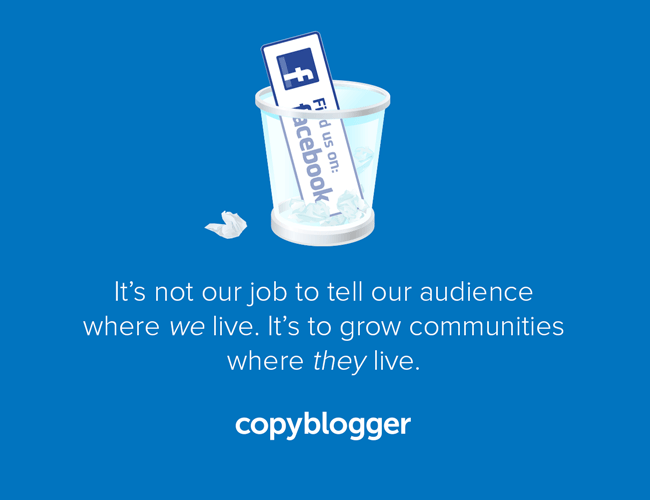 Copyblogger has found more value actively engaging with its community through Twitter and Google+, and decided to focus it´s energy in those social channels instead. Why? See their entire post here and read what led them to leave Facebook for completely. There you go! How about you, are you successfully using Facebook? In what cases would that be?
Is It Possible to Have Good SEO Simply by Having Great Content
This question, posed by Alex Moravek in Moz´s Q&A section, has a somewhat complicated answer. In Rand´s Whiteboard Friday, he discusses how organizations might perform well in search rankings without doing any link building at all, relying instead on the strength of their content to be deemed relevant and important by Google.
Building a Better Blog
Building a blog is really not that complicated anymore. You will see tons of tutorials and how to´s out there running you through the process of creating one. Perhaps, one of the things that many fail to mention is that creating a blog in the midst of millions is really not going to get you the attention you may be looking for. Competition is fierce and unless you get the right ingredients right, it may be a very frustrating journey. Below are tips on how to build a better blog, according to 17 experts in the field.
And as usual, in no particular order:
Content Creation & Marketing/SEO and Search
How To Maximize Your Blog's Most Popular Pages
Social/Small Business Bites
More from around the web …
Weekly Marketing Skinny – October 25, 2014
That's it! Enjoy and have a great weekend!