Hi everyone! Hope you had a great and productive week. This week, one of the most noteworthy news for the SEO enthusiasts was a video from Maile Ohye, Googles´s Developer Programs Tech Lead. Maile describes how to create a holistic SEO strategy inclusive of all your company's online channels (website, blog, social media channels). The interesting bit is the way she does this. She uses the mock company, Webmaster Central, and pretends to be the SEO manager of the Webmaster Central Blog.
Creating a SEO strategy (with Webmaster Tools!)
On another front, but still relevant to SEO, Matt Cutts responds to an interesting question:
Google's Webmaster Guidelines discourage forum signature links but what about links from comments? Is link building by commenting against Google Webmaster Guidelines? What if it's a topically relevant site and the comment is meaningful?
Are all comments with links spam?
A couple of months ago, YouTube announced that they were revamping the way people see comments under videos. Not surprisingly, Google+ played a large role in the revamp effort, meaning that in order to comment on YouTube, you had to do it via your G+ profile. Fast forward some weeks and as it so seems, many are really very "angry" about that move, some going as far as creating videos providing their "… Thoughts on Google+". Warning, video contains language that may not be appropriate for you. How about you? What do you think about the changes they made on the way you make comments on YouTube? I think it was a way to "force" people to use more G+, despite Google saying otherwise.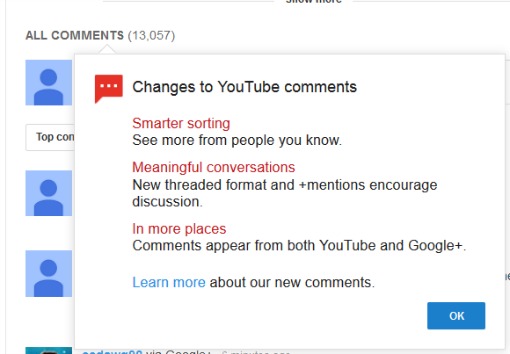 My Thoughts On Google+
As usual, in no particular order:
SEO & Internet Marketing
Social/Blogging/Small Business Bites
Google Can Now Use Your Name And Face Wherever It Wants
More cool stuff!
That's it! Enjoy and have a great weekend!