Hi everyone! Hope you all had a great and productive week. While undoubtedly one of the biggest buzz that occurred this week was that of BlueHost and other hosting companies going down, I'll start off with a post published on Entrepreneur.com about the complete list of Google's 200 search ranking factors. As you may imagine, this list in the form of an infographic, is obviously not an official one, but rather a comprehensive and massive compilation of information made by digital marketing firms Backlinko and Single Grain.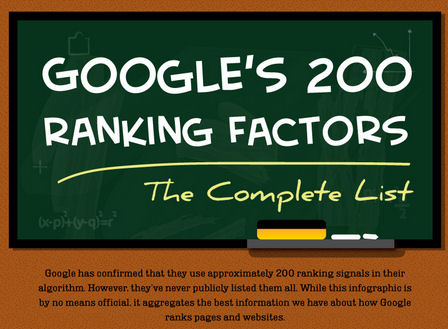 These 200 factors that Google supposedly considers when ranking sites in its search results, where collected from high authority SEO blogs and from statements made by Google's head of web spam, Matt Cutts. Some key highlights of the list, as mentioned in the post, include:
Related: The Three Pillars of A Good SEO Foundation
The infographic is really long, so I suggest you head over there and bookmark it for future consultation.
YouTube Announces More Tools For Creators
YouTube this week announced the release of more tools to build your channels. Provided you account is in good standing, you should now be able to use a bunch of features such as: live streaming (requires your channel to have only 100 subscribers, down from 1000), custom thumbnails, external annotations and series playlists.
One of the most interesting additions perhaps is that of external annotations. Here's what they say…
Drive traffic to your merch: Want viewers to buy that new t-shirt you're wearing in your video? You can now use annotations to link externally to various online stores and your associated websites.
Endurance Group's BlueHost and Others Goes Down
Finally, the buzz of the week. Bluehost, HostGator, JustHost and HostMonster yesterday suffered from a massive outage that I still would like to know what really happened. The official statement sent out by the Endurance Group (owner of all these hosting companies), mentioned "unexpected issues" and that's that. Not sure about you, but I find this to be quite unreasonable considering the number of sites that were affected by this outage.
Yesterday, I was having problems accessing several of my sites and that of client's. Tried BlueHost's home page and that was down too. I suspected something was going on, and a quick search on Twitter, revealed that there was in fact an ongoing issue. The number of tweets (and counting) from people asking for help, asking questions, etc., is just mind boggling.
Anyway, all is somewhat normal today already and I hope that this incident, if it affected you, did not cost you that much. Until this "unexpected issue" happened, I did not know that the Endurance Group actually owns several hosting companies under its umbrella. Here's a list of all their hosting companies, just in case you want to know.
What do think about this incident? Do you think that this could cause the company's reputation? Should their PR damage control team have handled this differently, rather than "we are working on it and should be back momentarily"?
As usual, in no particular order:
SEO & Internet Marketing
Social/Blogging/Small Business Bites
More cool stuff!
And this is a repeat of last week's roundup, in case you've missed it. Here's a cool deal for all of you (not sponsored or anything, just really cool). In case you have not yet seen it, WMPU.org has a magic link for an insane 90 day free trial on CrazyEgg. If you don't know what CrazyEgg is, then I suggest you head over there and signup for the 90 freebie.
That's it! Enjoy and have a great weekend!