What are related posts plugins?
Related posts plugins are tools that WordPress site owners can use to display, either in text or thumbnails, posts that are "similar" to the one users are currently reading. Most of the time, you will see at the end of each post something like, "you may also like", "post related to …", etc.
One thing that some people tend to forget is that often times, visitors do not generally land on our homepage, but rather on specific posts (or pages) in our site. This is especially true when they arrive via organic search, links clicked via social networks, etc. One of the reasons related posts are recommended is because it increases users engagement on our site and entices them to stay a while longer, because you offer more "options" for them to read about the subject they showed interest in. Here's an example on how they look like on one of my other sites (clicking on the image takes you there) or towards the end of this post, you can see a text version.

Now, and here's the deal. Not all related posts plugins are created equal. While some may be fancy and all that, you should know that, using the "wrong" plugin or widget, can hamper your sites performance.
Occasionally, I like to run a performance test on my site. Nothing complicated, just a simple plugin performance test and page load evaluation. The tools I use for this purpose are P3 profiler (see previous link) and Pingdom. P3 profiler measures plugins performance and reveals those that are taking too much resources and Pingdom runs a test on page speed loading time. Both are highly recommended to test site speed and increase performance.
Best Related Post Plugins for WordPress
OK and you probably know this already. There are a lot of related posts plugins or widgets out there. Some are good, and well some are not so good. The problem with some of the plugins available is that they use too many server resources, and in this case, may hamper your sites performance.
The plugins I recommend here are those that I have experience with and in case you know of other alternatives, please do let me know.
First let me show you the first run of test I did this weekend.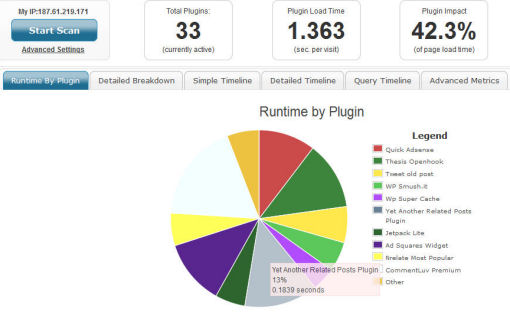 You will notice from the above test that YARPP (Yet Another Related Post Plugin) was consuming 13% of my resources and although I have been a faithful user of this plugin for years, I was already thinking of changing it. Recently, a post from Jane of ProBloggingSuccess confirmed my suspicions about this plugin, and though I like it, I had to find other alternatives, that consumed less resources and preferably running off-server.
Don't take me wrong about YARPP. I still think it is one of the best related content tool for WordPress. It really "filters" quite well related posts and returns good results. If you don't use too many plugins, like I do, I still recommend its use. Now, if you have too many plugins you can't live without, then YARPP may not be the right choice for you.
The next obvious question is what am I using now?

nRelated Related Content – I have been using nRelate for a while now on other sites and results have been quite good. I am still tweaking some things so that the returned "related posts" are more relevant. nRelate has several design options to choose from. You can choose text or thumbnails, the latter, with over 5 different options to set it up. Actually, nRelate has more to offer than just the related content. It also offers popular content (also configurable), the flyout, those boxes that popup on the right side under the post, and auto in-text linking, a service that automatically discovers the keywords within your content and creates in-text hyperlinks to your topics pages or a search of your site. And yes, it is free and available for other platforms too. Cool!
Also, and this may be the "decision point for you, nRelate does offer you ways to monetize your site by serving ads alongside the related content. Just turn the option on in the control panel and you are good to go. In addition, among its various settings, if you decide to use it, make sure to set the "version" to "NoJavascript" under the labs section of the panel, to ensure that they are visible to search engines.
Did my site improve?
After removingYARP and conducting two runs on Pingdom, page load time revealed an increase of nearly a second.


Not bad and also confirmed by a rerun on P3.
What else?

Linkwithin – Like nRelate, LinkWithin also analyzes your content off-server and is equally a great plugin. Their context engine looks at categories, tags, keywords, and a few other aspects of your content in order to make the necessary recommendations. One of the things that I have not used this service before was because they used to redirect traffic through their site, but as I gather, it is no longer like that. You now get all the SEO juice from the links, which is good. Now taking it for a test drive on another site. An added observation, I have a client whose one of the top referrers for traffic is LinkWithin. Just a heads up and don't ask me yet as I am figuring that one out.
Linkwithin setup is really easy, just head over to their site and start by providing your URL. Then they give you some options to tweak the widget and after that it gives you a zip file where you upload to WordPress via the "install plugin" option. You can also use Linkwithin on different platforms.
That's it! these are the related content plugins that I currently recommend (with the reservation on YARP). Just make sure that before you install plugins and run all the testings to backup your data files, just in case you need to perform a data recovery on a later stage. You never know.
How about you? What related posts or content plugin/widget are you using? Are you happy with it? Let me know so I too can take it for a test drive. I might include it here too, with due credits 🙂