As every serious blogger knows, creating and maintaining a popular, informative, entertaining, and often-visited blog takes a lot of work—and time. Unfortunately, most of us are short on that particular precious commodity. We all have lives outside the blogosphere, and it's hard to squeeze in enough time to write, format, post, and respond to a steady stream of content.
How can you balance blogging with the rest of your life? Here are some time-saving tips to help you maintain your blog with regular, quality content, when you're out of ideas and short on time.
Focus, Grasshopper
One of the best ways for a blogger to save time is to know what you're doing, and why you're doing it. Chances are you're blogging about a topic that you have a true passion for—that for some reason is important to you.
Knowing the exact reasons why you created your blog, and why you want to share what you're writing with other people, will help you focus. This way, you can pick out the topics that are most important to you, and concentrate on those topics for your post.
Though it may not seem time-saving at first, you can also set some time aside and create a year-long plan, with smart and achievable goals. For example, you may want to double your monthly page views, or have a certain number of subscribers/followers. Then, decide whether your blogging activities are helping you work toward your goals—or wasting your time. Cut out the activities that don't advance your goals.
Most of all, make blogging a priority in your life – and you'll often find that the time you need creates itself.
Timing is Everything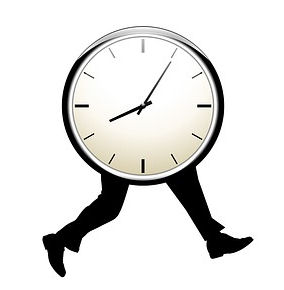 Everyone has their own rhythm when it comes to life's activities, and that includes writing and blogging. Spend a few days paying attention to when writing for your blog seems to flow the best. You might be more productive in the morning, when the day hasn't piled up on you yet, or maybe you can concentrate better in the evenings, after you've taken care of business.
Once you know your rhythm, choose a time frame within your most productive hours and dedicate that time to writing. You may want to get your family involved in this and ask not to be disturbed during your writing time. You can give yourself an hour, and keep going if you're almost finished—or schedule shorter chunks of time to work on big projects gradually.
Ditch the Distractions
You can save a lot of time by removing as many distractions as possible while you're working on your blog. Power down your cell phone, switch the background TV off, close Twitter and Facebook, and resist the temptation to check your email every ten minutes. If you just can't stay away from the online siren song, try disabling your Internet and setting a timer for when you can turn it back on.
Another time-saver is to reduce the time you spend watching TV or catching up with other blogs. Think about it—do you really need to follow 200 other blogs in the hopes that some of them will return the favor and visit you? Stick to the handful you truly enjoy, and use other, less time-consuming strategies to increase your reader base.
Seize Your Ideas
Have you ever thought of a great idea for a blog post—only to completely forget it by the time you get a chance to write it down? It happens to everyone. You can save time by making sure you always have something handy to capture those brilliant ideas.
You might want to use a note app on your phone, or just carry around a small notebook and a pen if you can't phone-type fast enough. If you're on the computer when inspiration strikes, skip the note-taking and jot it down directly in your blog drafts (you can also set things up so you can take direct-to-draft notes from your phone).
Another alternative is to use a voice recorder or app. This is handy during a commute, or when you're out and about, to archive flash ideas that you're likely to forget while you're engaged in other activities.
Give Yourself a Break
It's great to be dedicated to your blog, but don't forget to take occasional breaks. Even if you've set yourself a strict posting schedule, whether it's daily or on particular days of the week, keep in mind that it's okay not to post when life gets in the way. Beating yourself up over a missed schedule will only slow you down when you return, because you'll be in panic mode.
You should also schedule yourself the occasional blogging vacation, and take a complete break from it all—if possible, stay offline entirely for a few days. When you come back, you'll be refreshed, recharged, and ready to pump out more great material for your blog.
Blogging consistently may take a lot of work but if you follow these tip-saving writing tips you'll be fine.