If you're a business Blogger, you need to keep writing. But like all of us, there are days when we're simply out of ideas and short on time.
For me, there are 3 things that help me keep blogging:
Staying organized
Having a daily plan
Staying focused
These things aren't always easily achieved, but they are the things that have made the most difference in my blogging productivity.
Staying Organized
When it comes to being organized, it's the small things that matter. Things like keeping your office organized and keeping your online files easily accessible. I once asked a friend to show me a file that took her over 5 minutes to find. Do that several times a day and that's time you've wasted and won't get back.
Some people need to be totally organized, others work in organized chaos. Do whatever works for you, just make sure your method of getting things done isn't hampered by not being able to find or locate things when you need them.
Have a Daily Plan in Place

The worst thing you can do each day is sit down to your computer and start thinking about what you're going to write about. If Oprah did that every day before each show, how great do you think her show would be? Not very.
It's difficult to come up with blog post ideas right off the top of your head each day. I know. I've tried. Your blogging calendar needs to be planned out well in advance with blog post ideas for the week. Every day when you sit down to your computer, know what you're going to write about.
For example, these are a few of my favorite blogging ideas, however notice that several of them require planning:
Personally comment on a new story in your industry
Conduct an interview with an industry expert
Write a product or service review
Create a specific step by step how to post
Conduct your own personal case study
Make a list of your favorite useful links
Conduct a survey
Create an answer to an email question you've received or seen in a forum
Open your blog for guest posting
An interview with a niche expert for instance, isn't something you can create on the fly. You'll first need to find an industry expert to interview, schedule the interview and then schedule when to publish it.
Creating a post for a product review is another excellent post idea but will mean purchasing the product, using the product then writing a comprehensive review.
If you're a fast writer, have a weekly blog post ideas list ready and write the post that day. If you're not someone that can crank out a blog post within a few hours, write your blog posts in advance.
Whether you create a daily task list at the beginning of the week, month or year, it doesn't matter. What does matter is that you have post ideas either ready to publish or ready to work on for the days you need them.
Stay Focused and Avoid Distractions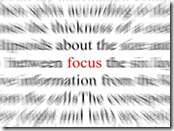 You can't get things done without focus and eliminating distractions. The best way around distractions is to schedule them into your day. Determine when the most distractions occur and work around them. For example, if there's a time in the morning when distractions are less likely to occur, use that time to get your blog posting done.
If the phone is a distraction, don't be afraid to use your voicemail. If online applications such as Twitter, Facebook or email cause distractions, close them.
When I'm writing my blog posts I close all applications accept the one I'm working on and I use an old fashion kitchen timer. There's just something about seeing and hearing that time tick away that keeps me on track.
If a thought or idea comes to mind while writing, don't let it interfere with your immediate focus. Instead, keep a notebook on your desk and quickly jot the thought down so you can go back to it later on.
In Summary
It's not uncommon to run out of ideas and time, but the remedy is effective planning, avoiding distractions and keeping a clear focus of what needs to be done for that day. For most of us this will take a conscious effort, but it will be worth the difference you'll see in your productivity over the months to come.
How about you? What are the things you do to keep up with your blogging productivity?