Search Results with No Keywords Present
During the last half of 2012, the good folks over at Seo-up did some research and collected data on the topic of links. They basically wanted to find out how Google treats anchor texts.
Over time, they realized that in the titles and descriptions of sites ranking high in search results, there was little or no mention of the actual expression used for the search. Additionally, they checked the amount of sites backlinking to these sites and found the amount to be relatively low. On the other hand, a substantial amount of backlinks consisted of nothing more than just the site's name devoid of any key worded anchor text e.g. 'Yyy' for yyy.com.
In order to understand how backlinks, devoid of any keywords as anchor text, helped a specific site rank high, they reviewed over 500 links.
Transparent Links
What they discovered was, that all content (whether post, article, comment etc.), linking to the publisher's site (yyy.com) while using just the company name ('Yyy' – with no key worded anchor text), also contained the keywords which normally would have been used as the link's anchor text. Meaning, in the description of a certain service or product the keywords appeared as plain text (which would've traditionally been used as anchor text), but the link leading to the company's homepage itself, was stripped of any anchor text and just contained the company's name.
Apparently, this was something found repeatedly in all sites linking in.
Need a Link? How About Some Actual Content?
Accordingly, say the folks at Seo-up, a job board can rank high in search results for the search "find a job", without even being linked to with these keywords as anchor text. Instead, the content backlinking to the site will contain the expression "find a job", but as innocent plain text in the context of discussing the subject of job searching, with the link to the job board just being the site's URL or the company's name.
So in reality, the text containing the backlink would look something like this:
"There are a number of job boards today providing reliable leads for job hunters. A good job board will provide you with a wide range of openings according to your skills and preferences. You can save yourself the trouble of perusing the many websites of different companies to find a job (expression) that will make you happy. For example <joboard_site>.com (link) is a widely used job board for job seekers in the industry providing an x amount of openings per month…"
What just happened here? We linked to the site without using the expression "find a job" as an anchor text, but rather the homepage address itself!
A Quick Experiment
I tested this hypothesis myself and it seems to be on the money. Content really does rule. How did I do this? I performed a search, and visited the sites backlinking to one of the top ranking results to see what was really going down behind the scenes.
In the following screenshot, you can see the results of my search for "find a job". 3 out of the top 7 results clearly did not contain the expression I used in my search: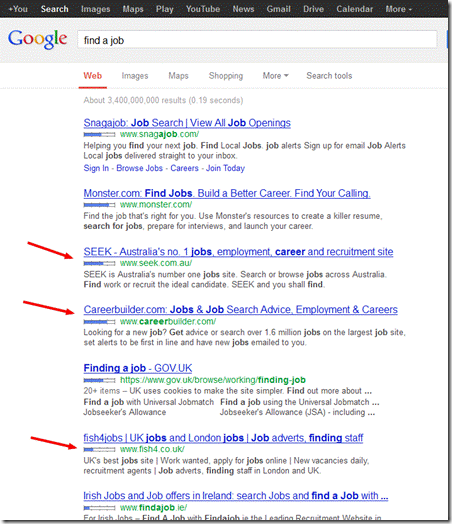 Next, I chose our third search result – Seek.com.au and visited the sites linking in to see the backlink situation there. The first couple of sites a I visited indeed contained transparent links, but not my desired expression (you'll have to take my word for it).
On the third or fourth site I graced with my presence I indeed found the key worded expression in a comment: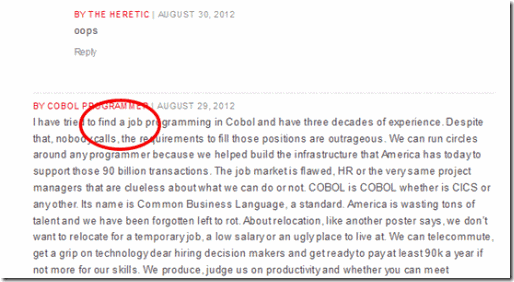 And the link was found in another comment: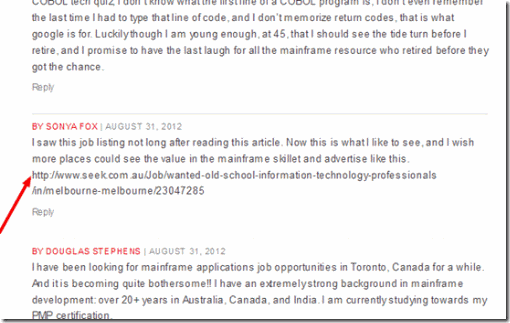 Just to make sure that it wasn't a fluke, the site or two later I visited provided the same results. Expression present: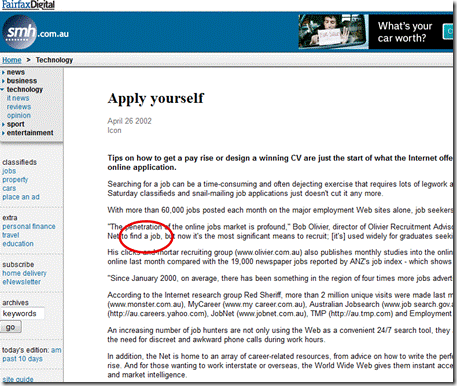 And transparent link lower down on the page: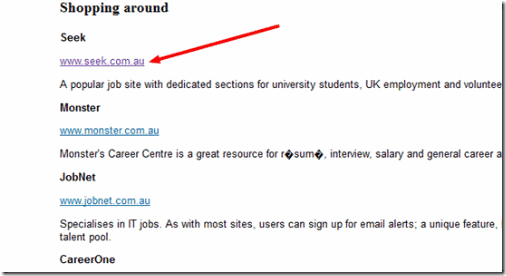 Google's New Approach
What are the practical implications of this? Google's approach has now shifted to, "I realize that I can be duped by anchor texts, so I'll try and understand context from the surrounding content itself." This in essence means, that the significance of the amount of links with key worded anchor texts you have in cyberspace has decreased, and the volume and quality of content discussing your site is of primary importance.
Rand of SEOmoz also mentioned about this a while back, and he too believes that anchor text is a fading factor.
Basically, if relevant content, rather than just an anchor text, is associated with your site's name, you'll see improved results.
Just so you shouldn't get the wrong impression, anchor texts still have some value and it might be preferable not to neglect them. Google's position though, is that a link using the actual site's name along with relevant surrounding content has more impact. With surrounding text being connected to the site's name, Google then decides that the chances of attempted manipulation are lower.
To Sum Up
If you make sure to have a lot of content on 3rd party sites, describing your site's services and/or products in the most natural way possible, and your links won't be anchored via keywords, but rather transparently, using your site's name, Google will repute you in high regard and your positioning in search results will improve.
At this point, this is all a personal prediction of the folks at seo-up.co.il, but this approach seems like a logical progression, as this development will allow less room for superficial linking and more value will be placed on quality content. Once this takes full effect the Internet we all use can only improve.