One of the most innovative new ways to go about advertising is coming from Facebook – Facebooks Ads, specifically. Whereas most PPC ad networks are going after blind traffic, or targeted keyword traffic, Facebook is trying something different; friend of a friend traffic and common interest traffic. The Ads angle is that advertising to family, friends and common acquaintances is one of the best ways to solicit interest in a new product or service. You are taking advantage of word of mouth marketing, and manipulating it with just a little bit of investment.
How the System Works
Market Ads can be arranged according to one of four goals. You can create a standard ad (which is similar to a Google AdWords ad), a Like Ad (getting people to like your page), an app add, which draws attention to an app you've designed, or an event ad, that promotes a local or national event. There are also two ways to go about advertising; through a traditional Facebook Ad or through what they call Sponsored Stories.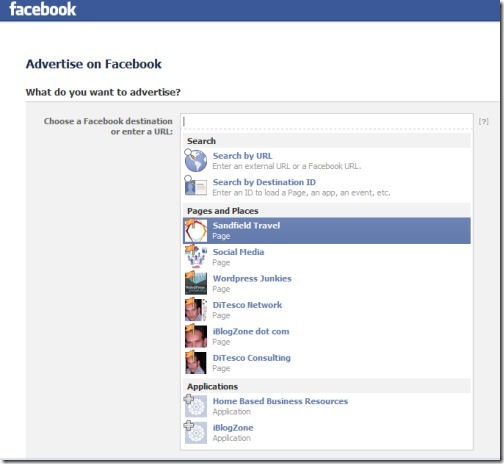 The ad itself is easy to complete; you simply choose the type of ad, a destination tab, a title and a body. You can also add an image and preview the ad in real time. The basic difference between a Like Ad (traditional) or Sponsored Story ad is this: the Like Ad contains copy like a commercial (along with how many people like the page), while the Sponsored Story ad contains a statement citing that a friend Likes a product, page or service, and gives others the option to explore or like the product back.
How to create an ad on FaceBook, on a small budget
here's a video from Michelle Welch, that walks you through it ….
Sponsored Stories are like the "voice of a friend", or word of mouth advertising, that is an entirely different psychological dynamic than blatant commercialism. It is quite an ingenious concept, considering how important friendship is to Facebook, over shameless "hard sell" advertising. These ads are only shown to fans of your page or friends and thus this option lets you include your photo and name – a personal introduction. Think of the old radio ad "So and So endorses this…" That is essentially what the Sponsored Story is.
You can also create a Sponsored Story ad according to a number of actions on Facebook. For example, you can "advertise" when a user likes your page (advertising to his/her friends), or if a user likes a post on your page, or if he comments on a page, or even if he checks into your location. Additionally, you can advertise when a person uses your app, answered a question you ask, or indicates that he/she is coming to an event you are hosting.
Page Post Ads
Another option in Facebook advertising is that of Page Post Ads. This allows you to display content from your page on an ad. Users will see a Sponsored Story, which mentions various friends endorsing the brand, giving important "context." This option also lets you interact with the Sponsored Story, not merely treating it as a commercial.
With the Page Post Ad, you can even decide what type of multimedia to use to brand your ad. You can make a test only post, a photo or artwork, a video, a link a poll question or a scheduled event. It's much easier to engage your audience when it's an "objective" happening treated as a regular post.
Will Your Story Appear in the "News"
If you're thinking News Feed advertising would be ideal, you're right – it's what everyone pays attention to and it's also mobile friendly, specially now that they are rolling out its new look. However, it's important to note that you cannot guarantee placement in the news. It really depends on the EdgeRank algorithm (Facebook's unique algorithm that decides what is the biggest news among friends). Facebook does tend to take into consideration location-centric information. (Inappropriate stories because of location differences, for instance, would be disqualified)
So what happens if you do make the "news" feed? You will be paying for impressions, not just clicks.
Facebook Offers
Another "offer" to consider is Facebook Offers! This product allows users to create an "Offer" that can be posted on a page and claimed with just a click. Not only will you get a sale, but their friends will see this development in the news and may choose to buy on their own. This technology is still developing so keep an on it in 2013!
Now we don't want to make this sound like a Facebook commercial. It's not fair to say that Facebook Ads are going to make you tons of money and are better than traditional PPC or SEO marketing. It's simply an option, and one that might actually be more difficult than you might think. You are dealing with a very distracted audience, one that is trying their best to resist commercial advertisements. (After all, how many traditional Facebook ads) can you even remember?
So you really have to personalize the message if you want to make it work. Fortunately you can do that on mobile and on the web, so it can't hurt to try this new market.