OK, before you start asking what "go global locally" means, let me clarify that really quick. It means that you can "surf" the web "as if" you were in a specific location, in real time. This allows you to view content just as a local user sees it, that simple. For example I am in Brazil and I want to be able to surf just like a French would do.
The next obvious question would be why I want to do that? There could be a lot of reasons, some of which are, to be able to monitor an ad campaign that are geo-targeted (making sure that your ads are properly deployed in countries you choose), look at what my competition is doing, see what ads shows up on your site from a different location, etc.
One of the things that the internet has provided for many of us bloggers and small business owners is the opportunity to reach a "Global" audience. However in many occasions, Geotargeting is important as users in each specific location tend to see different results, content, etc.. Some may not even be available to you depending on where you are. I am sure you have once seen the message "sorry, the page you requested is not available in your country". The solution to this issue would be to use a proxy, where you can browse the web just like a local user does.
What is a Proxy Tool?
A proxy tool (or service) is one that supposedly allows you to view content from different locations. Notice that I mentioned "supposedly", because in reality, while there are many free proxy services out there than you can use, some are very unreliable (security breach, slow loading, show annoying ads, etc.), does not allow you to choose the location you're in, and most serve just to anonymously hide your IP by rotating them. Some users find this useful as they can bypass local firewalls depending on the country there are located in (care should be used when doing this), but that really does not serve much good, specially if you are using it for business purposes. Anyway, If you want to know more, Wikipedia has lots of stuff to say about proxy servers.
What is GeoSurf?
GeoSurf is a premium proxy toolbar that allows you to browse the web and see content as it is seen from more than 110+ locations. If you are planning or running an ad campaign that targets multiple geographical areas, this tool can let you do some research, testing and monitoring in all the locations that are served by GeoSurf.
For example, one practical use of this tool is to see what kind of ads are showing on your site on a given location. Being able to see what type of ads are showing can allow you to "filter" some of them, and perhaps even exclude them from showing on your site. Again, there could be a lot of reasons why you want to do that, and one of them is to prevent your competitors from showing on your site. Cool!
Main Features:
Ease of Use – Undoubtedly, one of the interesting features about GeoSurf is its ease of use. Installing the toolbar is simple as 1-2-3, and it is available for major browsers like Chrome, Firefox and IE. Once installed, you log in, select the location you wish to "virtually be at" and start surfing as if you where there. This is achieved with just one click. No annoying ads, very fast and secure. Which brings me to the next feature.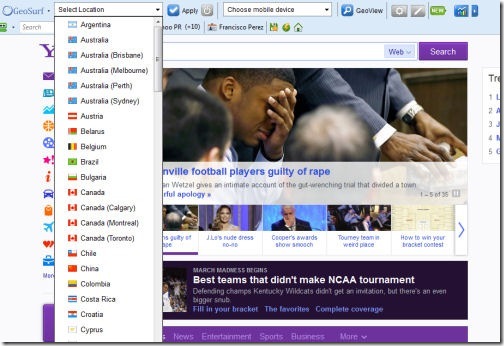 Security and privacy – GeoSurf operates their own server throughout many data centers distributed around the globe. They boasts a high level of reliability and security, so much so, that they legally bind their agreements with their to ensure that search history or any other data will never be released or used for any purpose.
Net Clarity – One of the most interesting features of GeoSurf is the new "Net Clarity". What this does is that it show you "important data" about advertisements from a chosen website. This can be used by media buyers, ad networks or publishers. With this feature you can analyze what campaigns are running on a specific website, who are running this campaigns, the mediator (if any) and yes, the landing pages of these campaigns. Don't know about you, but having this kind of information can definitely help a great deal when making marketing decisions. It is also great when you want to make decisions about the best affiliate networks to work with.
Here's an example. Looking at Yahoo.com in the USA.
Who's advertising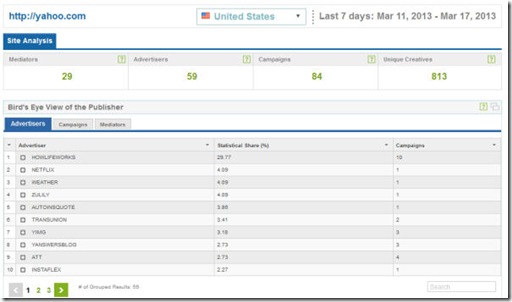 Number of Campaigns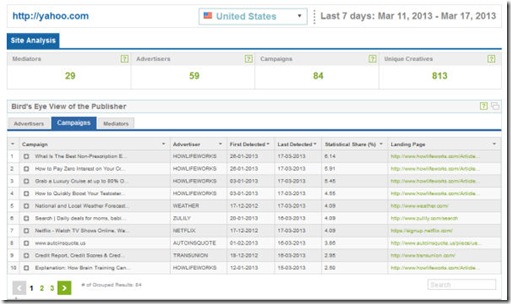 And clicking on more tabs will reveal other interesting information, that you can analyze to see what your competitors are doing, among other things.
Mobile and Browser Emulator – This is a great feature that lets you see any website "as if" you were on a specific mobile device. You can also test how a site renders on all popular web browsers. Sure, there are many emulators out there that are free, but where can you find one that includes virtually all the popular devices in one interface? Just choose the device, click and see how your website or any other looks like from a mobile device. Neat little feature that helps a lot, considering the ever growing importance of having your site mobile compatible, for improved UI and UX.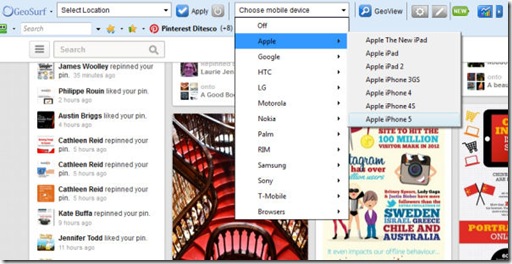 Cons
GeoSurf is a premium tool and as such has a price tag that may be not be suitable for some of you. Running their own servers from around the world, including the cost associated with providing this service can be quite high so, if you are not on media buying, see no reason to conduct geo-targeting campaigns, and want to analyze how your ads and other campaigns are doing, then this tool may not be for you. If however, you feel that this type of service may be of value to you, then it is definitely worth giving it a try.
As you can see from the examples above, Geosurf can be a good companion for a lot of things imaginable. Being able to browse the web anywhere in the world locally could really help, albeit depending on your needs and objectives. It is also a great alternative to GeoEdge.
That's it! Have you tried this or any similar proxy tool before? What use have you applied it with?
this post sponsored by geosurf.com