Hi everyone! Hope you all had a great week. This week, one (P)interesting news was that of Pinterest unveiling its new "secret boards". For now, they are rolling out to all users the possibility of creating 3 secret boards, which you can use for things that you're not quite ready to share yet, something private, or to share stuff with a specific community. Below is a screenshot of what it looks like. The Black Hat board is just a joke 🙂 You will find the secret boards in the bottom of your profile. What do you think about this?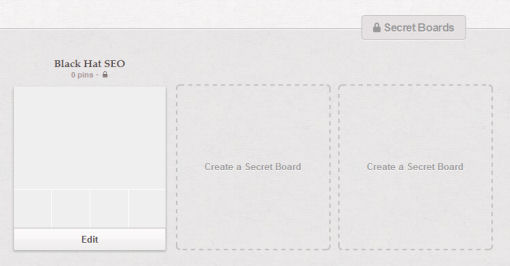 Another interesting tool I started to make use of this week was Addictomatic, a search tool that searches the best live sites on the web for the latest news, blog posts, videos and images. Found this one via kikolani.com and I am glad I did. Addict-o-matic allows you to search for anything and it returns results from a variety of sources. After you are done with your search, you can personalize your results dashboard by moving around the source boxes and then bookmark the page and keep coming back to your personalized results dashboard for that search. Great for getting content ideas and even for curating articles, if that is something you do. Give it a try.
Finally, another interesting article I came across this week was that of expensive keywords from SearchEngineLand.com. It has been a while since I last saw someone making a list of the most expensive keywords on Google AdWords and according to SEL's report, Markus Allen, will be posting, a monthly report documenting the most expensive keywords you can buy on Google AdWords. Anyway, If you are guessing, Mesothelioma, Asbestos, Annuity and the likes, then you guessed right. Apparently these keywords, continue to dominate Google's most expensive keywords, some going as high as $143 per click. Ouch!
As usual, in no particular order:
SEO/Inbound Marketing
How to Build a Dominant Google+ Presence
The Master List of SEO Tools
Content Marketing/Small Business Bites
The Death Of The "How To" Article
Keep Google Chrome, Gmail and WiseStamp Up To Date
Social Web/Other Roundups and Cool Stuff
Should I keep a domain parked without content before I launch the website?
That's it! Enjoy and have a great weekend.