It's really only a matter of time before a successful social networking site comes to its senses and succumbs to advertising. To marketers and retailers alike, an ad-free site with 70 million users is like a trout-filled pond that prohibits fishing. Avid fishermen just stand there, staring, drooling.
Pinterest is that pond, and it just lifted the fishing prohibition.
Testing…Testing…
On Wednesday, CEO Ben Silbermann announced a test run of "Promoted Pins," which are essentially paid ads that will show up in both category feeds and search results. This came as music to many ears, and has retailers clamoring for the chance to get their ads in front of pinners.
Here's the bad news: ad sales are not open yet. Currently, they're still in the test phase and only running ads from a few chosen businesses that are not being charged. Pinterest wants to study how it works and gauge users' response before a full launch. However, you can sign up here if you'd like to stay updated and find out when Promoted Pin buying season begins.
In the meantime, if you haven't already done so, you should open a Pinterest business account and start familiarizing yourself with the site, its users, and the possibilities advertising there could offer.
Who are Pinners?
To really understand what a potential goldmine Pinterest is for marketers, you have to understand the user. The super-popular site launched in 2010 as a virtual scrapbook that allowed users to save images in various collections, or boards, and share them with their network of friends.
80% of users are women, who are mostly collecting images related to home décor/solutions, fashion, and arts & crafts. 28% of these women are living in households that are taking in $100K or more per year. While DIY posts are hugely popular, most users' boards are also chock-full of products they covet.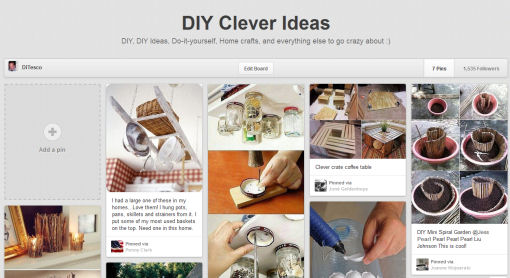 These mostly affluent, social, style-conscious, female consumers are the stuff of retailers' dreams. They comprise a massively influential and tech-savvy section of the market, and are exactly the eyes many companies are dying to get in front of.
Tasteful or Tricky?
There's no doubt that as loud as marketers are cheering, some avid pinners are moaning. Pinterest was one of the last social networking sites where users could interact without being sold to. Certainly, some will see this new development as an invasion. Silbermann, though, has made it clear that he intends to maintain the integrity of the site through unobtrusive ads. He says that Promoted Pins will be relevant, transparent and tasteful.
Relevant: Like Google's Pay-Per-Click, sponsored pins will be related to searches and interests. That means that ads for dog food won't be popping up when people do searches for cocktail dresses. Rightly so. Companies don't want their ads sticking out like a sore thumb; the goal is for users to be tempted into buying things they're already browsing.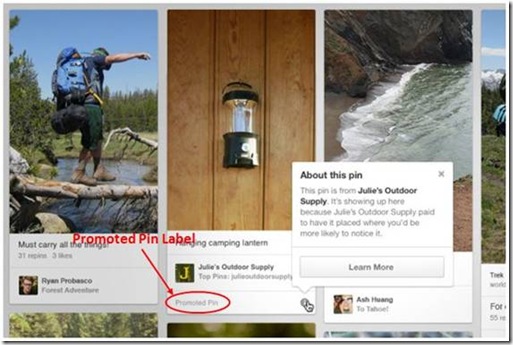 Transparent: It seems that Silbermann wants to ensure that users don't feel tricked by clicking on ads that they don't realize are, in fact, ads. Paid pins will be marked as such with the words "Promoted Pins" in small, gray type below the username of the company.
Tasteful: Apart from the subtle tag at the bottom of the pin, advertisements are identical in appearance to users' pins. Silbermann seems proud to say that they won't be "flashy" or distracting. Another way to look at this, however, is that they will be so unassuming, that users may accidentally click on an ad without realizing it. So, tasteful or tricky?
Money Matters
It's not surprising that Pinterest wants to do testing of the new initiative before it officially rolls out. Back in early 2012, another attempt to capitalize on the site's popularity did not go over so well. They partnered with Skimlinks without disclosing it publicly. This 3rd party company's software allowed Pinterest to earn a middle-man fee each time a user bought something they discovered through a retailer's pin.
When news of this partnership hit the web, people were up in arms, so the site dutifully listened to its users and ended the practice.
Anyone keeping tabs on the company could have seen this monetization endeavor coming. Early this year, Pinterest assumed $338 million in investments, which will eventually have to be paid off. With this much hanging over their heads, promoted Pins may wind up being just the first of several ways the company brings in profits.
Wall Street students are also paying close attention to Pinterest's moves. Between implementing advertising and getting in bed with investors, it seems clear that the site will go the way of Facebook and go public soon. As a soon-to-be IPO, they have to start the transition from making decisions based solely (or mostly) on their users, to making calls that please the board and the bank.
At this point, we can't be sure of the potential impact that Pinterest-hosted ads will have on businesses, and we don't even know if Silbermann will decide to let this one fly. But, in theory, it's a dream come true. If testing goes well, you'll be able to buy personalized ads that seamlessly integrate into the activity of users' friends. Get your fishing poles ready and stay tuned for more.