Are you currently making money with your blog? If you are, there is a good chance you are generating revenue through the use of banner ads on your site. You might be selling ad space directly, using Google Adsense or even through individual affiliate programs and networks. No matter how you are making your money with banner ads, it's important that you have a quality banner management system in place.
I run a large network of blogs and have different advertisers on each of them. Sometimes it's easier to outsource your banner advertising, while it's more profitable to sell your own banner ads directly. In this post we are going to look at three different services to help better manage your blog ads and how you can make more money in the process.
Buy Sell Ads
When it comes to banner ad marketplaces, there really is no other competition when you mention BuySellAds. They have massive exposure and their directory is loaded up with some of the most popular blogs on the Internet. One of the reasons why BuySellAds is so successful is because they make it so easy for site owners to just place a code on their site, and for advertisers to buy ad space through the network. BuySellAds is also a great way for advertisers to split test their banner ads across multiple sites and audiences. The only downside to BuySellAds is that they take 25% of all transactions. If you are doing $10,000 a month in banner sales, $2,500 goes right to BuySellAds every month… but at the same time they are taking care of some of your online CRM, such as managing your ads, payments and providing you with the advertisers for your site.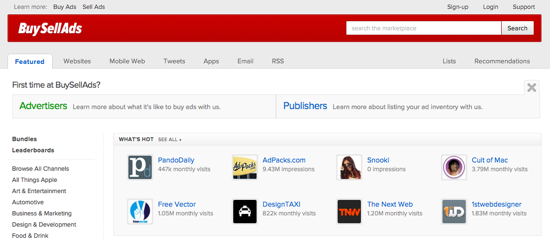 Cranky Ads
For anyone who wants to manage all of their banner ads, while also accepting banner ads on a paid basis, Cranky Ads is a great WordPress plugin that you can use. It's free to use the plugin and site to manage the ads on your own blog. You also have the option to use their sales manager to bring in paid banner ads at the cost of 25% per transaction. I am personally using Cranky Ads to manage the banner advertising on several of my sites, most of which are through direct ad sales and rotating ads to see which bring in the best results. Cranky Ads has a great back end and plugin for managing banner ads, so I recommend you check them out.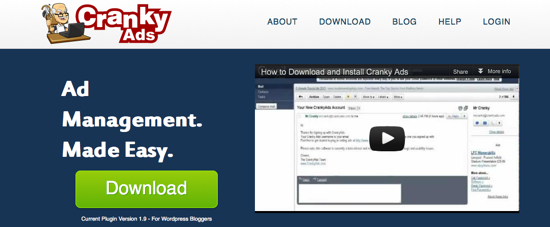 WordPress Plugins
Lastly we have the world of WordPress plugins. There are a ton of plugins out there for managing your banner ads on a WordPress driven blog. OIO Publisher is one of the most popular plugins out there and it allows people to click on your open 125×125 (or any size) banner ad spots, then complete their order through PayPal. Using OIO Publisher allows you to not have to deal with 25% transaction costs, but the plugin does cost $47.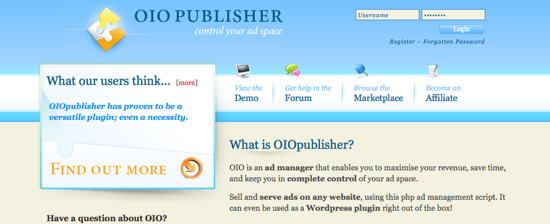 If you are currently running banner ads on your web site or blog, be sure to check out the services and alternatives above. For anyone who is currently relying on Google Adsense for all of their revenue, you should look at the pros and cons of using Adsense and other CPM driven ad networks and how you can start making more money by selling your own advertising.