Some time ago, while doing my "Ad Hunting", I stumbled upon an ad space that caught my attention on Justin's DragonBlogger website. The ad space, among other things, mentioned Komoona Ads. Since I am all about experiments, I went over to their site, signed up and immediately placed an ad space on one of my niche sites. Ran the ad space for two weeks and a half, and zero. Disappointed, I took it down, due to one main reason, it was occupying a space where I can run AdSense and perhaps, do better. Of course, I did not give Komoona time enough to actually do its thing. I simply preferred using Google's AdSense over the ad space, and perhaps loose the potential of making more money by selling ad spaces. Anyway, all that has changed…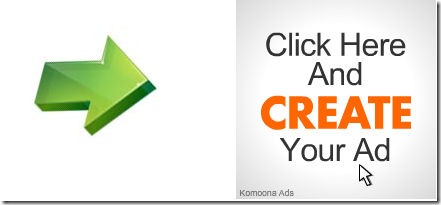 What Is Komoona?
Komoona is a tool that allows you to manage your own ads to sell ad spaces. It enables anyone visiting your site to create or upload ads and pay for them in an instant. The potential advertiser performs all the action required without leaving your site. Unlike premium plugins (OIOPublisher) and other alternatives (Advertise Space, BuySellAds, Puxee), the main attraction of Komoona is that it is a free tool and you get to keep a little over 90% of the revenue. Komoona has a billing charge of nearly 10% (9,62 to be precise). Still, it is much cheaper than its competitors.
How To Install Komoona?
I really don't think that going into details here will make a difference. Komoona's cPanel is so easy to use that all you need to do is follow a simple set of instructions. You define your ad format, configure your AdSense companion, set payment options (PayPal and Credit Cards), install the plugin or add the code provided, and you are set. Komoona works with most of the popular platforms, so you can use it with WordPress, Blogger, TypePad, Drupal, Joomla and even Tumblr.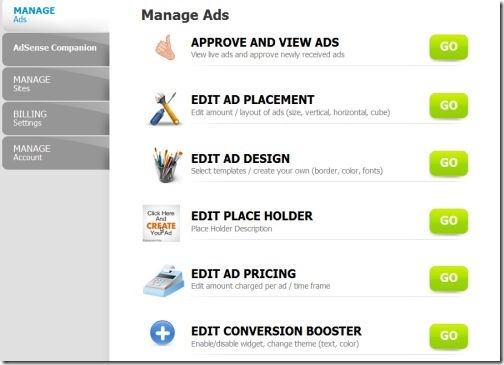 Why The Sudden Change Of Heart?
This is where, "double your chances" comes into play. Komoona recently added a new feature dubbed "AdSense Companion". Rather than occupying an ad space, and wait for someone to purchase your ad, it instead displays an AdSense unit and discretely shows a small button for users to purchase your ad space (see image below).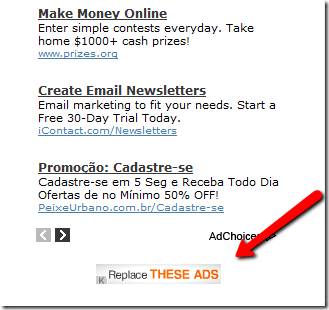 As you can see, the Komoona button is neatly placed right below the AdSense unit. If someone decides to advertise on your site, clicking the button will display the instructions, on how to proceed.
Step 1 – Create or Upload Banner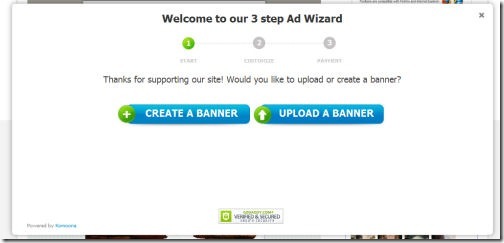 Step 2 – Create a banner and input text (not required if the advertiser chooses to upload)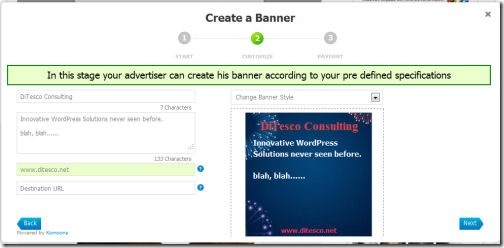 Step 3 – Advertiser Pays and waits for your approval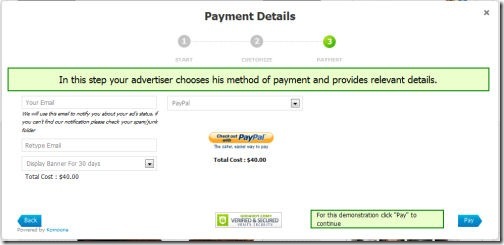 Is Komoona A Good Choice For You?
In my opinion, Komoona is a good alternative for those who want to venture on selling ad spaces, but prefers not to "waste" valuable virtual real estate spaces. This is also ideal for those, who for some reason, have been denied by other marketplaces (e.g. BuySellAds), and are not willing to invest on premium plugins.
Selling ad spaces is a good business model, and while you can perhaps make more money with it, you can meanwhile display AdSense units and "double your chances". Ultimately, you will have to weigh yourself whether or not this is a good option for you. You will never know, until you give it a go. I know, I am giving it another shot ;-).
That's it! This is not a sponsored post and just wanted to share this information with you, in case you have not heard of Komoona before. If you did use them before, how was your experience? Are you using the AdSense companion?