Rich snippets and authorship are seen almost everywhere in the search engine results pages. For a search user, rich snippets and authorship helps them identify if what they're searching for is from a particular site, or from a particular author.
Using rich snippets has many benefits, some of which are:
It draws more attention to users when searching for something (normally with stars and or image of the author)
Data provided to the user is more relevant to their query, hence the increased CTR for your pages.
Gives webmasters an additional layer of optimization and a chance to highlight content better.
Authorship Implementation:
A recent study made by Conductor revealed that only 9% of top tech blogs have the rel=author tag implemented properly, 3% incomplete implementation and a whopping 88% simply do not have them implemented at all. That is really surprising as the authorship helps improve your search listings by simply implementing or fixing it.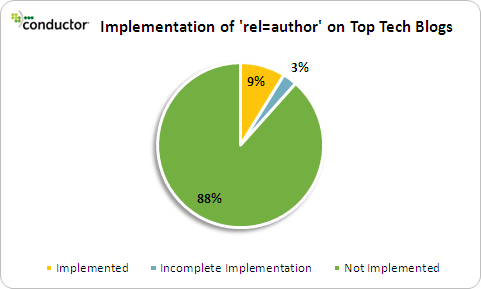 For bloggers or businesses that are leveraging on content marketing and strategies, there's an especially large benefit of having markup for authors being displayed in the SERPs. Implementation is fairly easy and done properly, your photo, name, and link to other articles may show on the SERPs, providing in some cases a sense of trust and authority. It also encourages users to click-through the results with a higher possibility.
This information graphic, provided by SEOMoz provides a visual guide that walks you through the basics, fundamental types, implementation, and benefits of utilizing rich snippets.

That's it! Have you implemented your authorship yet? Is it working properly? Do you even think it is important?
Originally posted on EntrepreneursBusiness.com and promoted here to help you understand better the benefits and implementation of Rich Snippets and Authorship.
image credit: conductor.com