If you have been using Pinterest as part of your marketing strategy, you should know know that sharing your content on that social platform can drive a good amount of traffic, when done properly. Pinterest indeed is an exciting tool, and can be used by virtually any type of business. Amazing as it is, there is one thing that I believe that Pinterest is lacking, and that is the ability to "track" your campaigns. Yes, you can see how many likes, comments or repins you've got, but that does not really tell you how many people clicked on those campaigns, among other things.
For example. I recently pinned the Game Of Thrones, on my free audiobook's board. Looked good. It got 33 repins and 10 likes. And that is all know. It would obviously be interesting, how many actually clicked on it, among other things.
Being able to analyze the reactions of a campaign is a crucial part of any marketing strategy. You will never know what you can do to adjust your campaigns, unless you have data to analyze. Up until now (that I know of), there was really no tool that provided you with a comprehensive data to look at, and measure your Pinterest campaigns. Fortunately, recent startup Pinerly, has started to fill that gap and help anyone by providing an analytics dashboard to track your campaigns (Pinalytics). Think of Pinerly as the bit.ly for your tweets. The service is still in beta and getting in, for now, is probably more difficult than Pinterest itself. Lucky me, I finally got in and have 20 invites to send out. If you are interested, let me know. I may have some still available for you :).
Anyway, let's see what Pinerly does.
The process is very much the same as when you pin "something" on Pinterest, only this time, you start on Pinerly. Each pin is considered a "campaign", and by using Pinerly's button (or via the dashboard), you can easily create one with a few clicks.
Once you identify something you want to pin, you will this screen (look familiar?).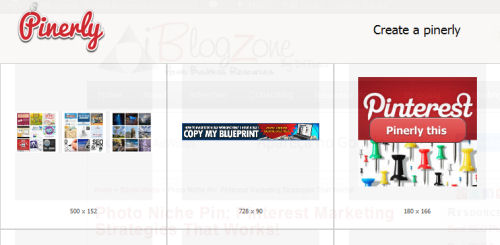 Click on the image you want to pin and track. You will now see another screen where you put the link (it pulls the URL automatically but you can change it if you want), enter description and click-trough tracking. By default the tracking option is on. Does not really make sense to turn it off, lol.
After clicking on "pinerly it", the interface will connect to your Pinterest account and will now show the normal Pinterest UI. Make sure everything is OK and Pin it.
Once you finish pinning the campaign, you will see the success screen from Pinterest, and closing that box will now conclude the process by telling Pinerly that you have already pinned it.
And that's pretty much it. You can now track your campaigns and see how it goes. Once you get more data, you can adjust your campaigns accordingly and make different tests using different images, descriptions, etc., to see which ones work best.

Some other interesting stuff you can do on Pinerly are:
Repost your previous campaigns, with one click.
Follow other Pinners with the same interest as you.
Repin suggested pins from Pinerly
And soon, campaign scheduling..
I am sure that it is only a matter of time until they come up with more features, like giving you stats about the time most reactions occurred, location, gender, etc.. That would be cool! And oh, Pinerly also suggest pinners for you to follow. A feature that is very popular on Twitter, where they too suggest interesting tweeps, like US money reserve, if you are into the precious metal industry.
Here's a small video presentation from Pinerly
That's it! Have you heard about this tool before? Are you using it already? What do you think? Can you see this tool help you in any way?