You spend hours and sometimes even days for coming up with an extraordinary content for your blogpost; but after publishing it, you realize that it didn't quite perform the way you expected it to. Why? Because your audience did not go through the whole content. Now, why is that? Well, because you did not use a headline that connected well with your audience or you can say that your headline did not hit the right chord.
According to the statistics provided by Copyblogger, 8 out of 10 people will read your headline but only 2 out of that 8 will actually proceed to read the entire article. So if you want to increase that number then make sure that your headline is catchy enough.
How to write catchy headlines?
Before telling you about the formula to write some very good and catchy headlines, let me tell you about the headlines that work well and you must try to use.
Types of Headlines
Number Headlines or Lists
Add a number to your headline and it will surely generate good amount of clicks. A number works better than a word as our brain finds it easy to locate the number amidst the alphabets. If you are writing any tutorial then you can divide it in certain number of steps and give the heading as "X number of steps of doing so and so" or "Be a pro at [] in X easy steps".
Sometimes try creating list of certain things that are important in your niche like if you are into Digital Marketing, create a list like "Top 10 Digital Marketing Experts to follow" or "Top 10 Digital Marketing trends you should not miss"
"How to" Headlines
Around thousands of people everyday use Google to search How to do certain things so these types of headlines instantly connect with your audience. Think about the difficulty people might face in your industry and create an article around the same giving them the solution. This will increase your organic traffic as well. Like, if I search for "writing a good blog post" on Google, 6 out of the 10 results are How to articles.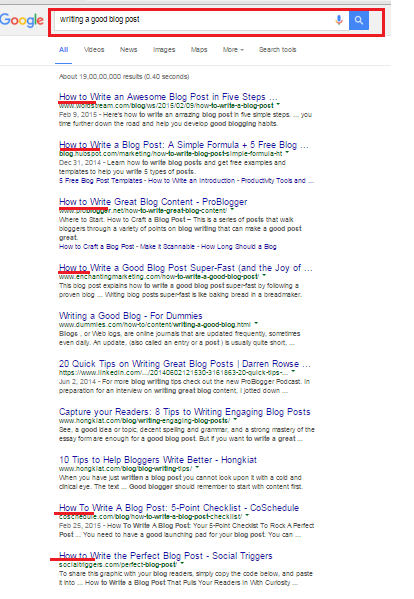 Question Headlines
Along with "How to" there are a lot of "Ws" as well like What, Why, Who, Where so if you are not creating any How to article and can't use the How to then try using some other question. Pose a question in the headline and make sure that you answer it in your article. Questions generate curiosity and thus it makes sure that readers will read your article to get the answer.
Reader Addressing Headlines
After reading a headline, your audience must feel that you are talking to them. Make it engaging and conversational. Try using the words like "you" or "your" that will make them feel important.
It is not necessary that you use only one of these types; you can use the combination of 2 or 3 as well.
Things that you should keep in mind while writing headlines
Write the headline first: Many bloggers suggest that you should write the headline after completing your article but that might not work for everyone. Decide on the headline first and then begin with your article. Make sure that you fulfill the promises that you have made in your headline.
Length of the headline: Make sure that your headline is of perfect length i.e. not too short and not too long. Ideally go for a headline that has around 6 words and 55 characters.
Important words in the beginning: Try using the important words in the beginning of the headline as that is what catches the eye of the reader first. It'll also help your SEO efforts.
Use Adjectives: Using adjectives in your headline can make it interesting and catchy. Words like awesome, cool, funny, incredible, effective, strange and many others make a good impact on reader's mind. Try using alliteration like "Fantastic Facebook marketing tips" or "5 Incredible Ideas for Startup" etc.
Don't mislead: Don't write headlines that are misleading in any way. It might work for one article and you might get clicks but it will tarnish your image in the long run and you may also get penalized by Google.
3 Free Tools that you can use to come up with good headlines
CoSchedule's Headline Analyzer
CoSchedule's Headline Analyzer is a very effective tool when it comes to analyzing of headlines from different perspective. It tells you your headline score which is out of hundred. It also analyzes the word balance which is based on overall structure, grammar, and readability of your headline.
Getting an A and a score of 80 or 90 is quite difficult but try to score between 60 to 75 and the grading of B.
You can see the example below of the headline of this blog.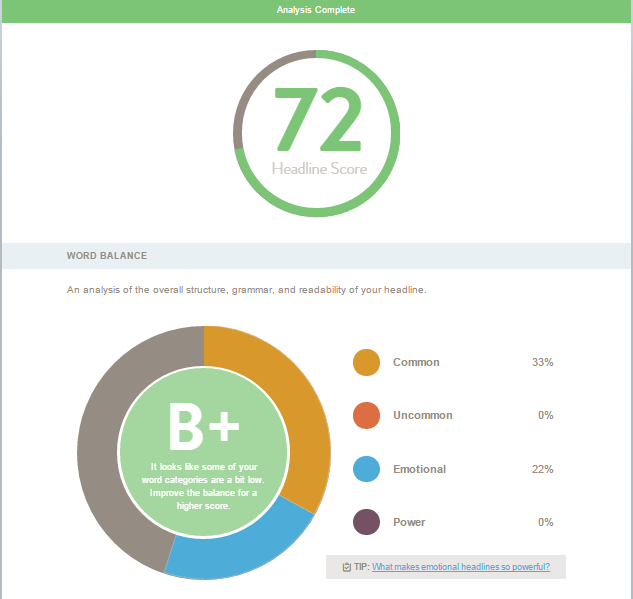 Emotional Marketing Value Headline Analyzer
It is important to have an emotional quotient in your headline as humans are driven by emotions. Emotional Marketing Value Headline Analyzer analyses that emotional quotient in your headline. Using this tool is quite simple. Just enter the headline you want to check, select your industry and submit it for analysis.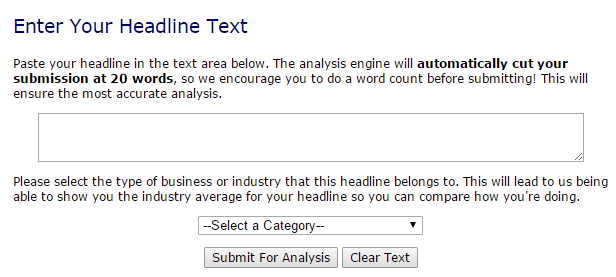 Portent's Content Idea Generator
Do you have keywords in your mind and need a headline for them? Well, Portent's Content Idea Generator can help you with that. Just enter the subject that you have in mind and this tool will give a lot of headline options. Using the exact headline is not advisable as thousands of people might be using the same tool but you can definitely get an idea about how your headline should look like.
You put in a lot of effort to come up with an article just don't throw it away like that. Give the headline an equal amount of time and effort if not more. If you have any other suggestions or questions then do mention them in the comments box below and I shall get back to you at the earliest.
image credit: seopressor.com