Undoubtedly, the "buzz" of the moment is the announcement of the Google+ project, probably one of Google's most ambitious plan to get into the "wave" of social networking. Being an issue that could generate a very big impact in the near future, I obviously, started to scour to web about the subject matter and already found many "people" giving opinions about the project. Needless to say that some says it will be a "flop", some saying it will "kill" FaceBook, some already comparing Twitter versus Google, and some goes as far as saying that it will be no where close to being a FaceBook competitor. As for Twitter, I think they have their own place, so if I were you, I would continue on using Twitter :). Here's a suggestion on how to get Twitter followers, easier.
Anyway, so much for what people are saying. My take on this is that it is simply just too early too say anything about it, so I'll hold on to any "predictions" for the time being, and in case you have not heard about it (yet), here are the best articles, I found so far, which you can read to find out more about the Google+ project.
Inside Google+ — How the Search Giant Plans to Go Social
Google+ Project: Google's Social Network
and finally, some bold words from Google's official blog:
Among the most basic of human needs is the need to connect with others. With a smile, a laugh, a whisper or a cheer, we connect with others every single day.
Today, the connections between people increasingly happen online. Yet the subtlety and substance of real-world interactions are lost in the rigidness of our online tools.
In this basic, human way, online sharing is awkward. Even broken. And we aim to fix it.
We'd like to bring the nuance and richness of real-life sharing to software. We want to make Google better by including you, your relationships, and your interests. And so begins the Google+ project…
A quick look:
How Do you Get In?
Do you all remember about "wave"? Well, if you don't, the process for being able to use the service was that you had to have an invite from someone who had an account. So much so, that there were people holding all kinds of different contests, to give Wave invitations away. Anyway, it is rumored that Google+ project will also be "by invitation" only so we'll just have to wait confirmation for that.
Take The Tour
If you want to have some impressions on how the interface would work and some of its features, I suggest you head over to their demo site, and while you are there, click on the "join project" to submit your email to get in line. Who knows, you may get lucky and receive an invite right away.
On the tour page, you will be able to see the project in "action" as to how Google+ will work (more or less). You can test drive "circles", "sparks", "hangouts" and "huddle". These for now, are the major "pillars" of the project and at first glance, it seems to be "less" noisy that that of its peers.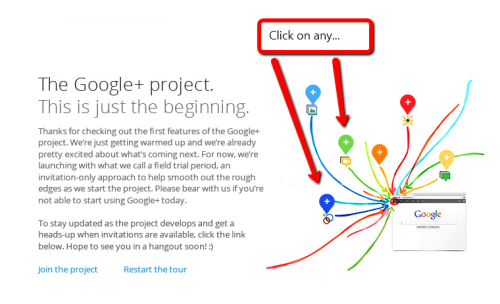 Creating Your "Circle Of Trust"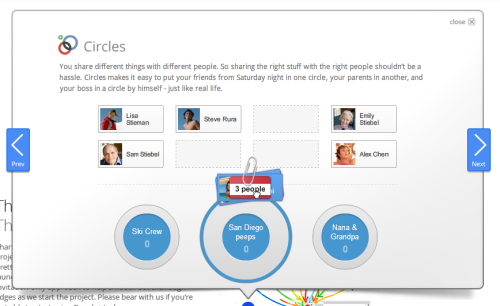 Create "Spark" – Share things you care about and of the same interest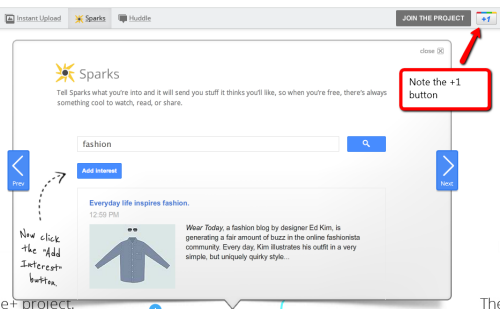 "Hangout" – Everyone in the same conversation, hangout with friends, business partners, collaboration groups, etc.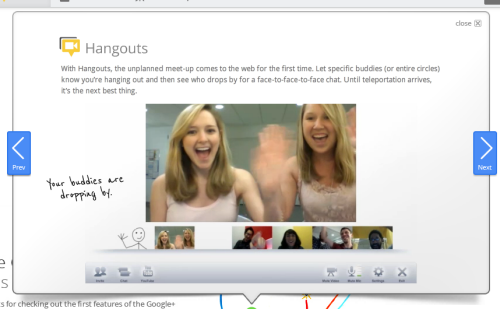 And much more. Just take the tour (if interested), to find out more..
That's it! Whether or not, Google+ will finally be the next big thing from Google, remains to be seen. They do have the ingredients for that. I can see "other" services eventually being integrated in there somehow.. They have so many of them, like gmail, google docs, apps, and a lot of other "shareable" services, mobile and not, that could allow Google to finally have an "all-in-one" solution.
What say you? What do think about this project? Will this be the one?