Earn Money With Anti-Spam Technology?
Just stumbled upon this new revenue stream recently and I have to admit that the idea is interesting if you don't hate captcha as much as I do 🙂 Captchas are those little boxes which normally contain distorted letters which are usually intended to block malicious programs or spammers to restrict access to things like comment forms, registration forms, contact forms, etc.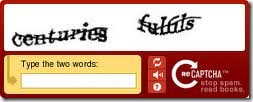 Many webmasters use this form of security specially to avoid spammers to leave non relevant or useless comments for the sole purpose of obtaining linkbacks or backlinks. The problem is that many people find this form of security annoying because it can be difficult to read and is another step towards achieving an objective, this being, as an example, to leave a comment. In my case, I find having to register first to leave a comment, more annoying than having to type-in a captcha code.
Solve Media Introduces Sponsored Captchas
Solve launched what it calls a Type-In ad platform, which puts ads and brand messages in the captcha space, instead of trying to read those difficult distorted letters, and type them in. Their proprietary TYPE-IN™ is branded CAPTCHA (human authentication), which places relevant brand messages where users are already engaged. According to Solve, these provide value for Advertisers, Publishers and Consumers.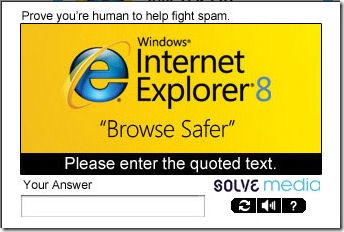 This type of advertising in my view is mainly geared towards establishing or strengthening a brand. The ads that replaces the captcha space require users to engage with them, by typing in the names of brands and products. And it just does that, deliver a message, because it won't do anything beyond that. They won't trigger a video, take you to another Web site or anything else. As an example, instead of a complicated words, the ad can be Microsoft's "Browse Safer" slogan.
How Does It Work For Publishers?
For publishers, this is a completely new revenue stream and one that doesn't require creation of new content. Signing up is easy (at this time) and integration to your website is also easy. Modules and plugins for many popular programming languages, web frameworks, and software packages are available. For an easy and fast integration, Solve supports several plug-ins: media wiki, dokuwiki, WordPress, Drupal, disqus, vBulletin, phpBB, SMF, Pligg, IP.Board, and Joomla!.
Once installed, you will have to enter three unique keys to get it activated. After that set it up by selecting the available options. One cool feature is that you can turn it completely off and just use it as a security measure (not recommended – makes no sense if you want to earn something), or turn it off for registered users, site contributors, authors and more.
According to Solve, they charge a fee of about 25 cents to 50 cents for each form that is filled out. The company then splits its fees 50-50 with the websites where the ads are placed. Solve is backed by venture-capital firms First Round Capital, New Atlantic Ventures, AOL Ventures and others investors.
Solve in 101 seconds:
While it is still too early for me to give you an in-depth information about how this program performs, I figured that it is something that many of you might be interested in. I have signed up for it and doing a test run on one of my other website. I will be monitoring this and give you an update as soon as the revenue cycle is complete. If you interested, you can signup here (not affiliate link).
What do think? Is this something that will interest you? What are the pros and cons that you see with this form of making money?