Maybe you're just starting fabricating your social media presence or maybe you're an experienced pro with Search Engine Optimization, who's discerning about doing a major renovation, so if you wanna drive to get more search engine traffic, and boost social media presence here are my advices and tips you can take to help you build the right projections and connections in your blogging and business endeavors.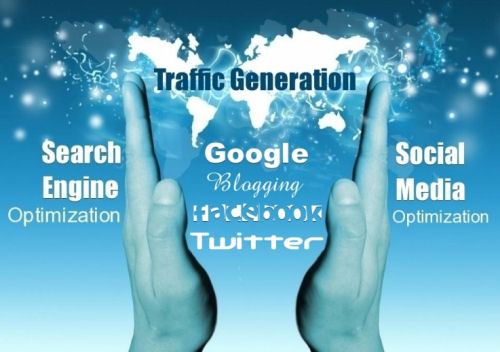 SEO and SMO in Traffic Generation
Search Engine Optimization
Make Google Search Engine Optimization your primary target by all means. Let me go directly to the main points of Google SEO. You must know that Google Search Algorithm is now focusing on contextual linking. Try to search on Google and you will notice what I am saying. Obviously, Google is prioritizing content for organic search. It goes like this, the more content the better and the more contextual backlinks pointing to your content is the best. Search engines' traffic will then just flow over the knee of your niched website.
How are we going to build contextual links?
Contextual linking has something to do with links and your content. Google is placing more significance on links found within the content of your websites rather than the links found in the header, menubar, sitefooter, sidebar, etc. To get contextual backlinks, you must have backlinks from high Google Page Rank or from popular relevant content. When you link within the content of a valuable page, ensure that any links engaged on the page are contextually related and that have a keyword-rich anchor text. By doing such as guest blogging and article submission are the best free methods in having contextual linking. If you are really eager to get contextual links then you must buy context links and goodluck for Google will penalize you when caught.
Social Media Optimization
The best thing is that even search engines also considered social media signals in their rankings. With the advancement of social media today, the development of Social Media Optimization in gaining backlinks and popularity from popular sites like Facebook and Twitter, is being targeted towards real time searching. This means that, the more presence you can give on the social media sites, the greater chances that your SEO will progress.
A tweet is a powerful message composed of 140 characters or less, with a flexible link shortening and with multi-protocol services. Your tweets will get you anywhere taking you to all your followers and to various enthusiastic social search services. For SEO's concern, you can see it that Google cache the most tweeted content of your website. Habitually, when the page is most tweeted, Google will take the initiative to rank it to the SERPs.
Here's another great button in social media today. The prevailing Facebook "Like" button and a power "share" is being considered as most powerful widget or plugin. The idea behind this Facebook Likes and share is to give ample access to data to the most discerning web users.
In Facebook, if the status is being liked by many, you will see that your status will be on the top news. This means that all who have liked the status have given it significance. And you know search engines now look at links being shared on Facebook profiles and Fan Pages that are marked as being shared to "everyone". So it follows then that when your link will be liked or shared most by everyone, you're not only having traffic from Facebook itself, you also have the chance that it will be indexed and definitely gets higher organic search ranking.
So there you have it. Always remember that we are living now in the world of online advancements. Get used to Search engines, blogs, and social networks for all these will help you generate quality traffic.
Thank you so much! Please feel free to leave your comments and insights.
This article is part of the Traffic Generation Blogging Contest, please add a comment and share it to support the author.