Before getting into the nuts and bolts on making money with Twitter via SponsoredTweets, you should know that any attempt to monetize your Twitter account(s) can cost you to loose followers and credibility. To avoid this, please bear in mind that a subtle use of this method is highly recommended and if need be, there is always the possibility of creating different accounts for different purposes (e.g. Twitter in College). SponsoredTweets is a legitimate way of making money with Twitter and today, I will introduce you to a recent addition which is their CPC model.
First things first. You should first signup for a SponsoredTweets account which can easily be done through the OAUT process and nothing else. If you already have an account then you should probably already know that besides getting offers directly form advertisers, you can now find opportunities by searching offers from the CPC program. This gives you a better chance of earning money through Twitter as you can opt to Tweet for opportunities rather than having to wait for specific offers.
How does CPC of SponsoredTweets Work?
When logging in your account, you will see on your dashboard your opps. Here you will find your open, pending, missed and completed opps. Right under the tabs, you should be able to see "cost per click opportunities". These are the opps that are currently available for you to Tweet. As of now, I am not yet sure how these opps appear and if there is any relation to the advertisers criteria, such as number of followers, klout, etc. Thing is, they are there and following below is a brief explanation of each column: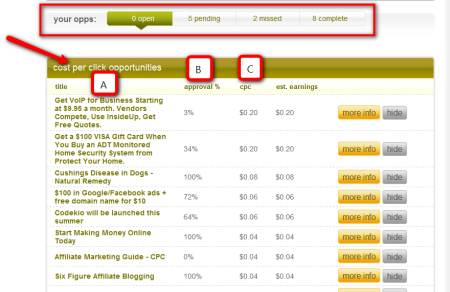 Title (A): Pretty straight forward. This is a small description on what the Tweet will be about. Find opportunities that match your topic or interest.
Approval %: This is percentage of the advertisers approval rate. The higher the approval rate, the higher your chances to grab the opportunity. Also, it appears that the lower the approval rate is, the higher the CPC $$ is. Note that 100% means that it is automatically approved. Despite this, you should be creative when creating your Tweet as your objective here is to get people to click on those links.
CPC: Cost per click. This is what you get for every valid click. Don't ask me what "valid" clicks means as I am sure that this is some kind of security to prevent click frauds. My experience as of now is good and I have been marked for payment.
NOTE: To withdraw funds (getting paid) from your account, you must meet the following requirements:
* Account balance of at least $50.00.
* Wait at least 14 days from the first time you were paid.
* Your Twitter account must be at least 60 days old, have at least 50 followers and 100 status updates.
Should You Opt For Everything?
Absolutely not. As I said before, ensure that you are only Tweeting something you think can be of value to your followers. Just because it is sponsored it does not mean that it can not be interesting. Remember that you are endorsing the product or service and this counts towards the credibility of your Tweets. Tweeting about "Cushings Disease in Dogs" is not right if you are known to your community as an Internet Marketer. Anyway, here is how I do it.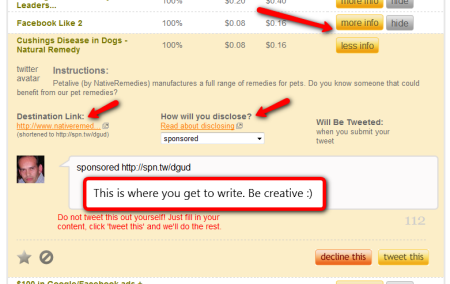 1) Once I spot an interesting opportunity, I click on the more info button. This will open a window of additional information related to that opp. You will find the advertisers instructions, the destination link, how it should be disclosed (FTC compliant), and the space provided for you to write your Tweet.
2) Click on the destination URL and see where that is leading your followers to go. Analyze the landing page and see if it something that you think may be of value and not another one of those "crap".
3) If you are satisfied that it can be of value, select how you want to disclose the opp. I use different scenarios depending on how long I will write my Tweet. I always try to leave a little bit space (when possible), because there is always a chance of being ReTweeted 🙂
4) Write your Tweet. This is where you should use all your "writing" skills. Make it as catchy as possible to get those clicks pouring in.
5) Hit "Tweet This" button and that's it.
Now that you know how to use the CPC method of making money with SponsoredTweets, all you have to do is give it a try and see how it works for you. Remember again – do not bombard your followers with SponsoredTweets, make it a ratio of say 10:1 if at all possible and they will not get mad at you (hopefully).