In a previous post, I showed you how you can sell ads directly to advertisers and offer them your ad spaces. While this is an excellent technique, there are those who still think that this is too time consuming and not worth the effort. Not worth the effort because it can be frustrating when there is no answer to your business proposal. You sent several emails and follow-ups and yet no response. So, you may ask. Is there another way to sell my ad spaces without having to go to all this trouble? Read on.
Introducing AdvertiseSpace, your online broker to selling your virtual real estate (ad spaces). AdvertiseSpace's sole objective is to provide publishers access to their ever growing list of online advertisers. You sign up, submit your website or blog for approval, wait a little (very fast approval), set up your ad zone, copy and paste the code and your done.
Is AdvertiseSpace different from Other Networks?
Just like any credible network, AdvertiseSpace will have to approve your website or blog before anything else. The requirements however are mostly geared towards the quality and type of your blog and not traffic or page impressions and all that. They believe that everyone has a chance in the sphere and this is what makes them even more interesting.
Does It Work?
Not only did I sold some ad spaces relatively quick (currently running), I already received my first payment via Paypal. This is just after being on their network for a little over a month. I received the payment of 70% of all ads that where running on this and other blogs. This in my opinion makes them a reliable network, otherwise, Joel dot com, DailyBlogTips dot com, just to name a few, will not be using them.
Remember though that setting up your initial offerings is critical. Setting your prices too high can scare advertisers away and too low may indicate lack of confidence. So, be sure that you set up your price adequately to see those ads pouring in very quickly. As time goes by, gradually increase your prices to reflect the real value of your virtual real estate.
A final word, ad placement is also very important. In my experience with them, it has been proven that placing their "advertise here" banner works better above the fold than any other place. Then again, it might work for you someplace else but the idea here is to test some different placements once in a while and see which ones will work best for you.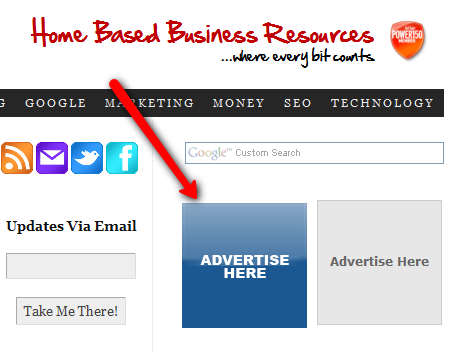 The Advantages
They do all the work for you. You can even get featured on their homepage depending on certain factors. No extra fee for that either.
I got my blog featured (not sure why) and because of this I sold two ads almost simultaneously.
You can take advantage of their network and be more visible to advertisers. This increases your chances of getting seen by those who matter, Advertisers.
They only charge 30% of your revenue, an amount which is perfectly reasonable compared to other networks, considering that they are doing some work for you, i.e., promotions, featuring your website, etc.
They have a referral program where you can even increase your income. You can earn 5% – 10% monthly recurring revenue for up to 12 months. Just sign up for a publisher or advertiser account and you automatically receive your affiliate code.
Setting up your ad zone and installing the code is as easy as 1-2-3.
Quick response to any problems or queries you may have.
They provide you with some very informative articles on how to obtain success on your online business endeavors.
The Disadvantages
Not a perfect world, but if there is one thing I love are stats. Advertise space does not currently provide publishers with information such as impressions, number of clicks, pending payments and you know the drill. This is a temporary setback as I have emailed them and Chad Randall (CEO Of AdvertiseSpace), responded promptly and informed me that they are working on it and should be able to provide with reporting capabilities soon. Work on it Chad:)
Conclusion
Making money with AdvertiseSpace is genuine. I got ads and I got paid. That is a complete cycle. Obviously it is not as easy as it seems as you will have to follow all the rules of blogging to make it work for you. Providing useful content, working on your SEO, improving your traffic stats, etc. will attract more advertisers your way. So if you are interested in joining the club, sign up for your free AdvertiseSpace account and good luck. Eventually, I would like to know if this is working for you? Any questions? Leave them here and I'll gladly respond.