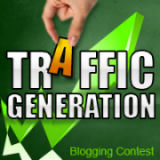 Traffic Generation Techniques: How To Get People To Read Your Blog

Traffic generation is very important whether you are running an online business or getting started with your home based business. By now, you have probably found out, that one of the most important parts of your online endeavors is to obtain or get more traffic to your blog. Countless times, you will see bloggers from different levels of popularity, giving you advices on how to improve your traffic generation methods and saying, no traffic = no money. That's true. Making money online without traffic is very slim.
Is this true? Of course, how else will you succeed if not getting people to find you, know you, and ultimately see what you have to offer? This just works exactly the same as a local store in your neighborhood that just opened, has great stuff, and you don't know anything or heard about it. How do you expect that store to "sell" something if no one knows about them, endorses them, etc.? In this scenario, part of the action plan that the owner of that store may do is to find ways to generate more visitors to their store.
Traffic Generation: Increase Website Traffic

So the next obvious question is what do you have to do? Simple answer – "Get More Traffic", lol. Yeah, but how? Well, apply the best SEO tips and practices, go social, write great stuff, submit articles to article directories, blog post promotion, and you know, blah, blah. Basically, you will find tips and advices on how to generate traffic all over the place.
The other next obvious question is, do they work? And that my friends is the question of the day. Finding proven and reliable, white hat, traffic generation methods is what I am talking about and this really is what matters. Real people, providing real and proven advices on how to drive more traffic to your website.
Traffic Generation: Get Traffic To Your Blog
As you know, ComLuv.com, FamousBloggers.net and yours truly, are presently running a contest. The subject of this contest is non other than Traffic Generation, i.e., how to get more traffic to your website. Bloggers from all over the world are submitting articles that are proven techniques and most importantly, works for them. This, I hope, will be, your one stop resource for everything that has to do with traffic generation.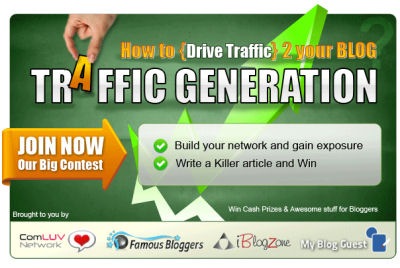 That said, here are the articles that have been published so far, and this list will be updated regularly as more entries go live. You might want to bookmark this, so can check regularly for updates.
1- PPV – Your Key to Massive Traffic in NO Time! By @TheBadBlogger
2- Facebook Advertising Killed Google Adwords! By @Faissalhaithami
3- How Bing, Softball And Yahoo Got Me Blog Traffic! By @friendlyblogger
4- How to Attract More Advertisers to your Blog? By @Smartfatblogger
5- Car Racing VS. Traffic Building – By @imarketerlinda
6- Combining the Best SEO and SMO in Traffic Generation – By @kirapermunian
7- How to Get More Traffic by Providing Incentives? – by @Techpupil
8- Vibrant Ways To Generate Traffic And Build Relationships – By @thatgirlisfunny
9- How to Beat the Changes to Organic Traffic Generation Rules- By @MavisNong
10- The Secrets Behind Natural Link Building – By @flame_scorpion
11- 50 Traffic Sources You Should Milk Like Crazy – By @LiveUrLove
12- Charming an Overlooked Readership – By @epavard
13- Traffic Generation: Using The Old And Boring Hooks Correctly – By @janesheeba
14- How I Got 50k Pageviews For A Single Post In A Day – By @ariffshah
15- How to Drive Consistent But Free Traffic To Your Blog – By @bbrian017
16- Create Free (Viral) Content That Works Like A Traffic Magnet – By @TheBadBlogger
17- 10 Ways To Increase Website Traffic With Forums – By @JMPruitt75
18- 7 Hidden Money Pockets Lying Dormant In Your Business – By @buzzblogger
19- Traffic Generation and the Survival of the Dodo bird! – By @Techpupil
20- Zen and the Art of Web Traffic – By @kjhosein
21- The 3 Star Rating Traffic Generation Report – By @newbizblogger
22- Podcasts – The Underestimated Traffic Source! By @TheBadBlogger
23- Blogging on Steroids – By @DeniseGabbard
24- CommentLuv Will Be The Future Of Traffic? – By @Faissalhaithami
25- The Different Avenues of Building Traffic – By @element321
26- How to Generate Traffic Without Spending a Dime – By @growwithstacy
27- How to Really Get Targeted Traffic to Your Site: Let Us Go Back to the Start – By @_cosmin
28- Getting more Traffic is Like Hitting the Bullseye! By @Techpupil
29- Use Facebook to Drive Traffic To Your Site – By @element321
30- How to Tweet Your Traffic? By @Techpupil
Now you see why this contest is good for everyone. You get to share your experience, you get to learn other techniques, you get to meet people, and also, you get the chance of winning big bucks, just for sharing your views, promoting it and engaging with fellow bloggers. You are missing this win/win scenario, if you are not participating. In addition, please acknowledge your appreciation to all these fantastic bloggers and show the your support, by sharing their post on the sphere.
Anyway, what do you think? Do you think that this initiative will help you as a blogger to understand more or better about getting more traffic to your website? Do you know of any technique(s), that will help achieve this purpose. Why not share your traffic generation strategiesor techniques with us here by commenting and within the process, perhaps you too can get more blog traffic.