WordPress is an outstanding platform that allows just about any user of any level to create beautiful looking websites. In addition to having several choices of ready made templates, WordPress has the advantage of its features being enhanced with the use of plugins. To put it simple, plugins are sort of add-ons that are attached to WordPress to enhance its features and capabilities. Social sharing plugins, SEO plugins, performance plugins, form builders, are just but a few examples of what can be found out ther readily available to help make a WordPress users life a tad easier.
Let's take form builder plugins as an example. You would think that it is nothing more than just creating a contact form to have your audience send you some emails, right? Well, yes and no. There are form builders that does just that, and then there is Captainform.
Today I will be sharing with you a brand new form building plugin for WordPress, which is still in beta phase before the official launch goes ahead. Reason for this is that they are oferring some good stuff for anyone who provides them with feedback. More or that later.
What Is Captainform Form Builder?
Captainform is not your regular form builder. As I mentioned earlier, this one goes beyond just creating contact forms. The plugin allows you to build just about any type of forms you can think of and quite easily. The image below should you an an idea of what you can do with the plugin. I think that is pretty much self explanatory.
click on the image for a larger view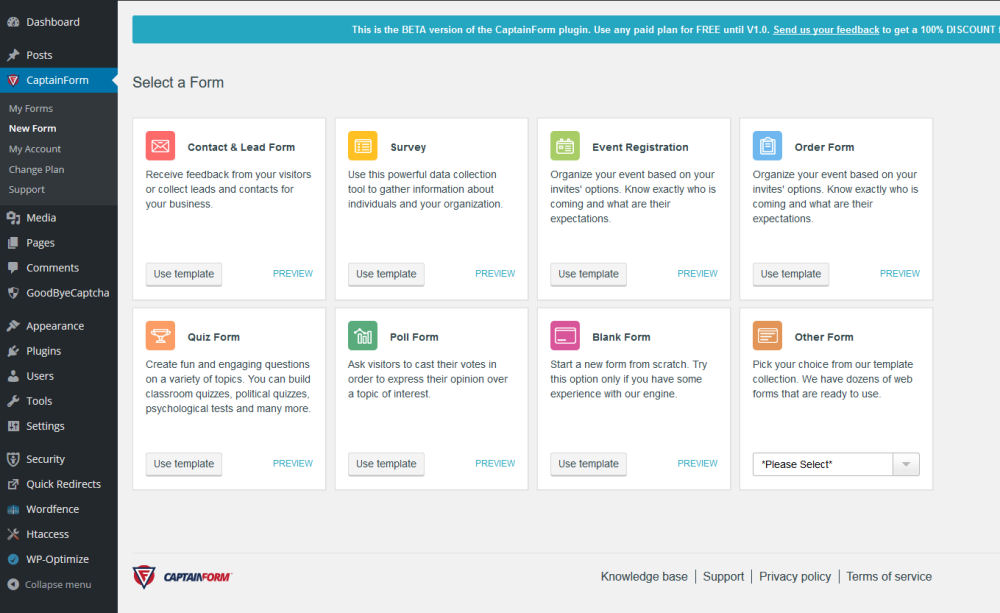 What else?
Intuitive Editor: With drag-and-drop strength, CaptainForm lets you build web forms right within your WordPress form plugin dashboard.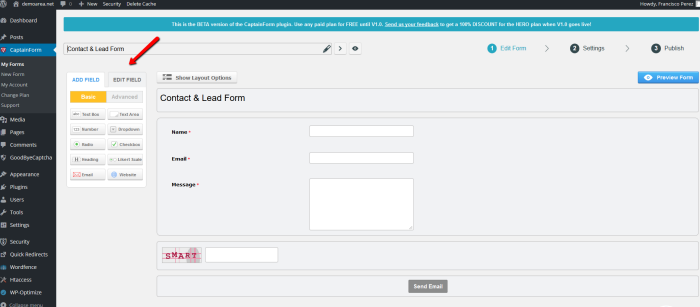 Form templates: Choose from a gallery of 30+ free form templates. CaptainForm then enables you to customize them as you see fit.
Advance security: One of Captainform's powers is advanced security. SSL encryption, password protection or CAPTCHA, he's got them.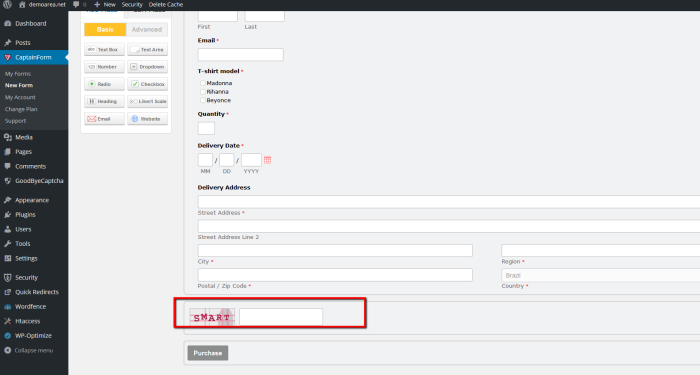 Why does Captainform standout?
One of the things I like best about Captainform is becasue of its pre-installed functionalities. In addition, the ease of use and its pre-built templates are just a time saver. Installing the plugin and getting additional support is just the same as 123ContactForm, as they are all in the same group of people.
Need help? Go to their knowledge base page and learn more.
Need help how to install the plugin?
And yes, if you are skeptic and want a bit more of extra convincing, try their demo.
Anyway, the plugin comes with a variety of plans. And one of them could probably be just enough for you (see below). If for some reason it is not, you can always upgrade. Just bear in mind that you can have Captainform up and running forever free (with some limitations). Download it now and see what awesome things you can do with it. And if you have not noticed it yet from the images above, here's a peek (click to view a larger image).
You read that right. Download any plan, provide your feedback and get 100% discount of the Hero plan. Not bad right? Head over to their offer page and find out more details about the offer. Hurry though as the offer has a limited time (Oct. 8 to Oct. 11).
And now for the update [Novemebr 5 – that's tomorrow]
CaptainForm V1.0. launch comes with a special gift for users
On the 5th of November CaptainForm is out of Beta and launches V1.0. The feedback received during Beta was extremely useful. For example, users can now benefit from a flexible popup publishing method and improved usability.
The built-in features of the plugin require no add-ons and 24/7 customer support is available also for the free plan. And that's not all: many other features have also been improved such as: smart multisite management, publishing in posts, pages, widgets and theme files, various notification and confirmation options, popup, auto-popup publishing and many more.
Security is an important matter, so even the free plan includes SSL encryption and form submissions are saved on very secured servers. Users can choose from a wide diversity of forms, depending on their needs: payment and lead generation forms, engaging quizzes and polls, user-submitted WordPress posts, auto-popup newsletter subscription, user-submitted WordPress posts, as well as quizzes and polls.
Although the plugin is out of Beta now, feedback will remain important, so listening to users' needs will always be extremely useful.
From now on, there will be one free plan and three paid plans. Therefore, the pricing plan is:
Regular Plan – free
Apprentice Plan – 35$/year
Master Plan – 95$/year
Hero Plan – 195$/year
3 Forms
Unlimited Forms
Unlimited Forms
Unlimited Forms
15 Fields
Unlimited Fields
Unlimited Fields
Unlimited Fields
500 Secured

Submissions/Month

5K Secured Submissions/Month
20K Secured

Submissions/Month

100K Secured

Submissions/Month

4 Native Add-ons
12 Native Add-ons
21 Native Add-ons
| | | | |
| --- | --- | --- | --- |
| SSL Encryption | SSL Encryption | SSL Encryption | SSL Encryption |
| 100MB storage for uploads | 500MB storage for uploads | 2GB storage for uploads | 10GB storage for uploads |
| – | – | – | Multisite Support |
| – | – | – | Payment Integration |
There will be a special 20% launch offer on any paid plan. Users just have to enter the following voucher code: iblogzone20 and they can already start creating and customizing super forms!
The launch comes with one more surprise for all users. Anyone who downloads the plugin has the possibility to get a useful whitepaper with tips and recommendations on some popular types of forms.
Download the plugin, get the offer and take advantage of the whitepaper!