Hi everyone, hope you all had a great and productive week! This week, Dan Smith published an article on ContentMarketingInstitute.com about "recipes" to use on IFTTT. If you have not heard about IFTTT before, don't worry, you are not alone. As Dan says…
I'm slightly ashamed to admit I'm a little late to the IFTTT party. I'm guessing I'm not the only newbie to IFTTT – an online platform that stands for "If This Then That." Once you register for an account, you pick your applications (i.e., Facebook, Twitter, LinkedIn, Dropbox) to discover "recipes" that allow one product to connect with another product or app. Once you connect the two apps, the direct connection runs seamlessly in the background….
17 Recipes to Help Every Content Marketer Work Better
Publish Instagram photos as native Twitter images
Populate a Google Sheet with your email notes
Tweet something when a specific tag or phrase is mentioned in a content feed
Email yourself a weekly list of the most popular posts on a blog
etc…
see the whole IFTTT recipes here.
How to Combat 5 of the SEO World's Most Infuriating Problems
These days, most of us have learned that spammy techniques aren't the way to go, and we have a solid sense for the things we should be doing to rank higher, and ahead of our often spammier competitors. Sometimes, maddeningly, it just doesn't work. In Rand's Whiteboard Friday, he talks about five things that can infuriate SEOs with the best of intentions, why those problems exist, and what we can do about them.
How to Be More Productive on Social Media
Have you ever stopped to think how much time do you spend a day on social media sites? Acording to QuickSprout.com, as much as 3.6 hours is what we can spend on social media sites a day. Although social sites like Facebook and Twitter are great, spending that much time a day can be counter productive and to help you cut back on the number of hours you are spending on social sites, Neil created an infographic that will teach you how to be more productive on the social web.
click for larger image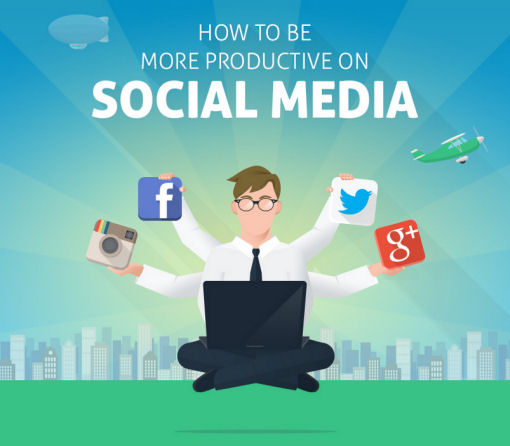 And as usual, in no particular order:
Content Creation & Marketing/SEO and Search
Social Media/Small Business Bites
Facebook Instant Articles And What They Mean For Referral Traffic
More from around the web …
That's it! Enjoy, have a great weekend!