So you're contemplating the idea of becoming a full-time professional blogger? You know there are some advantages and disadvantages. You like the idea of being able to write daily and have other people read what you write about. But, at the same time, you're not quite sure if you can handle the leap from a hobby-blogger to a full-time professional blogger. Maybe you have other priorities or commitments that might keep you from devoting everything to building your blog?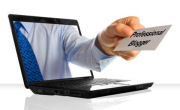 In any case, before you make the transition into full-time blogging, take a moment to consider some of the following questions. How you answer them will give you an idea as to whether or not full-time blogging is right for you.
Do you consider yourself to be a motivated person?
This is perhaps the most important question because blogging requires you to be very motivated. It's a tough profession because the internet is so wide and varied, and it's very easy for readers to skip from one thing to the next if they become bored. This means that it will be difficult in the beginning to build up a good amount of traffic. It will be hard at first and the rewards will be minor. But if you're motivated enough, then you can focus on blogging through the tough half a year and then it will begin to pay off.
How organized are you?
Full-time bloggers have to be extremely organized bloggers, or else they would quickly fall behind in all of the things they have to do in order to maintain the reputations and health of their blogs. Being organized will help you do this as well. If you can keep all of your tasks in order and if you consider yourself very disciplined in your daily routine, then blogging full-time might be a great opportunity for you.
Are you personable and willing to talk to others?
Another big requirement of being a good full-time professional blogger is that you are personable and good at interacting with other people. Part of blogging is creating relationships with others. You will need to talk to other bloggers about guest posting. You will need to respond to people's comments on your blog posts and on other blog posts. If you are great at making your readers feel comfortable and happy to know you, then you will be a successful blogger.
Are you passionate about the subject?
If you're extremely passionate about the subject, then you'll be able to take that passion and share it with others. That's part of the joy of being a blogger: being able to share your passion with others so that they can learn something or engage in the conversation with you about the subject. If you have passion, then you'll most likely enjoy nearly everything you do related to your blogging.
Do you consider yourself to be a good writer?
Finally, you have to have the confidence in your writing abilities. This is one of the most basic skills necessary; it is the foundational skill to nearly everything else here. If you're not a good writer, then you will have trouble keeping up your momentum. You will have trouble communicating with others. You will have trouble clarifying your ideas about your subject matter. If you are a good writer and can combine your writing with the above skills, then you'll be well on your way to being a successful professional blogger.