Google recently rolled out its real time search functionality, also known as Google Instant. While Google previously provided search suggestions as you keyed the terms you where looking for, it now goes a step further by showing actual results before you even finish typing in your search term.
Although I am not yet quite sure how this will impact search engine optimization, I am of the opinion that users will eventually "learn" how to use it and so change their habits while searching for something. People that have been optimizing for long tail keywords (including domainers) will most likely feel the impact on traffic more than those who have been optimizing for shorter keywords. With this change, shorter keyword optimization and exact match terms (three words max) may once again play an important role for SEO while at the same time making it more difficult to rank well on Google's ranking results.
Here's an example. Let's say that you have been optimizing for the term "credit management tips". When a user starts to type in the term, Google predicts what that user is searching for and provides immediate results. The user may at this point actually stop at "credit management" after seeing some interesting results that Google instant now provides. If your website was ranking well for the term "credit management tips" and not for the broader term "credit management", it is likely that you will loose some traffic due to this change. As you can see in the results below, "Credit Management Tips" is not (yet) suggested by Google.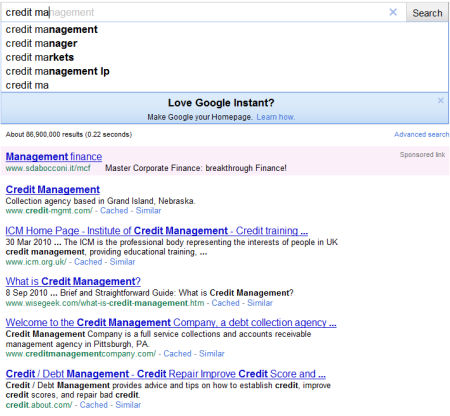 This is also true for exact match keyword domain names, where despite getting great rankings for certain terms can also be impacted by this change. Many domain names that have been created for the purpose of ranking well on long tail exact matches may see their traffic drop and consequently the value of those virtual real estate. This may also give domain investors a little bit of a headache and force a change of strategy of the domaining industry.
While it is still early to predict what impact Google instant will cause on search engine optimization and others, It is clear to me that some form of adaptation should be done to accommodate this change. Also, it will also be very interesting to see, how the users adapt to this new form of search. This in my opinion is the trend to watch.
What do you think? Should we worry about Google instant as far as SEO is concerned? What impact do you think will this have on our daily blogging? For example, one thing I can think of right now is that if the results are presented more on real time (based on freshness), will posting frequency be more important now than before? Will social networking be an alternative solution in an effort to drive more traffic to our websites? What say you?