With so many money making programs currently available, I had the impression that there was nothing much left to invent. I was wrong. TalkAhead is a platform that offers sponsorship for your blogs through sponsored comments. Now this is interesting. I actually found about this money making program while I was searching for an ads plugin to use here in my blog. Curious, I visited TalkAhead.com and found it so interesting that I immediately signed up for it, as you can see at the end of this article.
What is sponsored comments?
Sponsored comments is actually an interesting concept as it allows advertisers to voice their opinion about their products or services, while trying to engage a conversation by providing content that is clearly labelled as sponsored and a designated area which does not interfere with the reader's comments. It enables advertisers or marketers to respond directly to the content of an article or product review, without attempting to hide their authorship from readers. A Sponsored Comment can consist of up to 500 characters of text, and can include an external link to spark a dialog. You have the option to pre-approve the comments prior to being published.

Why Is It Interesting?
Sponsored comments is not the same as sponsored posts, so the publisher's credibility or intentions remain intact. Unlike other sponsored content, it is the advertiser that writes the comment whose purpose is to generate a conversation, which in most cases will happen externally from your blog. Finally, since it's clearly labeled as a sponsored comment, it takes away the responsibility of FTC disclosures away from the publisher.
How Does It Work?
TalkAhead notifies the advertisers in real time whenever an article or blog post of interest appears in any of the sites within the TalkAhead network. This interest can be sparked when someone for example writes a review about a product or service (like this one I am writing right now, lol). Here they have an opportunity to further promote their products or services by adding something of value or it can be an explanation, if they think that the information is not accurate.
For publishers, you have full control over the sponsored comments. You can choose your own billing model: CPM, flat rate or bid; select the number of Sponsored Comments per article, and whether those comments can include a link to another site or not. You set your price and leave it there without annoying anyone. You control how it appears on your website and many other options to choose from. If you are interested, just head over to TalkAhead's website and find out more.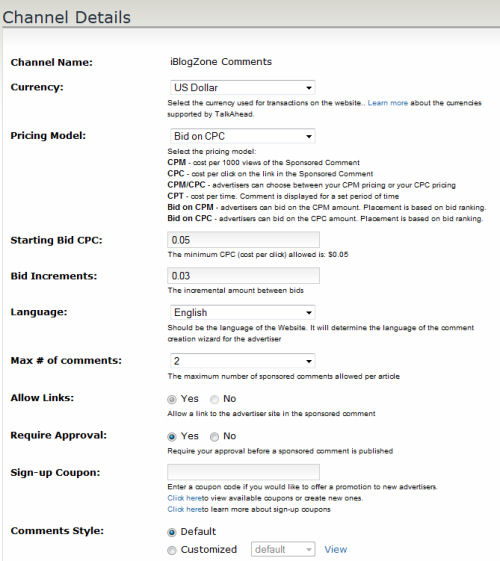 To set the record straight, this is not a paid post and neither is the link an affiliate link. I really think that this monetization method can be a good form of generating an extra income and see no reason why it should not be given a try, unless you know of something that you wish to share with us:).
What say you? Do you think that this can be something you are willing to give it a go?