PrestaShop, a free and open source e-commerce platform recently announced the release of PrestaShop v1.6, its newest version of its software. Adding to the already wide range of features, it now includes real-time data, the ability to edit templates, a redesigned UI, to name just a few.
About PrestaShop…
Since its launch in 2007, PrestaShop has helped merchants process billion of dollars in sales with its powerful, user-friendly open source e-commerce software. PrestaShop's freemium business model allows merchants to build and manage an online store at no cost. Merchants can also fully customize their online store with 310+ built-in features and can choose from thousands of features, modules and templates available on PrestaShop's Official Marketplace for additional fees. PrestaShop's active community has a member base that includes developers contributing everything from code to templates, and from translation and localization in more than 60 languages.

What is PrestaShop?
PrestaShop is a free and open source e-commerce software platform that has been powering over 185K online stores in 160 countries worldwide. It provides business owners (merchants) with hundreds of tools to help them build and manage successful online stores at no cost. You don´t get numbers like this for nothing and clearly PrestaShop has something to boast about and worthy of your attention, should you be looking for an eCommerce software for your needs.
Product Features:
As mentioned earlier, PrestaShop has more than 300 built-in features. From catalog management to SEO, from Marketing to Analytics, it is simply too long of a list to highlight all of them. SEO for example, is one of the main priorities of PrestaShop. It is so that they have a full guide on how to optimize your online store in addition to adding the ability to add and configure the rich snippets of the products on your site. Now that´s some serious SEO awareness.
Anyway, here are some of the features to expect from the software:
A responsive admin backback-office to simplify management and allows an online merchant to access their dashboard from any mobile device, tablet, or computer.
Normal view…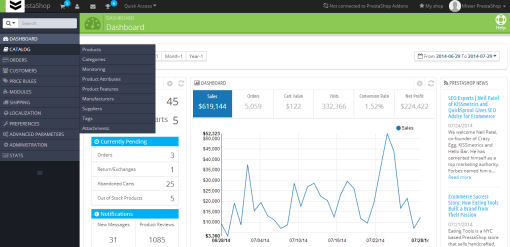 Smartphone view…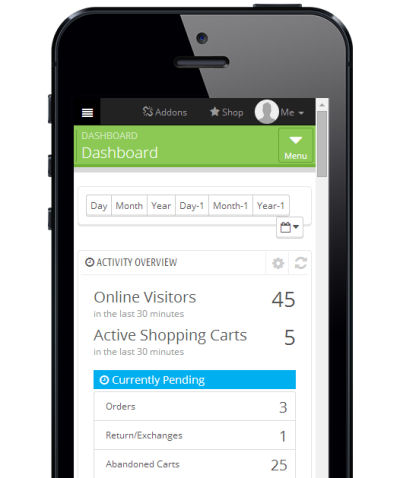 Real-time net profit margin that enables merchants to view their sales and profits instantly
Merchant KPIs that provide insights such as percentage of abandoned carts, best-selling products of the month, percentage of male vs. female customers, and much more.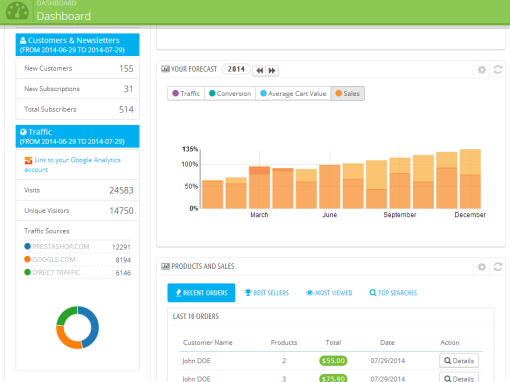 New technologies including Bootstrap 3.0, Saas Compass, FontAwesome and D3 Data Driven Documents enable greater site accessibility, performance and flexibility to facilitate merchant success.
Here´s a quick video presentation of PrestaShop.
Slick design and fully responsive
Desktop view…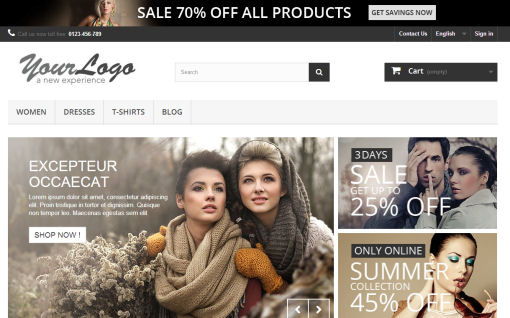 And a lot more. If you are interested, head over to the demo site and play around with it live. No need to register or anything.
Want to see some live stores that is powered by PrestaShop? Visit their Pinterest board here.
Disadvantages
Oh well, not everything is paradise with PrestaShop, although there are some that would argue with that. As I have mentioned earlier, one of the things that might tick you off is when you want to use the several add-ons that PrestaShop offers to further enhance your eCommerce site. You may find that some prices are a bit steep for your budget. Then again, that´s all up to you. You may or may not need any of them anyway.
Another issue with PrestaShop is that it is not a self-hosted eCommerce solution. You do need a hosting account and install PrestaShop. This is where some other reviews have mentioned as a negative point, in addition to taking a bit of time to get familiar with the software and everything else it has to offer. Indeed you may have to install it yourself, but if you look a bit harder, you may find that there are many hosting companies that have PrestaShop as a "One Click Install Option". For example, in my hosting account, the PrestaShop software can be installed with no technical knowledge required, cool!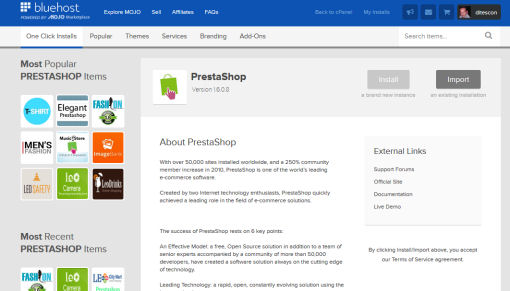 Wrapping Up..
As with anything else, you should test the software and see if it can be a good fit for you. With the recent enhancements and improvements they have made, I think that it is a viable option and now even easier to use. If you are thinking of running a very small online store, I am of the opinion that PrestaShop may not be the most adequate solution for you. However, if you are thinking of an average to a larger size store, with lots of features to choose from, a serious SEO mindset, real time stats, and other advanced features, then you may want to consider giving PrestaShop a whirl.
Have you tried PrestaShop before? How was your experience with it?
To download PrestaShop v.1.6, please visit http://www.prestashop.com/en/download.