Hi everyone! Hope you all had a great and productive week. This week, Blind five Year Old made a very interesting question that prompted Matt to announce that Google is working on some changes that will help the search engine determine better when a site is an authority on a topic. While he did not go into specifics, he did mention that he's "looking forward to seeing them role out." Hmmm, don't know about you, but I too am looking forward to seeing what kind of changes (if any) will impact search results.
How does Google separate popularity from authority?
And talking about changes, Google has spooked a lot of people with all the recent "actions" they have been taking to fight SPAM. The latest in case you've missed it is all about the Guest Blogging action they took against MBG. This coupled with a lot of other "manual actions" they having been taking has got everyone asking whether or not it is still OK to worry about link building. Well, for as long as you know how to do it properly, yes it is. Watch the video below to have an idea on how to do it.
The Rules of Link Building – Whiteboard Friday
And finally, which social network do you think that provides the most engaged visitors? To answer that question, a
recent study done by Shareaholic
"Social Referrals That Matter," looks at the average visit duration, pages per visit, and bounce rates for visitors to its network of sites from the top 8 social media platforms. The results is based on data from over 200,000 sites, reaching over 250 million unique monthly visitors over a span of six months. So, would you be surprised if I told you that YouTube beats all others for both average time on site and average pages per visit?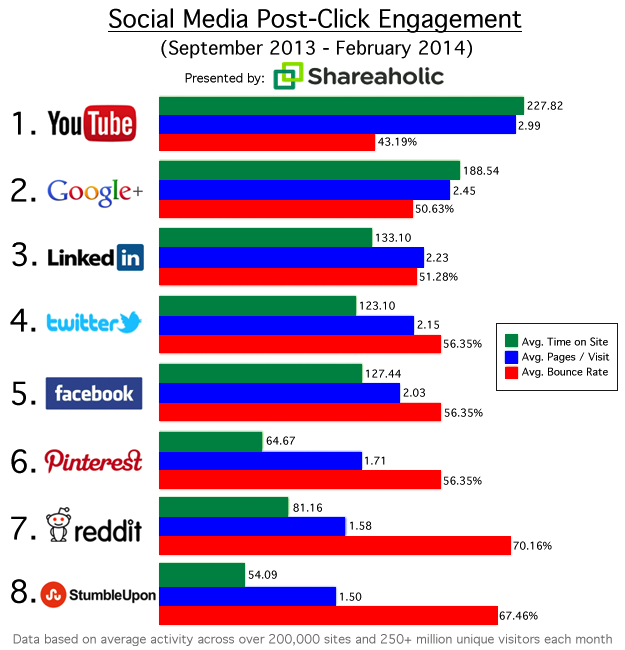 And as usual, in no particular order:
Content Creation & Marketing/SEO and Search
7 videos you'll hate to miss if you do online marketing
Social/Small Business Bites
How to Use Hashtags to Increase Your Online Presence
More from around the web…
That's it! Enjoy and have a great weekend!