Hi everyone! Hope you all had a great and productive week. Not so long ago, SearchMetrics.com has released their "Ranking Factors – Rank Correlation Study" for 2013. This research as they say is a study that "deals with the definition and evaluation of factors that differentiate better-positioned websites from pages placed further back in the organic search results – i.e.: pages that have a positive rank correlation." The answer to the question "What do web pages that are well-positioned by Google have in common and what distinguishes them from lower ranking pages" are laid out below: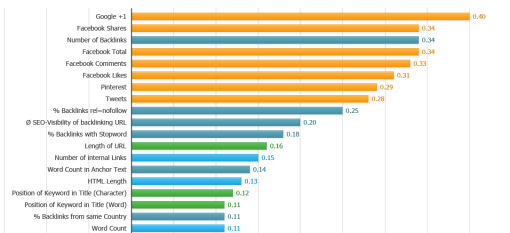 As you can see, aside from the high correlation of social signals, the number of backlinks is still one of the most important factors for a webpage rankings. This is actually confirmed by Matt Cutts from a recent interview conducted by Stone Temple Consulting (more about the interview here).
Now that you know that links still rules, you may want to ensure that you are not being naughty when it comes to link building. On that front, Google recently updated their official link schemes page, as reported by Search Engine Land.
Some noteworthy additions include:
Large-scale article marketing or guest posting campaigns with keyword-rich anchor text links
Advertorials or native advertising where payment is received for articles that include links that pass PageRank
Links with optimized anchor text in articles or press releases distributed on other sites.
and removals:
Linking to web spammers or unrelated sites with the intent to manipulate PageRank
Links that are inserted into articles with little coherence
Finally, if you are one of those that is always concerned about being "tracked", and using Pinterest, you may be interested to know that they are now "tracking" your habits over the internet. Their official blog post "suggest" the following:
… If you're interested, we'll also suggest personalized pins and boards based on websites you go to that have the Pin It button….
Thing is, Pinterest has turned that option ON by default and if you don not want to be tracked by yet another service, then I suggest you turn it OFF. Just go to your account settings until you see the "Personalization" button.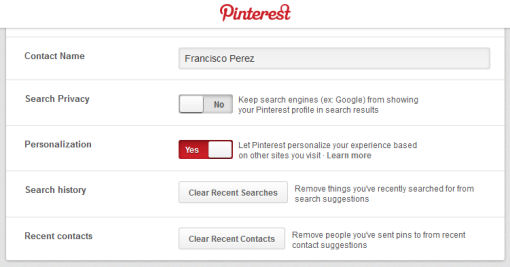 BTW, there's a bonus for you right after the "Other Cool Stuff" below… don't miss it 🙂
As usual, in no particular order:
SEO & Internet Marketing
Social/Blogging/Small Business Bites
More cool stuff!
Here's a cool deal for all of you (not sponsored or anything, just really cool). In case you have not yet seen it, WMPU.org has a magic link for an insane 90 day free trial on CrazyEgg. If you don't know what CrazyEgg is, then I suggest you head over there and signup for the 90 freebie. You will not regret it. See, now you know why it pays off to read my Speedlinks once in a while 🙂
That's it! Enjoy and have a great weekend!