ROI is a hot button issue these days. In this tight economy you can't just be doing things, you have to measure them.
Are you converting leads? Are you increasing following? Is your engagement going up?
These are the questions you must be asking yourself if you are to run a success social marketing campaign. Here are 5 Tools to ensure you're getting the maximum ROI from your social efforts, and they won't break the bank!
1. MarketMeSuite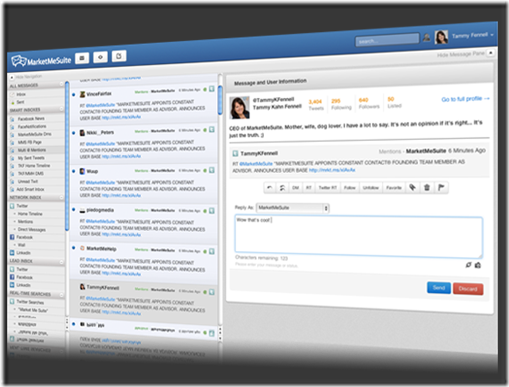 A strong social media dashboard is the first element in any social campaign. The dashboard you use to bring all your efforts together. I co-founded MarketMeSuite in 2009, and it has grown into an absolute juggernaut of a marketing and social management tool. It takes the best elements of your favorite management platforms, mixes in geo-targeting and pro-active marketing, and gives you one giant place to share, schedule, auto-post RSS, and post in real time to Facebook at the same time as posting to Twitter and Linkedin. And the new web app "The Social Inbox" just launched in beta.
Imagine you're a chiropractor. With MarketMeSuite you can actually geo-target a campaign just to 25 miles from your office. This type of geo-targeted posting is a tremendous time saver. As nice as it is to chat with someone with back pain in Norway, you need to fill your office in New York. MarketMeSuite enables you to convert social leads.
Investment: Free with paid upgrades
ROI: The results are pretty staggering. Studying a cross section of our users, we found 85% of replies sent using reply campaigns method elicit a response. In early 2012 MarketMeSuite will be adding an analytics module which will allow users to see how exact actions inside the app leads to direct results.
2. LiveFyre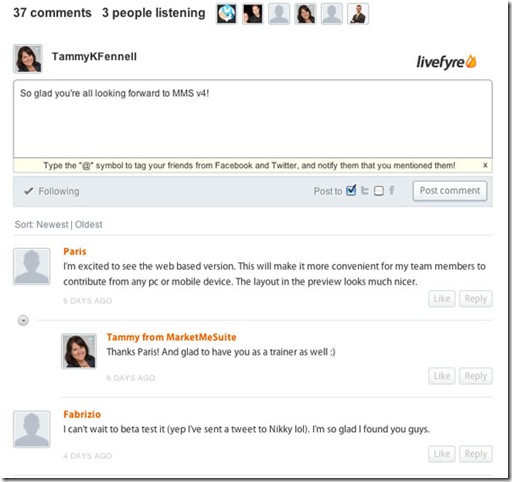 One overlooked side of any social campaign is the ROI of a blog post through social media. You're writing blog posts in the hopes that people read them, and by reading them they will be more connected to you and what you sell. So I'm about to give you some important advice:
If you don't have a decent commenting plugin installed on your blog, don't waste another second. In fact, don't even read to the end of this post. Go right now and try LiveFyre.
It's free, and it's taken social commenting to a new level. Users are more engaged with the story, tweeting out their comment is a breeze, and it really facilitates discussion on the blog, AND across Twitter and Facebook. In one easy click you can send a message saying "You were just mentioned in this conversation…" with a link back to the blog post.
Investment: Free
ROI: Perpetuating a conversation gives your blog post a longer life, and if you can manage to get it into the social media sphere, you can harness that inherent virality that comes with it. I installed it on the MarketMeSuite blog about a month ago, and commenting has doubled.
3. iOS Twitter Integration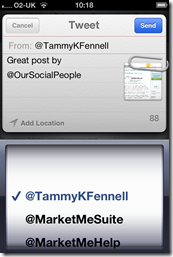 What about when you're on your iPhone, and you see something that would be great to send out to your followers? With the Twitter iOS integration you can simply click tweet, and instantly send it out to your following.
Investment: Free (plus the cost of an iPhone ;))
ROI: You'll need to use other tools to manage the effectiveness, but making sure you never miss a chance to push out great content is worthy enough to go into your toolbox.
4. TwitSprout
Twitsprout is one page social analytics. Currently in beta, it offers a decent insight into how you are doing on Twitter. It shows follower growth by day, hourly change in following, growth rate increase/decrease and follow are list ratio.
Price: Free for basic analytics. Custom Branded reports, contact for quote.
ROI: Twitsprout showcases the important metrics to measure whether your social interactions driven by tools mentions above are doing their jobs, at least on Twitter. Currently data is only related to Twitter.
5. Constant Contact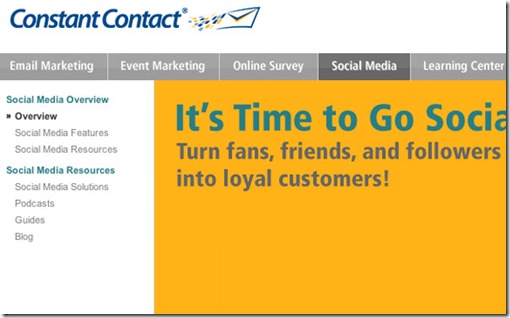 Don't forget about old school e-mail marketing. Creating newsletters and e-mail campaigns is still as important is it was pre-social media, but now you get a social return on investment for each piece of email marketing you send. Constant Contact has a social sharing feature, so you can share your email across Twitter and Facebook in one click. They also recently acquired Bantam Live and are promising more social integrations soon.
Price: Starts at $15.00 a month depending on use, free trial.
ROI: They make it real easy to see the social impact of a campaign. When you check your analytics in the Constant Contact dashboard it says "You've gone social" and it tells you which network and how often the message was shared.
Key Take Away
Make sure your focus on is what you get for the time you put into something — The ROI. Social Marketing is measurable, if you use the right set of tools! I'd love to know if there are any other tools you've used to help improve your Social Media ROI, while at the same time, helping your online reputation management.