Holidays are fast approaching and "Black Friday" among others, are just around the corner. This is just about the right time to promote those hot products as well as a good time and run your experiments :). In addition, if you are an AdSense publisher and are struggling to reach that threshold of $100 to receive your paycheck (more about this towards the end), then this might be of interest to you. Moving on.
As you all know, Google's Search Trend provides plenty of information with regards to what consumers are looking for. More recently, Google made available a website (ThinkHoliday) powered by "Google Gadgets" which highlights the trends as to what types of product searches consumers are conducting this holiday season. By combining this data with that of the products available on Google's affiliate network, you may want to take advantage of the plethora of information you can have access to and get on the band wagon.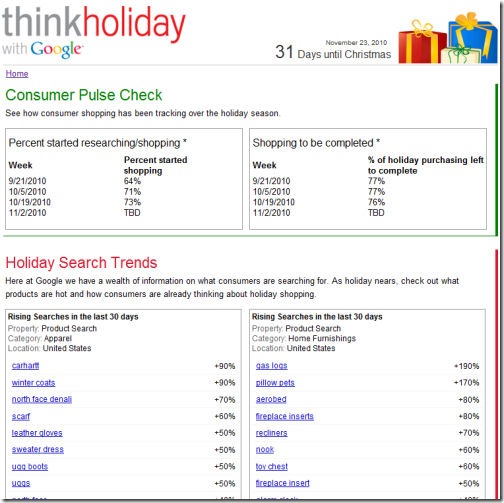 As you can see from the image above, "ThinkHoliday" provides "rising searches" within the last 30 days and on different categories. If you are a publisher, you can use this information to find specific products that are related to your website (or not), and promote them.
Here are some tips you can apply to get you rolling:
How does all this help in getting paid by Google?
Frustrated on how much Google AdSense pays you? If you are struggling to get your first paycheck from Google AdSense due to the threshold of $100, leveraging on this holiday season and promoting products from Google's affiliate network can help you get there quickly. You do know that Google's affiliate network (GAN) is integrated with AdSense and converting some sales on GAN will add up to your AdSense earnings.
That's it. It is still early to wish you a great holiday season, but it is always good to wish you all much success in your online endeavors. Get to it!