eCommerce has been on the spotlight lately and tools to help you build and manage your online store is just about everywhere. This comes to no surprise as digital stores have been increasing in numbers at a very rapid pace and as consumers embrace the idea and comfort of shopping online, traditional retailers will have to eventually get in or risk loosing to competitors that are already in.
Granted, while it is desirable to have your own online store, building one from scratch can be not only complicated but also quite expensive. Fortunately, with the advancement in technology, ecommerce software such as Izzonet, are now at your disposal to help you create an online store painlessly and believe it or not, very, very quickly.
Anyway, just like anything else, it is always prudent to carefully consider your options. While there are many solutions out there (e.g. Shopify, BigCommerce, Volusion, etc.), Izzonet is definitely one option to look at, as it offers not only similar features to that of its peers, it has unique features that is not available elsewhere. These include, dropshipping integration (good to eliminate the need of inventory), groupon integration, eBay store integration, a revolutionary drag and drop interface to build your website, among other things.

Izzonet Main Features
One of the main advantages of using ecommerce solutions like Izzonet's is because of its ease of use. Such software has been created for the purpose of building online stores in mind, and making things like setting up the website, adding products, prices, images and shopping cart integration as easy as 1-2-3, well actually in 7 easy steps.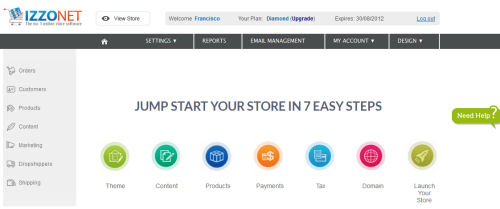 You basically start by choosing your theme, then add content, products, setup payment gateways, add applicable tax, setup your own domain (if you want), and hit the launch button. In an instant, you get to have an online store like the one I created below: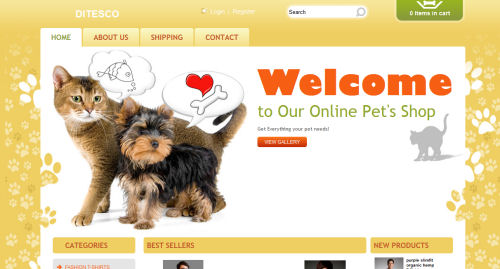 The features are extensive and a full list of it can be found on their website. Nonetheless, some of them are:
Drag-n-drop interface
Integration – Dropshipping, eBay, Groupon, etc..
Unlimited website widgets
Website builder w/ loads of pre-designed temlates
Easily share your products on social media sites
ecommerce marketing tools (create coupons, bar codes, etc..)
ecommerce hosting included in all plans
Mobile apps for your online store and store management
Multi-language translator
email management
And yes, there has real cool built-in management tools too:
SEO analytics review
Affiliate management tools (you can signup affiliates to further increase sales)
Reputation management tools
Affiliate network partnership tools
Newsletter creation and management
PPC management
And the list goes on… And if you are wondering if its got mobile integration, worry not, the is there and lets your customers shop and surf on your store by using their mobiles devices. Mobile commerce is on the loose, so this is covered too.
Now I know that this may all sound to good to be true to you and that is why, I like the idea that Izzonet provides you with a full 15 day trial with no strings attached and no credit card requirements. Just go there, create your online store in seven easy steps, play with the interface, and decide for yourself. How cool is that?
this post brought to you by izzonet.com