This is not a joke and It will also be a quick post as I only wanted you to share with you what the FaceBook "like" button did for me recently. This all started when my aunt yesterday sent me an email, saying "Hey! Did you know that you are on CNNs (international edition) front page news"? Obviously, I immediately jumped over cnn.com and see what she was talking about.
Well I'm not exactly on the news per say, but it was true. CNN having partnered with Facebook recently, has installed the Facebook "Friend's Activity" widget on their pages. You all have heard about the "Open Graph" or the simpler "like" button news lately, right? If you are nor familiar with this, you can always read this article written by Ching Ya, which explains why the Facebook like button is important. I'm there because I recommended an article written by CNN and my picture, profile link are all over CNN:)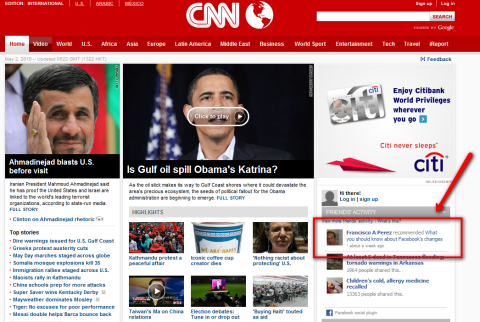 Anyway, it appears that "Francisco Perez", that's my real name (lol), is still showing up there and I would like to take this opportunity to ask you what do you think about this. Do you think that this can give someone more exposure or is it a matter of concern (privacy issue)? While you're at it, what are your views regarding the latest Facebook hoolahbaloo about the like button?