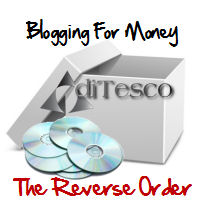 As I was reviewing some of my older posts, I found something that I have forgotten about, this being the Blogging For Money series. This five part series has been one of my pillar articles and I could not even believe that I wrote this post almost two years ago, when I was virtually starting my online journey.
Recently, as part of my article reviews, I decided to update these posts and whether you are a beginner or a more experienced blogger, I believe that it contains information that are not only valid up until today but relevant as well.
That said, here is my free eBook series for you to enjoy 🙂
Blogging For Money – The Reverse Order (Part 1)
Blogs are sources for creativity and they can influence people. Blogs are communication platforms, educational resources and sources of entertainment. They connect people, spread ideas, foster friendships, sway political opinion and much more. Blogs can be almost anything you want it to be, and so choosing the topic is what I consider to be, one of the most important aspects of blogging.
Blogging For Money – The Reverse Order (Part 2)
While content is the holy grail of a blog, you should also have in mind that a good and well designed blog will give you the best of two worlds. I have seen many blogs with good content, but, due to the poor choice of colors, ad placements, navigation structure, download time, etc., I for one, have never returned to those blogs again. When this happens, we lose traffic, and no traffic = no money, period. For this reason, here is a checklist of items I suggest you verify, to provide your readers with a waterfront view, when they visit your blog.
Blogging For Money – The Reverse Order (Part 3)
Now that we have gone through finding the topic and how to structure our blogs, it is time to move on to the next, which is where to host your website. I have learned, these past couple of days, that there is whole world out there relating to this subject, and in an effort to simplify things, I will try to narrow this down to hosting your blog. After all, I am writing about Blogging and not on how to create an eCommerce/Shopping Carts and/or massive websites that needs complex database management and the sorts.
Blogging For Money – The Reverse Order (Part 4)
How to write your article? Good question. And, while there are several recommendations on how to write your articles, there is one thing that I consider to be of utmost importance, and that is the YIN YANG of blogging. What is the YIN YANG after all, read on.
Blogging For Money – The Reverse Order (Part 5)
Internet Marketing, Blog Promotion, Traffic Building or whatever else you want to call it, in my view, are all but just a form of advertising. To make money, you need traffic. To get traffic, you need to promote.
Thanks again for taking the time to visit our website. We are currently looking for people to write for us. If you are interested, please read Share Your Opinion And Experience With Us.