Say again? Yep, you read that right – wingdings. As you all know, wingdings are special characters and symbols which are nothing else but a "font" style. Last year, Google AdSense has announced that publishers could begin changing the font faces of their ad units. Well, they listened and yesterday they have added yet another face font option, the WingDings.
Here's how your ad will look like: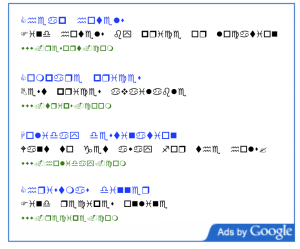 The official statement from Google:
During our extensive alpha testing, we found that this font performed especially well on sites catering to two specific audiences: cryptologists and carrier pigeons. Even if your site's visitors aren't usually comprised of these two groups, this font face can reduce ad blindness and we encourage you to test it on your sites. As a reminder, you can choose to update the font face of specific ad units, or apply your settings account-wide.
Now wouldn't that be something else? Needless to say that this was another April Fool's day prank and I have to admit that I fell for it easily. Got me there Mr G, lol. BTW, ExtremeJohn almost had me there when he decided to say to the world that he was leaving the sphere.
How about you, did you come up with your own April fool's posts? Have you been "caught" as well.